By
Not everyone's image of San Francisco living, but this condo is only a block from the Embarcadero, Pier 30 and the planned America's Cup Village, the ballpark, and South Beach Park.
The Basics: A 2-bed, 2-bath, 2-parking space condominium on the top floor of 200 Brannan Street in San Francisco's South Beach neighborhood, asking $1.199M, on the market almost two months, and just went "pending" a few days ago. Monthly HOA dues are $650.00. 
Not So Basic:  It's labeled a "penthouse" and although there's no accessible outdoor space, it is on the top floor, at the back of the building with views east into the courtyard, north to Rincon Hill and west across SOMA. 200 Brannan was completed in 2006, a complex of new construction and re-used warehouse buildings arranged around a courtyard– there are currently six other units for sale in this 191-unit building.
Not all units in this complex are created alike— although most have the typical loft configuration with a double-height living room and a second level— this one has expensive finishes, plus a fireplace. The basic bones here still look good after five years: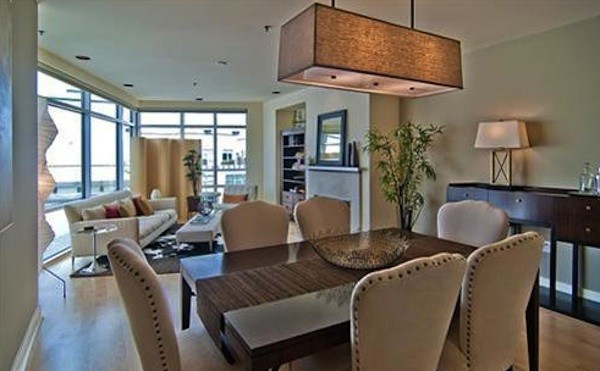 DON'T MISS A BAY AREA BEAT! SUBSCRIBE TO OUR NEWSLETTER.