The blow-out Golden Gate Bridge anniversary celebration may have come and gone, but there are still plenty of ways to pay homage to the International Orange icon. Here's an unexpected one: Hotel Palomar has tricked out one of its suites in honor of the double G. As you step off the elevator and into the hallway, you'll see the familiar tollbooth entry to the bridge, blown up and plastered on the door and walls framing room 512. One foot inside the door and you're presented with a sweeping view of the bridge. Sounds impossible, right? A printed opaque decal expands across the five bay windows in the room to give the illusion that you're staring out the window of a sweet Cow Hollow pied-à-terre. It sure beats the real view of gritty Market Street.

Every inch of the room is decked out in bridge memorabilia—from the boldly colored headboard and the black-and-white screen printed pillows to the 1937 construction photos on the lampshades and nightstands and coffee tables built from bridge steel by Bay Area furniture designer Richard Bulan.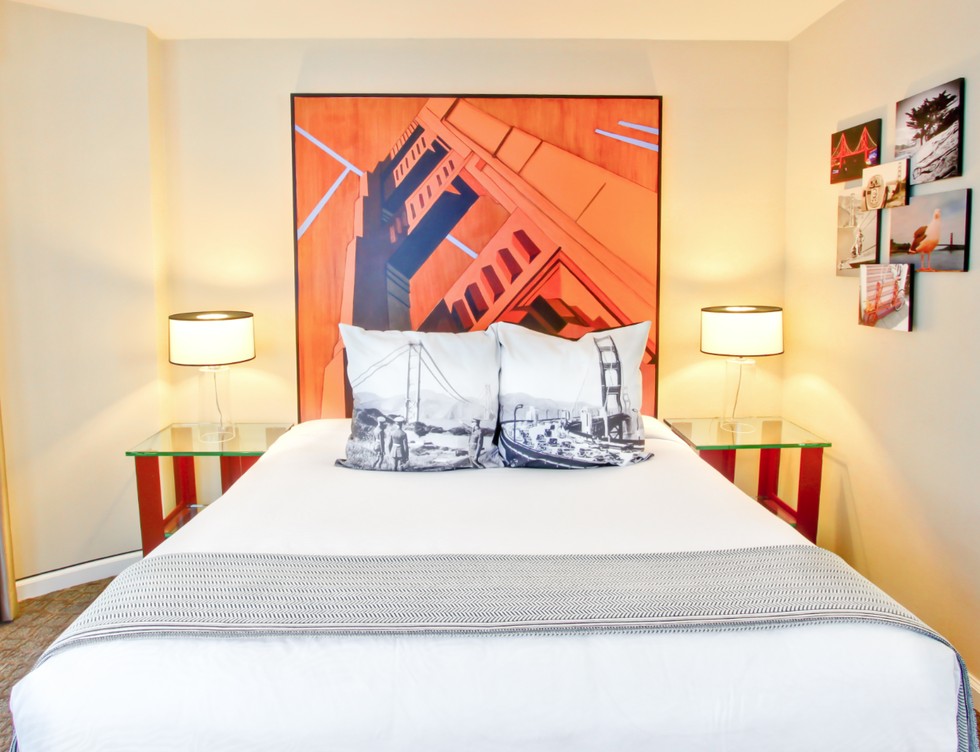 But the GG suite is more than just a pretty room with a view. Guests are treated to a comped cocktail called the Vermillion M.E.S. (named after the legendary orange hue chosen by architects Irving Morrow, Charles Ellis, and Joseph Strauss) at the Fifth Floor restaurant (don't miss out on the oysters five ways while you're there) and will get a piece of history to take home—the Ira Bruce Nadal and Donald McDonald book Golden Gate Bridge: History and Design of an Icon.

The suite is available through the end of the year, so whether you're looking for a spirited staycation or a room with history for the rents, this fun suite at Hotel Palomar is a golden choice.

Starting at $439/night (rate code GG75). hotelpalomar.com

More Bridge To-Dos: In addition to the Golden Gate Suite, there are several other bridge-related activities that also extend throughout the year.

"Before the Bridge: Sight and Sound of the Golden Gate," hosted by The Presidio Trust, features historic maps, photos, and drawings of the city pre-GG. Through 11/18.

The Walt Disney Family Museum is running a free film festival called "The Bridge on the Big Screen." Movies will be shown every Saturday through 9/15.

The FOR-SITE Foundation "International Orange" exhibit showcases a group of artists at Fort Point who have created on-site installations responding to the bridge as an icon, historic structure, and design concept. Through 10/28.