It's a question we get often: Where do you go for sushi? Now, while all sushi spots aren't created equal, the thing you most want in the way of sushi is freshness, and skill in presentation. Also: crazy, mayonnaisey maki rolls are not good sushi. That is junk-food sushi. And while such food may have its place late on a drunken evening (hello, Ryoko's), a place that serves it is not where you want to bring a real sushi connoisseur. 
Without further ado, our Top 7 go-to spots, including a brand new one, in no particular order.
Ino Sushi - In Japantown, this cult favorite, mom-and-pop operation is worthy of a special trip in part for the simplicity of the place, and in part for Ino-san's famously grouchy persona. He'll yell at you for dipping his nigiri rice-side-down in his wife's house-made soy sauce, but he'll also treat you to some fantastic, fresh fish, expertly cut and served directly on the wooden counter, just like he's done for over 30 years. Note this place is tiny, and pretty well known, so you always need a reservation. 22 Peace Plaza #510
Kiss Sushi - We at 7x7 wrote about rediscovering this excellent, old-school Japantown spot a couple years ago, and we still stand by it. It's run, like Ino, by a husband and wife, Takao and Yoko Nakagawa, and in addition to some excellent sashimi and nigiri, you'll get to have some other lovely small plates, like tofu, vegetables, and chawan mushi, if you try their omakase menu. 1700 Laguna Street at Sutter
Sushi Ran - This Sausalito staple is consistently ranked at the top of most Bay Area sushi lovers' lists, and owner Yoshi Tome has maintained the quality since he took the place over in the mid 1980s. The executive chef these days is Scott Whitman, and you can expect an array of Japanese-influenced cooked dishes as well as a concise but always ultra-fresh list of sashimi and nigiri, with fish flown in from Tsukiji Fish Market in Japan. Also, there are maki rolls for fans of those, like their yummy salmon skin roll. 107 Caledonia Street, Sausalito
Ichi Sushi - One of the newcomers to sushi mavens' radars is this Bernal Heights/La Lengua spot opened in 2011. Married couple Tim and Erin Archuleta run the operation, offering an array of fresh sashimi every night in addition to good wine, sake, a selection of rolls, and a few hot plates as well. 3369 Mission Street
Akiko's - Mr. Bauer just did an update review on this Union Square spot, where you can get Sushi Ran-inspired quality at some prices that are pretty hefty too, but he assures us, it's a "worthy alternative" to his Sausalito favorite, and sushi chef Ricky Yap is highly skilled. The menu changes often, but you can hope to find the "A5 wagyu of seafood," Pacific bluefin tuna, when available, at quite a price: $37.50 for three pieces. 431 Bush Street near Claude Lane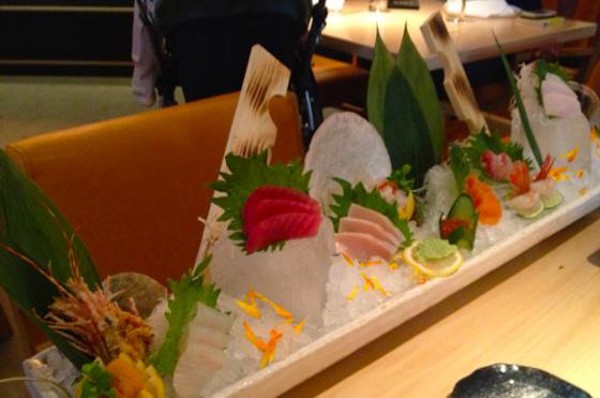 An elaborate sashimi presentation at Roka Akor. Photo: Jay Barmann
Roka Akor - Also not cheap, but a certainly worthy celebration spot is Roka Akor, the newest entry on this list having just opened in June. It's a London-based operation and this is only their third U.S. location, and sushi chef Mike Lim does some truly impressive work on the presentation front -- he hails from Morimoto Napa, and he knows a thing or two about high-end sushi. Expect similar quality to the spots above, but with the added bonus of a whole robata menu, beautiful desserts, cocktails, and showmanship. 801 Montgomery Street at Jackson
Kappou Gomi - This under-the-radar, Outer Richmond spot stands apart from the others in that a) it came recommended to us by Ino-san at Ino Sushi, and Gomi-san is one of his oldest friends, and b) it's not strictly a sushi spot, but a Japanese restaurant with beautiful vegetable appetizers, fried tofu, and a ton of other stuff. But expect some unique and gorgeous sashimi presentations, often involving the whole fish, artfully used as a serving vessel. 5524 Geary Boulevard at 19th Ave.