British photographer, Robin Maddock, has been in San Francisco for just over a month now. We spotted him, dressed shades of blues and a great fitting denim jacket, as he was conducting a street art project with milk and his precious Leica. Robin's worked as a photographer for about ten years now, capturing social documentary, which he says, "has been a quiet style, but is getting louder now."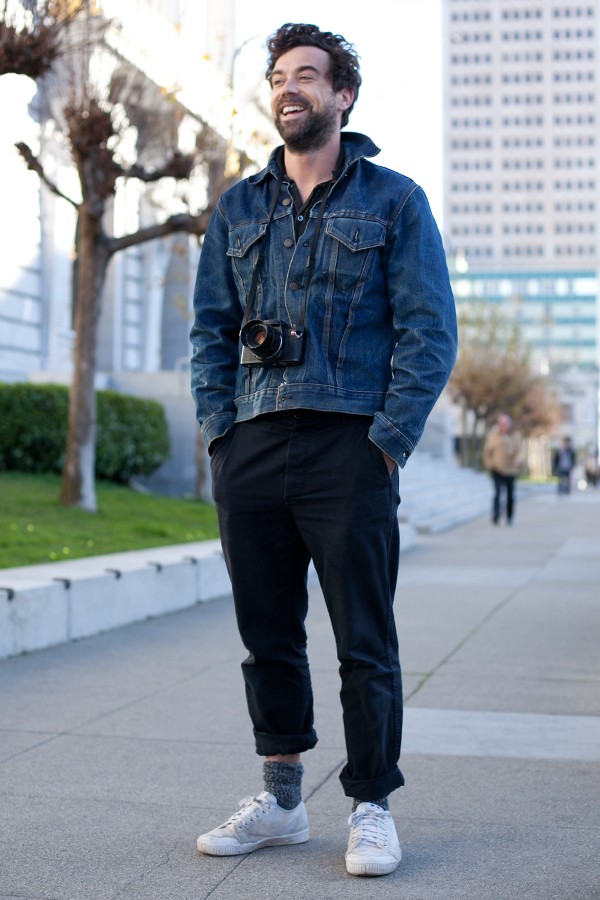 Rumpled and just-rolled-out-of-bed as Robin's look may be, lately, I've been attracted to subtle details which include everything from nicely understated to nicely unruly. 
What he's wearing:  Shirt and pants purchased at Margaret Howell in London; Levi's jean jacket from Wasteland in the Haight; Classic Spring Court sneakers purchased in Paris; Leica R6.2 camera purchased at The Classic Camera shop in London; Billingham bag purchased at The Classic Camera in London; Ray-Ban aviator sunglasses purchased at Duty Free LAX.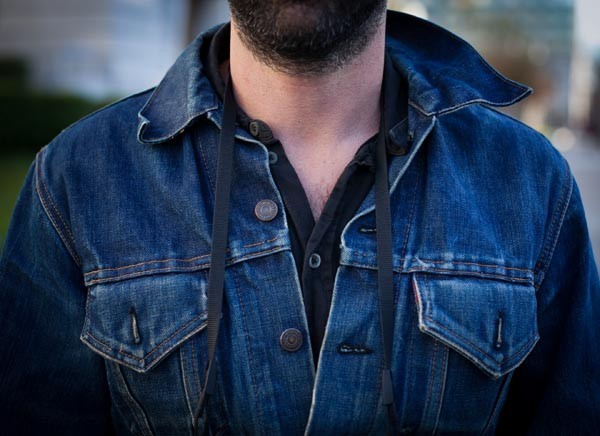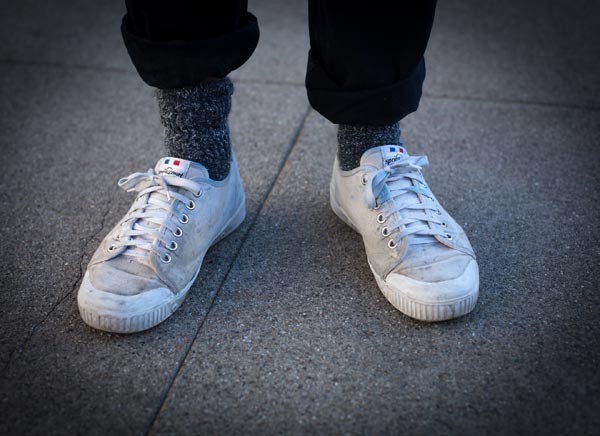 7 Style Questions for Robin:
1. Describe your personal style in just three words.
Sartorially conscious tramp.
2. Who are some artists to watch?
Henry Hudson and Boo Saville are both ones to watch and have shows coming up at the gallery to watch in London, TJ Boulting.
3. And who might your style icons be?
Oh, God...Jean-Paul Belmondo, Lucian Freud, Grace Jones, Mark E. Smith, David Hockney, Gigi Giannuzzi, William Eggleston -- originals one and all. 
4. So far, what hot spots have you discovered in SF?
Blue Bottle Coffee, Glass Key Photo supplies in Lower Haight, and The Booksmith. I also like the Opera Plaza Cinema -- it shows foreign films I missed. I like riding my bike to Marin, and I like the old bars I've seen so far in North Beach. The Venice painters show on now at the de Young is incredible, too. 
5. Where are all of the stylish kids hanging out in SF?
I'm supposed to say Valencia so I'll say upper Haight...but I think it's random -- I see amazing people all over, when you least expect it. 
6. What's one standout piece in your closet? 
I have a coat that I rescued from my ex girlfriend's family's house attic in the South of France. It's nearly a hundred years old -- a workers' jacket that was covered in bird shit, but you can still see it was beautiful. It's only on loan, and too fragile to wear really. 
7. As a local, where would you send someone on holiday in London?
I'm happiest in the George pub in Dalston/London fields. It's a proper pub, first port of call!
Lily Ko (lily.7x7 @ gmail.com) studied fashion design and merchandising at Central Saint Martins and the Academy of Art University. In addition to writing for 7x7, Lily is an editor at SF Station, and works as a freelance stylist and apparel designer.