Living in the 415 is an open invitation for all your friends and family to visit. But where to put them up? Spare your cramped apartment (and sanity), and book the perfect hotel room for all your out-of-towners.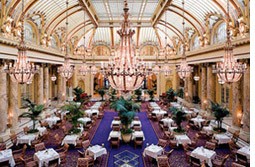 Your Brother, His Wife, and Their Kids
Palace Hotel in SoMa
(starting at $239) 2 Montgomery St., 415-512-1111

Vibe: Big, bright, and airy Victorian style straight out of Titanic—but on dry land.
Highlights: A killer indoor pool with plenty of kids doing canonballs, on-site babysitting, and an old-school bar with dark booths and classic drinks for the grown-ups.
Nearby: Kyo-ya sushi next door and two blocks away, the YBCA complex with bowling alley, skating rink, carousel, and Zeum for the kiddies.
Tip: Skip the rooms along noisy Market Street. Instead, book something overlooking the stained-glass dome of the Garden Court restaurant.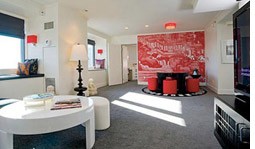 Your LA Friend
(and Her Little Dog Too)
W Hotel in SoMa
(starting at $269)
181 Third St., 415-777-5300

Vibe: Like an exclusive lounge with Ms. Pac-Man and DJs spinning in the lobby, dance music in the dark elevators, and a flashy Hollywood-type crowd.
Highlights: A $100 deposit gets a traveling pup a cushy bed, bowl, treats, and leash. Unlike most hotels, the W says it's OK to leave little Tinkerbell in the room (bright and modern, outfitted with Tivoli speakers and Chinese checkers on the window seat) while owners are out exploring SF or getting a massage at Bliss Spa upstairs.
Nearby: Supperclub for dinner, Blue Bottle Coffee, Tuttimelon frozen yogurt, 330 Ritch for music and dancing, and serious shopping at Shotwell's in Union Square and Jeremy's in South Park.
Tip:It's a short trip from the bar scene downstairs to a hookup upstairs. So unless you're ready to mingle, avoid the suit who's been nursing martinis since noon.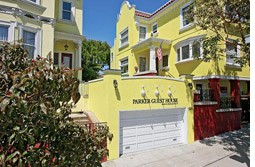 Your Best Friend in Town for Pride
Parker Guest House in Castro
(starting at $149)
520 Church St., 888-520-7275

Vibe: Low-key, cheery bed and breakfast with a mix of gay and straight guests.
Highlights: Actual parking spots in one of the hardest-to-park (not to mention sunniest) 'hoods, steam rooms, sherry service, and a backyard garden for lounging.
Nearby: Dolores Park, Tartine Bakery, Frances restaurant (make reservations now), Castro Theatre, Badlands for dancing, plus all the usual Castro nightlife.
Tip: The noisy J-Church streetcar rumbles past throughout the day, until midnight. Bring earplugs.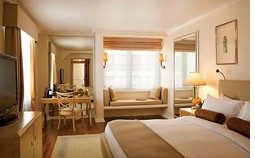 Your Colleague and His Expense Account
Taj Campton Place in Union Square
(starting at $275)
340 Stockton St., 415-781-5555

Vibe: Corporately luxe and bright boutique hotel with a no-frills lobby. Casual business meetings happen over drinks in the bar all day long.
Highlights: Downstairs, there are two working stations with free Internet and printers just off the lobby, as well as a $60 prix-fixe menu at Campton Place restaurant, which recently earned a Michelin star.
Nearby: Moscone Center, Powell Street cable cars, the Apple Store, Canteen restaurant, and a pulled lamb sandwich accompanied by a smoked Manhattan from Wexler's.
Tip: The music and noise from the cocktail-swigging crowd at Vessel, the nightclub next door, can penetrate the double-paned windows. It's a little quieter facing Sutter Street.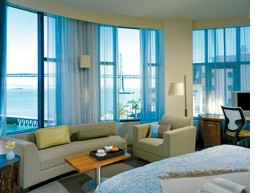 Your Parents Visiting for the Umpteenth Time
Hotel Vitale in South Beach
(starting at $100)
8 Mission St., 415-278-3700

Vibe: A calming, spa-like stay for travelers who crave eco-friendly chic and want to be on the water, just out of reach of the downtown crowds.
Highlights: Daily yoga classes, an up-close view of the Bay Bridge, free passes to the YMCA gym next door, and spa services upstairs.
Nearby: The Embarcadero waterfront, the Ferry Building (with ferry access to Larkspur and Sausalito), AT&T Park, Boulevard restaurant, and dim sum at Yank Sing in the Rincon Center.
Tip: Cabs rarely come by, so ask the front desk to call one up lest your parents feel neglected by you—again.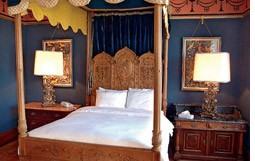 Your Urban "We Are Not Tourists" Friends
Chateau Tivoli in Western Addition
(starting at $399)
1057 Steiner St., 415-776-5462

Vibe: A hushed, antiques-filled 1892 mansion that feels a million miles away from the usual tourist attractions.
Highlights: Huge four-poster beds, weekend Champagne breakfast at the long formal dining table, ornate Victorian rooms, and a laidback staff.
Nearby: The Fillmore, Yoshi's jazz and The Independent for music, Toronado beer and Rosamunde sausages in Lower Haight, and the usual NoPa restaurants and bars.
Tip: There's no parking, so your friends will have to either use public transit or get a spot in one of the garages on Fillmore. Oh, and there are no TVs. Perfect.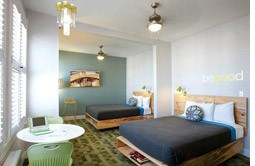 Your Hipster Pal on a Budget
The Good Hotel in SoMa
(starting at $79)
112 Seventh St., 415-621-7001

Vibe: DIY boutique hotel meets European hostel and Urban Outfitters.
Highlights: Stylish platform beds made of reclaimed wood are dressed in organic sheets. In the lobby (straight out of Dwell), there are bike cruisers to borrow, volunteer projects to sign up for, a photo booth, and a Readymade vending machine with cute, hipster-approved T-shirts and postcards.
Nearby: Cocktail lounge Mr. Smith's, trend-setters Bar Agricole, Citizen's Band, and Pinkie's Bakery, and Slim's for music. Also, it's a quick bus or BART ride to the Mission.
Tip: Noisy neighbors from Mid-Market make for a less-than-peaceful stay. Avoid walking alone on Market Street at night.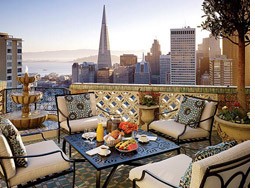 The Wedding Party
The Fairmont in Nob Hill
(starting at $399)
950 Mason St., 415-772-5000

Vibe: Old-school San Francisco with plush, Victorian furnishings, an elaborate marble-and-chandelier-laced main floor, and a colorful garden restaurant.
Highlights: There are several opulent ballrooms for ceremonies, as well as a party-planning department in the hotel. Small boutiques, two restaurants, daily wine service, a rooftop garden, and a thriving apiary keep wandering guests on grounds before the ceremony.
Nearby: Grace Cathedral, Nob Hill Spa for pre-ceremony pampering, Nob Hill Café's house-made pasta, and the Marina, North Beach, and Union Square within view.
Tip: Valet parking is $50 a night, but the Grace Cathedral garage a block away is just $27 a day. Also, since the seventh floor wasn't designed with guest rooms in mind, layouts there are a little awkward.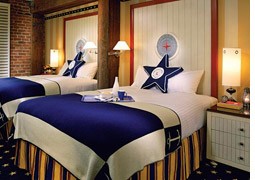 Your Cousins Hell-Bent on Pier 39
Argonaut Hotel in Fisherman's Wharf
(starting at $208)
495 Jefferson St., 415-563-0800

Vibe: East Coast nautical meets pure Disneyland camp.
Highlights: Pet-friendly rooms, Aveda shampoos and lotions, excellent bay views, and a location that's about as close as you can get to the hordes at Pier 39 without going crazy.
Nearby: Alcatraz cruises, Ghirardelli Square, Aquarium of the Bay, RocketBoat tours, and, of course, sea lions.
Tip: Gently coax your Midwestern peeps away from the very convenient Denny's and suggest SF's classic seafood restaurant, Scoma's.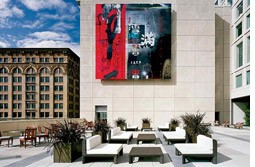 The In-Laws You Want to Impress
St. Regis Hotel in SoMa
(starting at $519)
125 Third St., 415-284-4000

Vibe:Dark, contemporary, and buzzing with travelers toting their iconic Rimowa aluminum luggage on their way to a Wine Country day trip.
Highlights: Bathrooms with large standing showers and separate soaking tubs that open up to the bedroom via sliding pocket walls, a spa, and a 24-hour pool and gym.
Nearby: Westfield Shopping Centre, Geary Street galleries, a vintage streetcar ride to Zuni Café, SFMOMA, and, if they're up for it, kayaking in Mission Bay during a Giants game.
Tip: Everything in the guestrooms is controlled through a bedside tablet, so the tech-phobic might need help navigating.