Simple yet elegant, the Caesar salad has remained on restaurant menus for decades. In an article for the Chronicle, Michael Bauer claims "Caesar salad is as much of a fixture on Bay Area restaurant menus as fog is in the Sunset District." If that's not validating, we don't know what is. As a purist, Bauer insists that the best Caesar salads are made with whole leaf romaine. I, however, broadened my horizons and scoured San Francisco for the delicious Caesars in any form. 
1.  Zuni Café: 1658 Market Street (pictured above)
Zuni has to be included in any round up of Caesar salads. Full romaine leaves are coated with a dressing of fresh beaten eggs, lemon juice, garlic, and grated Parmigiano-Reggiano. Croutons are made from Acme levain bread and toasted three or four times a day so they stay fresh. This dish is simply named the "Zuni Caesar Salad," because it needs no hype, description, or pretense.
2.  Gioia Pizzeria: 2240 Polk Street
Caesar salad and pizza seem to go hand in hand. The crisp, salad is a perfect pairing to a hot and saucy pizza. Gioia elevates their Caesar by piling it high with sumptuous, fried anchovies, fluffy, colorful lettuce, and torn croutons.
3.  Gather: 2200 Oxford Street, Berkeley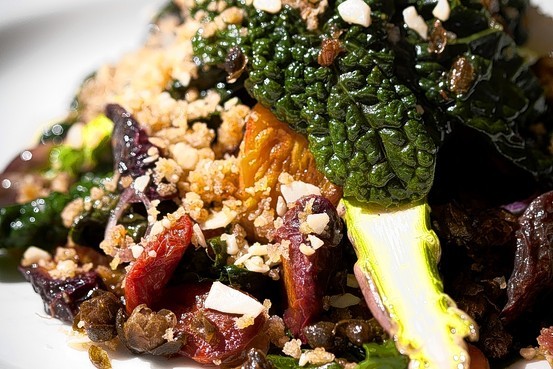 photo by Lori Eanes from the WallStreet Journal
Berkeley's Gather is the incarnation of all things farm-to-table, local, and sustainable.  The New York Times has called it a "Michael Pollan book come to life." Cooking both flesh and vegetables in respectful and humane ways, Gather introduces a vegan Caesar salad. Made with kale, roasted carrots, capers, and almond "Parmesan," it may make some purists stick up their noses, but is a delicious and exciting alternative to the traditional Caesar. 
4.  Emmy's Spaghetti Shack: 18 Virginia Avenue
photo from Try Caviar
Except for the slightly high price tag, pretention is left at the door before entering Emmy's. The food is simple and reliable: Spaghetti, meatballs, garlic bread, and a few salads. The Caesar uses whole romaine leaves, light shavings of fresh Parmesan, and their homemade creamy Caesar dressing.  While the salad may look unassuming and even disappointing, it packs a punch of flavor and balances perfectly with their signature, rich meatballs.
5.  Alexander's Steakhouse: 448 Brannan Street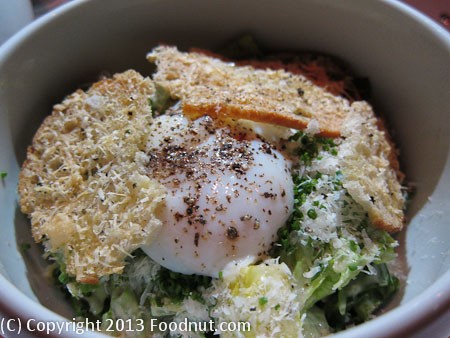 photo from Food Nut
With a menu full of high-quality surf and turf, it's no wonder that Alexander's Caesar salad is out of this world. It's served with a precise 62.5 degree onsen egg (basically, an egg poached in its shell) sitting atop a bed of romaine tossed with Caesar dressing, anchovies, and croutons. The salad is big enough to split between two people, so order one for you and your date. The perfectly soft-boiled egg breaks and mixes in with the lettuce to add depth and richness to the dressing.
6.  Food Inc.: 2800 California Street
A modest neighborhood trattoria in Pac Heights, Food Inc. offers a large menu of Italian and French inspired salads, sandwiches, pastas, and chicken more. One of my personal favorite Caesars to enjoy in the city, Food Inc. uses Bauer-approved full leafs of tender, young romaine. The dressing is light, yet pungently tangy and salty. Crunchy croutons and umami Parmesan shavings accompany the citrusy dressing. Enjoy your salad with a glass of white wine and perhaps a plate of various cheeses.