If you have never been snowshoeing in Lake Tahoe before, make your first trip a celestial one by snowshoeing through the mountains while learning about the universe and listening to some poetry with Tony Berendsen of Tahoe Star Tours.

The monthly snowshoe tours start at the Cross Country, Telemark + Snowshoe Center at the Ritz Carlton at Northstar near Truckee. For $50 for adults and $35 for children ages 10-12, snowshoes, the tour, some time spent with a telescope and a some wine or hot cider around a fire pit are provided.

Each participant will receive a "Star Guide" button and will participate in various scenarios on the formation of the universe, star behavior and the history of our solar system. Along the way, Tony will recite various poems that he wrote while gazing up at the dark skies.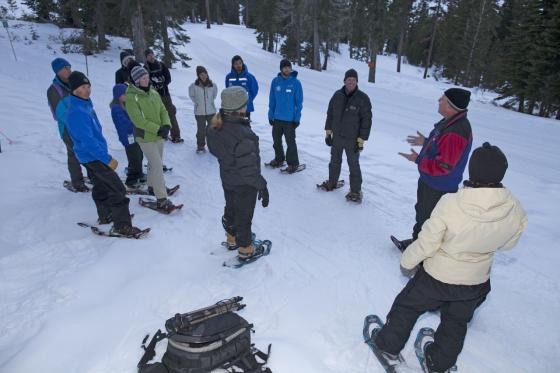 On our particular tour, the night sky was perfectly clear and moonless, and we were able to learn about various constellations and peaked at Jupiter and its moons, the Orion Nebula, Uranus and the Milky Way through a $5,000 Celestron telescope. While enjoying wine around a fire pit of welded logs, the International Space Station made an appearance and streaked across the sky over our heads.

"We've never been out in the darkness like this before," Ayla Rahmberg said in awe. She and her husband, Lee were visiting the area from San Antonio, Texas. "And we've never done anything like this before. It's romantic, too."
Photos by Harry Thomas