The road from Santa Fe (the other SF) north to Taos is 70 miles—a leisurely afternoon drive through a haunting landscape of historic adobe buildings, fields of golden chamisa, and purple mountain horizons. Add in a cool hunt for Native American jewelry, soaks in mineral-rich hot springs, and a tour of indigenous dwellings, and you've got the makings of a multi-day jaunt.
From Santa Fe, start the journey at the historic Inn of the Five Graces, where 400-year-old adobe buildings have been transformed into lavish suites decorated with opulent Afghan textiles. The property offers guests complimentary, made-to-order huevos rancheros for breakfast—just the fuel needed for a day of bargain hunting at the Pueblo Tesuque Flea Market, near the city's famous open-air opera house. There, peddlers of Native American jewelry, rugs, and pottery aren't offended by low-ball bids, and the odds of unearthing a like-new Pendleton cardigan or vintage leather moccasins for less than $20 are pretty good.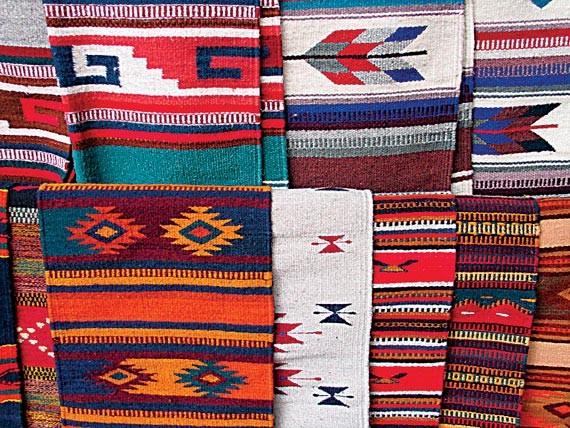 Blankets are a bargain at Pueblo Tesque Flea Market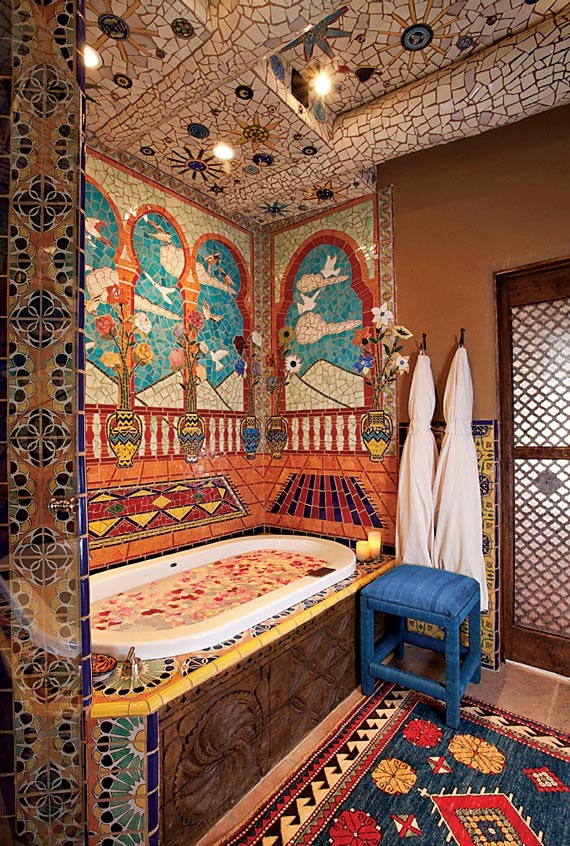 The Afghan-styled suites at the Inn of the Five Graces
Come evening, head to Terra, the restaurant at the new Encantado Resort just a few minutes' drive from the swap meet, where award-winning chef Charles Dale serves American fare with a southwestern touch. Go for the Caesar salad with masa croutons and shaved Spanish manchego, a deliciously light prelude to the house specialty: spoon-tender braised short ribs with poblano-mushroom mac and cheese.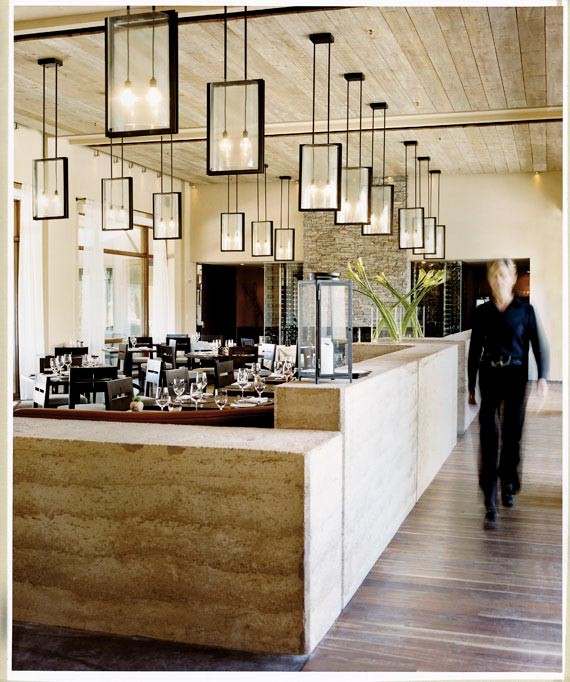 The airy dining room at Encanto Resort's Terra restaurant.
After you've had your fill of Santa Fe's legendary art scene (don't miss Georgia O'Keeffe's eponymous museum and famous landscapes), head north on Highway 285 toward Ojo Caliente. The one-horse town is famous for its natural hot springs laced with arsenic (good for arthritic joints) and lithium (a depression aid). A day pass to the Ojo Caliente Mineral Springs Resort & Spa is just $16 during the week, but if you're staying at the resort—the bare-bones dorm rooms have half-bathrooms, and the cliff-side suites have private outdoor soaking tubs—access to the water and mud pools and surrounding hiking trails is free.
The next day when you're on Highway 64, just seven miles outside of Taos, make a short pit stop at the small roadside market at the Rio Grande Gorge Bridge—it's also a trove of good values on Native American treasures, especially vintage turquoise jewelry. Continuing on the same road toward Taos, you'll pass Earth Ships, eco-minded subterranean homes built from glass bottles and rubber tires. They're a curious counterpoint to the mud structures at nearby Taos Pueblo, where the Taos Pueblo tribe has lived for more than 1,000 years. The 30-minute tour is free (the knowledgeable guides work for tips), but a camera fee is collected at the entrance from those who want to photograph the historic architecture.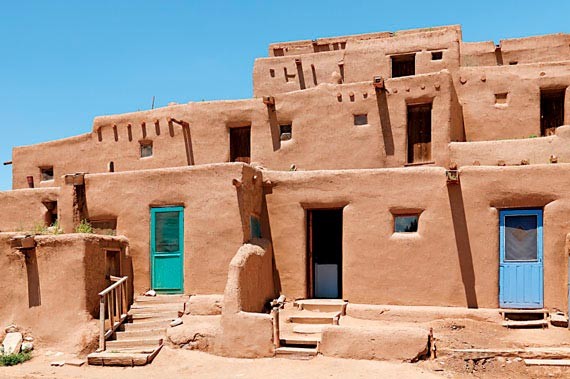 From the pueblo, it's just a five-minute drive to Taos' bohemian town center. Replenish your energy reserves here by first indulging in a high-desert treatment at El Monte Sagrado's Living Resort and Spa, where you can combat dry skin—inevitable at such nosebleed elevations (almost 7,000 feet!)—with a fossilized salt exfoliation and a deep knead with a buttery cedar-sage cream. Aprés massage, try Taos' newest eatery, The Love Apple, which channels the local-and-organic shtick with such heartfelt dishes as pink-grapefruit-and-red-beet salad and roasted quail with poblano-quinoa stuffing—no need to click your heels three times for a taste of SF.