Stone fruits are the essence of summer. A bite of a ripe peach, juices dripping down your chin, is summer in your hand. Peaches, apricots, cherries, plums, and nectarines are perfect alone and raw, or ideal for poaching, sautéing, grilling, or roasting. Chefs around the city are having fun playing with these summer fruits by serving them sweet or savory. Check out the dishes below for a taste of summer in San Francisco:
Everyone's favorite brunch and dinner hang out is incorporating the beloved stone fruit into its menu.  For brunch, try the Tasso spiced ham with roasted peaches, shaved fennel, and breadcrumbs.  Or, for a simpler taste of stone fruits, their little gems salad with apricots, walnuts, and pecorino is light and satisfying.  And, their infamous pork chop has a constant rotation of preparations.  Make sure to order it when served with roasted peaches, fresh shelling beans, and olive tapenade (pictured above). 560 Divisadero St.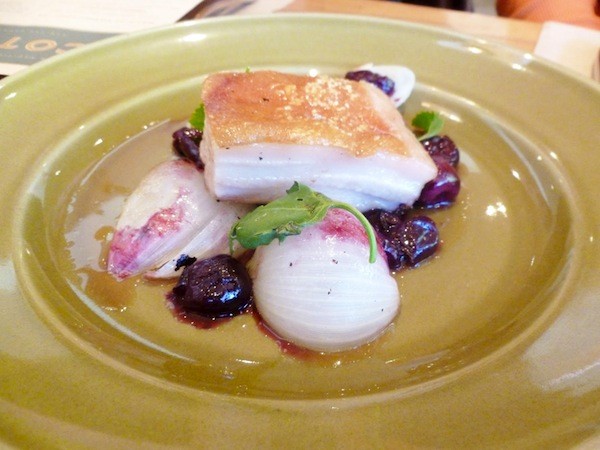 Photo from The Chili Dog
Seasonal ingredients and fresh meats and cheeses make up Cotogna's unpretentious menu, which is taking on summer with a menu brimming with stone fruits.  Start with an antipasti of Stefano burrata served with Kashiwase Farm apricot and almond, or La Quercia prosciutto and nectarine.  Next, move onto their Heritage red wattle pork with pickled cherries.  And finish of your meal with vanilla crema with peaches and ginger, or a cherry torta. 490 Pacific Ave.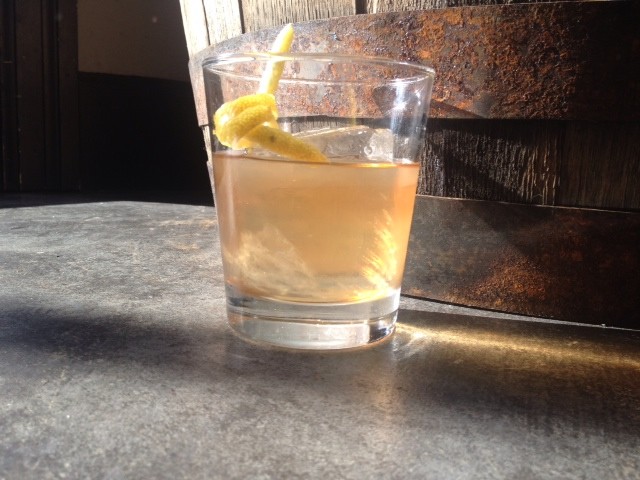 San Francisco's first ham and oyster bar has a fresh, smart food menu, and its bar manager, Michael Lazar, creates a seasonal cocktail menu that matches.  For summer, their House Rock & Rye, Summer Edition is made with Wild Turkey Rye, rock sugar, citrus, apricots, raspberry, vanilla bean, and horehound.  Equally refreshing is the Solstice Smash, made with Larceny Bourbon, Hangar spiced pear vodka, lemon, Zucca Amaro, plum, ginger, pickled berry, and apricot. 3431 19th St.
Traditional seasonal flavors of Northern Italy are brought to the table through Chef Terje's daily changing menu at Perbacco.  Utilizing San Francisco's seasonal bounty, he welcomes guests to enjoy the hospitality and flavors of Italy.  Begin your meal with burrata cheese served with marinated cherry tomatoes and nectarines, basil, and pistachio, or White Crane springs' greens, stone fruits, marcona almonds, and Castelmagno cheese.  Move onto the Coujette: Occitaine potato gnocchi with Liberty Farm duck ragu and roasted cherries.  Then culminate with a Piastra seared Wolfe Ranch quail with pan roasted chanterelles and apricots, cipolline, and thyme juis, or Torinese: hazelnut crusted pork chop with hazelnut brown butter and sage, served with a stone fruit and raddichio salad. 230 California St.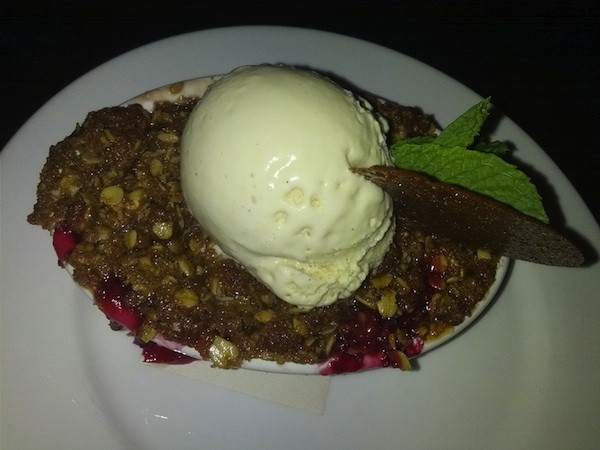 Photo from Julie's Dining Club
Husband and wife team Lori Baker and Jeffrey Banker combine their talents to create a menu of locally sourced ingredients, featured in both their sweet and savory dishes. Chef Banker incorporates stone fruits in his duck and pork terrine, served with port gelee, Tory Farm's nectarines, pistachio crumble, and freshly baked baguette.  Pastry chef Baker serves a warm stone fruit crisp with oatmeal streusel and buttermilk brown sugar ice cream. 1701 Octavia St.
Hayes Valley gem, Rich Table, serves summer in a bowl with their chilled apricot soup with pancetta and peppercress.  This light, sweet, cooling soup is the perfect start to a decadent meal.  Enjoy it with the Filmishmish cocktail made up of Georgian brandy, apricot, and almond.  Finish with their stone fruit upside down cake served with sweet cream and sorrel, and you'll be ready for a dip in the ocean. 199 Gough St.