Meet Ava Berlin – oh-so polished, incredibly genuine and the best kind of diva. Le sigh. Few people I know can manage such a hectic schedule, mingle so seamlessly with low and high brow circles, laugh with such joy, and always look as stunning as Ava.
She's a local nightlife promoter, photographer, brand strategist, and one half of Jeffrey & Ava (the other half being her hubby, local DJ, Jeffrey Paradise). The duo just celebrated their fifth wedding anniversary, and currently, they split their time between SF and LA. 
We snagged Ava while she was in town last week, and got a glimpse of what she's wearing this fall. Take a look below, and see what she's pulling together for Halloween at her SF event, Club 1994 Halloween Bash & Costume Contest, this Saturday, at Vessel (85 Campton Pl. at Stockton).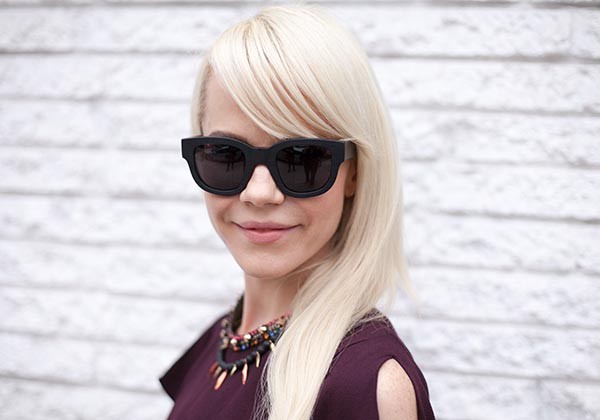 What she wore:  Acne sunglasses; Iossellani necklace, purchased from Rand + Statler; L'argent dress, gift; Debra Brunet ostrich and shark tooth clutch, gift; Vintage wedding ring from her husband's grandmother; Jean-Michel Cazabat suede pointy pumps, purchased from Rand + Statler.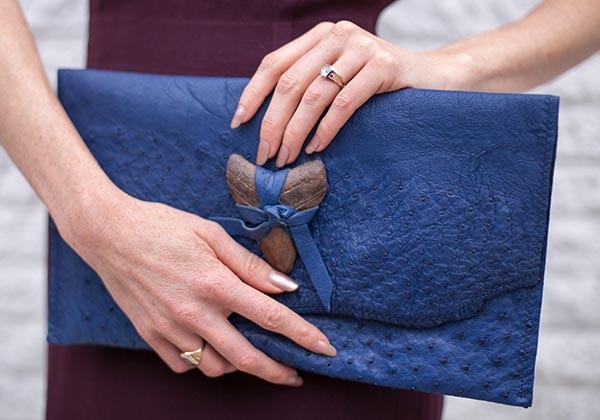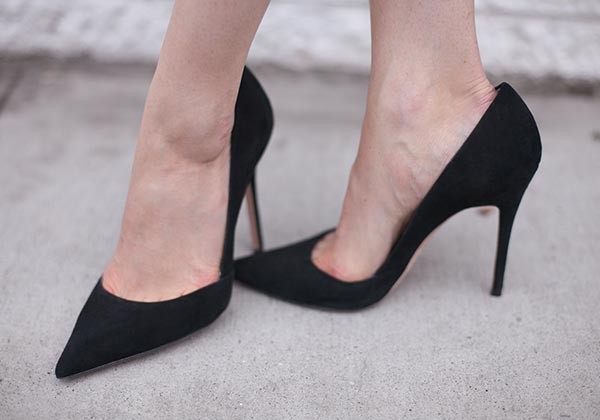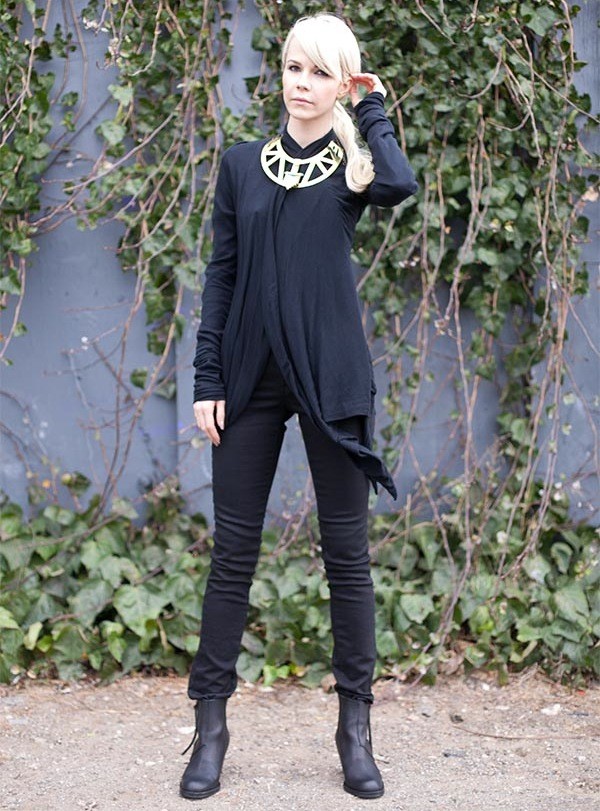 What she wore:  Rick Owens wrap sweater top, purchased from Rand + Statler; Acne dark skinny pants; Pamela Love gold cut-out collar necklace, purchased from Azalea; Acne black leather Pistol ankle boots.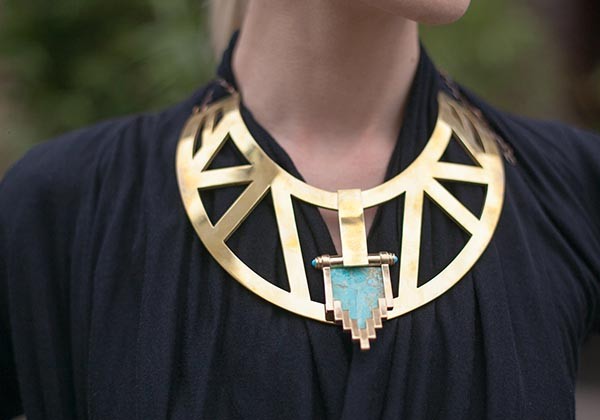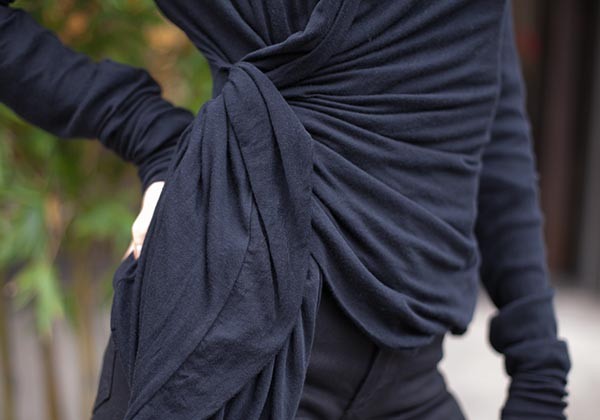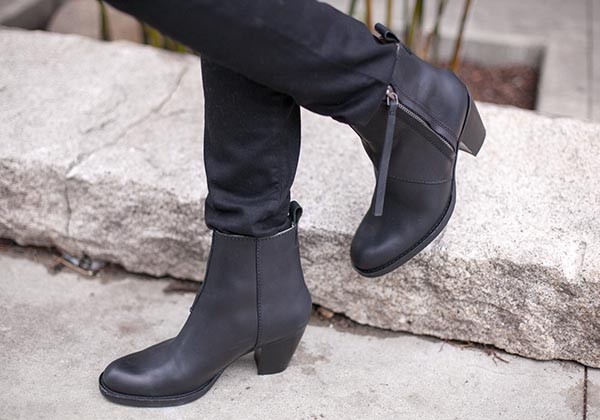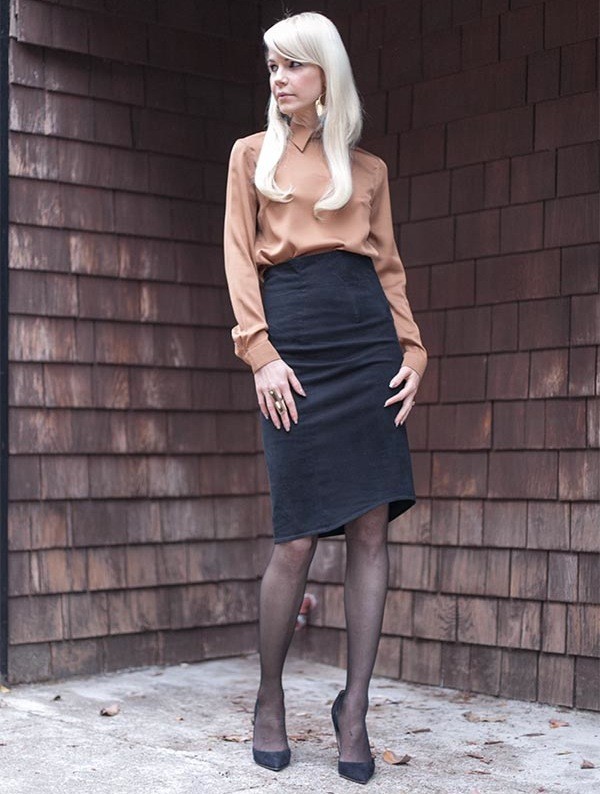 What she wore:  Iosselliani earrings, gift; Acne top and skirt; Wolford nylons; Jean-Michael Cazabat suede pointy pumps, purchased from Rand + Statler.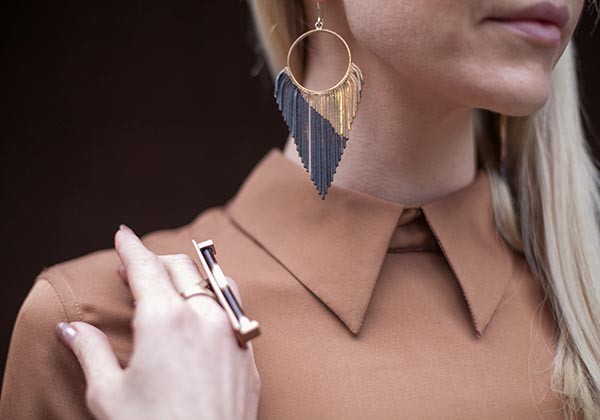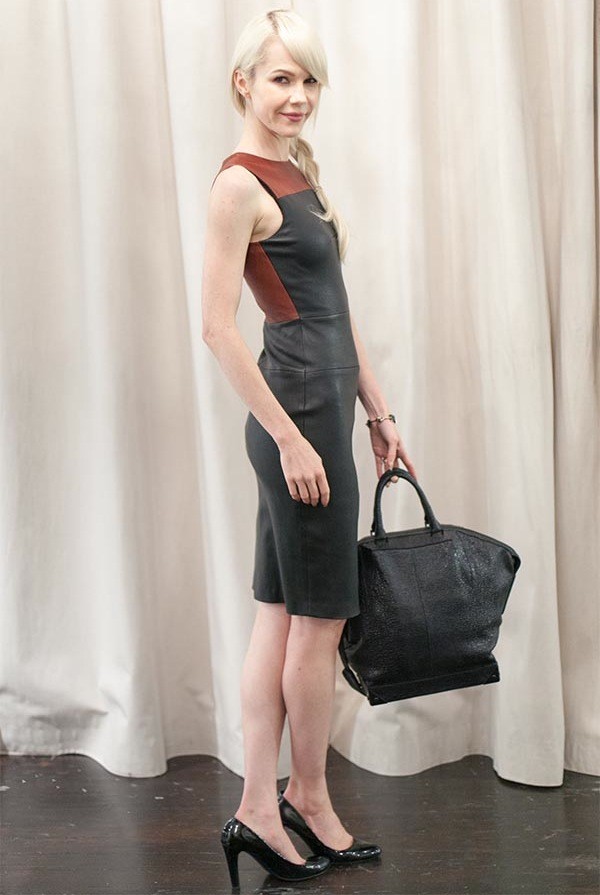 What she wore: ALC two-tone leather pannel dress; Archer Visor bracelet, purchased from Rand + Statler; Alexander Wang leather bag, purchase dfrom Rand + Statler; Miu Miu patent leather pumps, gift; Yves Saint Laurent lipstick, purchased from Nordstrom.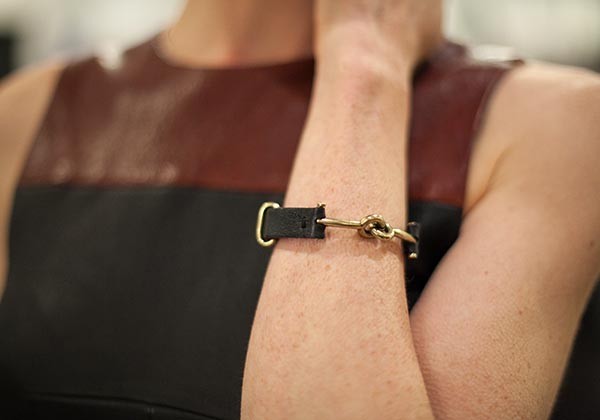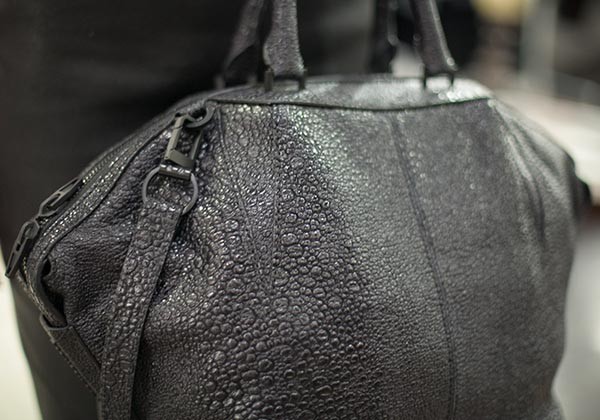 Seven Style Questions for Ava:
1.  What's your most treasured posession? 
A 1930s gold lame dress with a neckline down to THERE. I bought it at Torso Vintages on Sutter St., and it's my most treasured possession because I wore it at my wedding. 
2.  What are your style secrets? 
I meditate to keep the stress down and juice tons of vegetables almost every day. I also take a tablespoon a day and use it on my skin for moisturizer, as make-up remover, you name it. That and Dr. Bronner's soaps. For hair – this is a big one. Riccardo Cinotti at Cowboys & Angels is a hair guru in San Francisco. He has serious talent and I've been going to him for ages. Honestly, he's remarkable. I also use coconut oil for everything! 
3.  I like a guy in...
Girl's clothing.
4.  What's on your wish-list? 
Pretty much everything on the Anthem Wares website. 
5.  What fashion rules do you live by?
Wear black. Wear nice shoes. 
6.  What tunes are you most excited to shake it to at Club 1994?
Oh my God, the list is too long! Ginuwine's "Pony," Fatboy Slim's "Praise You," Salt-n-Pepa's "Shoop," Ace of Base's "The Sign" – this is all so embarrassing, but true! 
7.  What are your SF and LA top fives?
SF:  Rand + Statler for clothing; Sebo for Japanese; Alla Prima for lingerie; La Ciccia for dinner in Noe; Courtney's in the Castro for sandwiches and quick snacks. I also think one of the best ways to spend a summer is volunteering with the Special Olympics – there's a great program that takes place every year at Kezar Stadium.
LA:  Buttons & Bows in DTLA for vintage designer clothing; Pop Up Produce Wednesday farmers market in DTLA; Guisado's in Boyle Heights is a great taqueria with homemade tortillas; Kiki de Montparnasse in West Hollywood for lingerie; Pho Cafe in Silver Lake for Vietnamese. 
Lily Ko (lily7x7 @gmail.com) studied fashion design and merchandising at Central Saint Martins and the Academy of Art University. In addition to writing for 7x7, Lily is on the creative team at Pottery Barn, and works as a freelance stylist, writer, and designer.