We love a healthy dose of black and gold. On a recent visit to Westfield San Francisco Centre, we were dazzled by the flashy yet not overdone looks of Mariah (left) and Sofie (right). Both girls are college students and work as stylists at Michael Kors. We love how their bold outfits are balanced with soft hair and makeup -- and two super sweet smiles.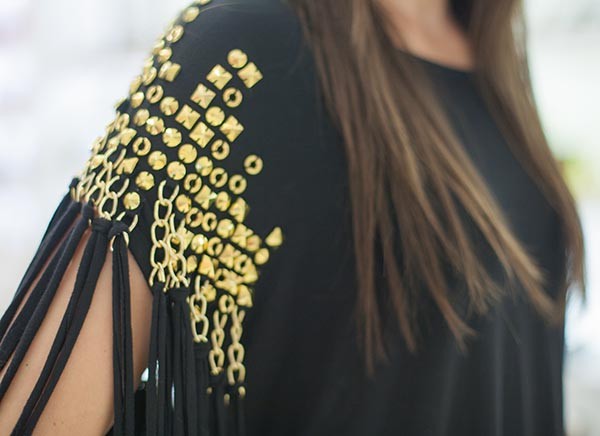 What Mariah wore: Michael Kors top, zipper pocket skinny pants, watch, bracelet and strappy pumps.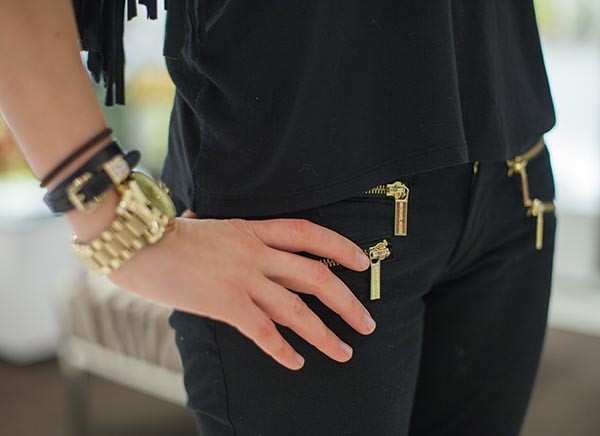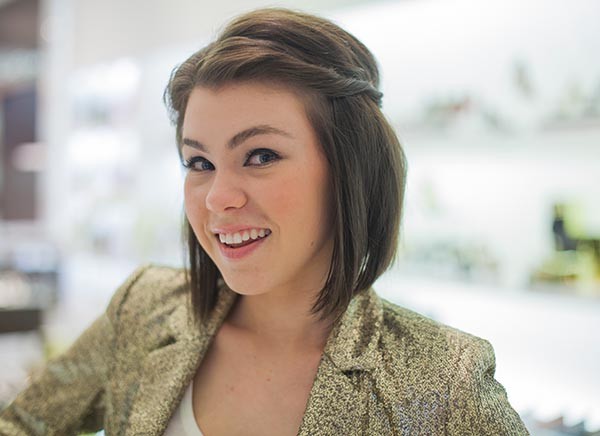 What Sofie wore:  Michael Kors sequin blazer, white tee, pleather leggings, and studded pointy-toe pumps; Haircut by Alin at Bladerunners.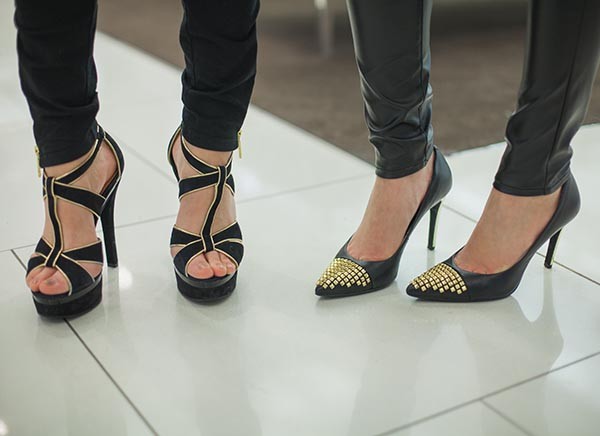 Seven style questions for Mariah and Sofie:
1. What fashion rules do you live by?
Mariah: Have confidence in your style and know you can rock it. 
Sofie: Invest in quality basics. Don't underestimate the power of a good pair of a jeans and a classic leather jacket. 
2. What's in your bag?
M: My headphones, Chapstick, my wallet and my phone. 
S: My life is in my bag! But I never leave my apartment without Burt's Bees chapstick and MAC lipsticks in "Innocence Beware" and "Dvia".
3. What's on your shopping list?
M: A pair of Bordeaux jeans.
S: New brown riding boots. After a blissful year together I had to say goodbye to my old ones. 
4. What products do you swear by? 
M: Bare Escentuals and MAC.
S: I love Khiel's avocado under eye cream. And Naive brand lychee scented anything. 
5. I like a guy in...
M: Athletic clothing.
S: Scruff and work boots.
6. If you could steal one celeb's wardrobe, whose would it be?
M: Megan Fox.
S: Emma Watson.
7. What's your SF Top 5?
M: Golden Gate Park; Yellow Submarine sandwich shop; Union Square; The Castro; Ocean Beach. 
S: Toast and coffee at Trouble Coffee; Fried Bananas at Shangri-La; The entire history selection at Aardvark Books (I'm a huge history geek and want to be a history teacher one day!); Candlelight yoga at Yoga to the People; furniture and antique shopping at Monument in the Mission. 
Lily Ko (lily7x7 @gmail.com) studied fashion design and merchandising at Central Saint Martins and the Academy of Art University. In addition to writing for 7x7, Lily is on the creative team at Pottery Barn, and works as a freelance stylist, writer, and designer.