While cruising the latest wears at Rand+Statler, we spotted employees and local band members, Jordan Deherrera (left) and Alex Gair (right), in two very different looks. Jordan, in his spiked leather jacket and chunky black shoes, played opposite Alex, in a laid-back tropics look, complete with a straw hat and sockless loafers.
Jordan, who's originally from Sonora, CA, also works as a freelance graphic designer, is a member of the Popgang Artist Collective, and is one part of the musical duo, Maniacs. 
Born in Manchester, England, and raised in Chico, CA, Alex now calls Oakland home and made a point to mention that he's, "a proud card-carrying member of the BART commuter horde." Alex also plays in the new band, Wiles.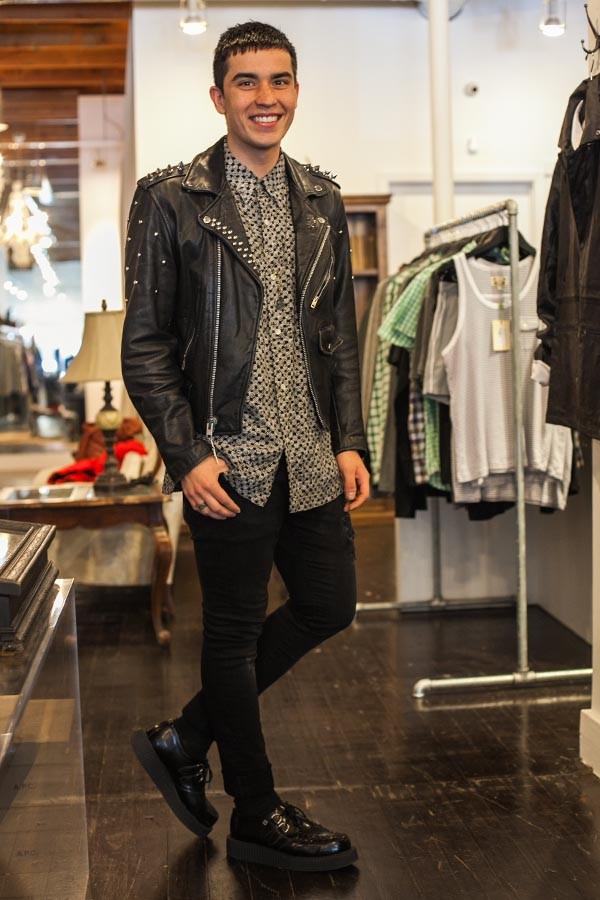 What Jordan's wearing:  Vintage Claiborne for Men shirt, purchased from Goodwill on Geary; Custom hand-studded vintage Wilson leather jacket, trade gift from a friend; Black H&M pants; T.U.K. Creepers shoes; Necklace designed and made by Jordan's girlfriend.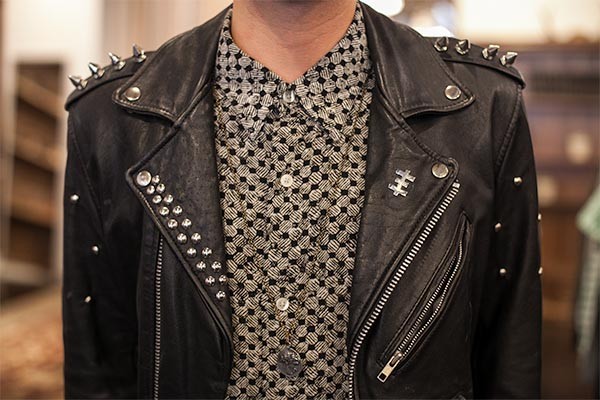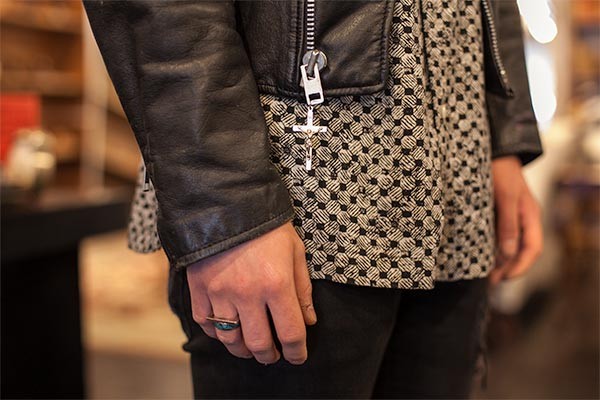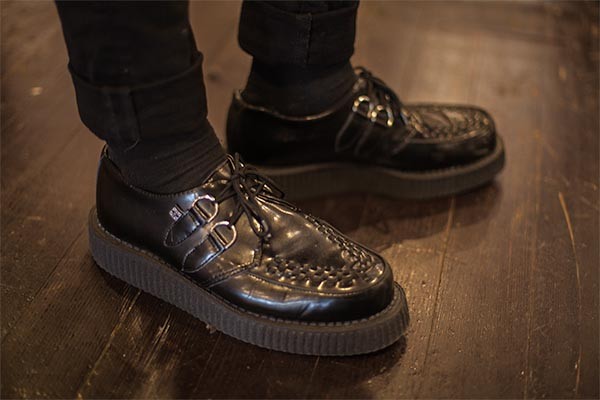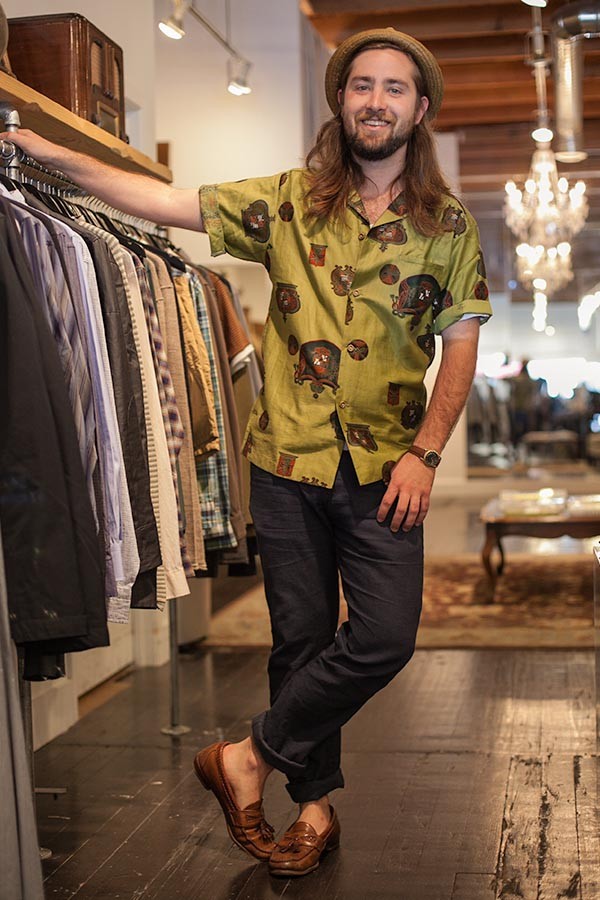 What Alex's wearing:  Vintage Hawaiian shirt from Pretty Penny in Oakland; Naked & Famous Lightweight Painter Jeans, purchased from Azalea; Vintage Cole Haan leather tassel loafers, purchased from a thrift store in Paradise, CA; Straw hat by Dorfman Pacific; purchased from the Berkeley Hat Company; Relic watch, handed down from Alex's dad; Braided leather belt, purchased from Goodwill in El Sobrante, CA.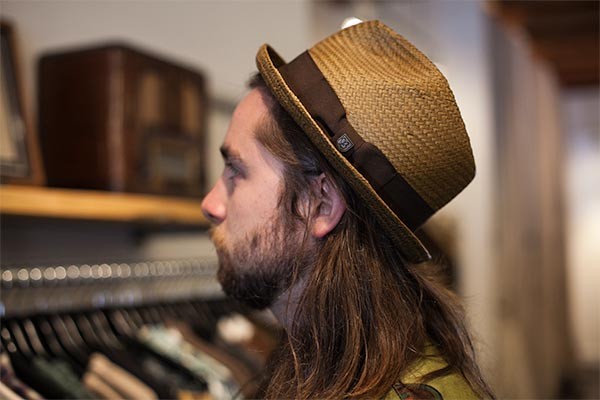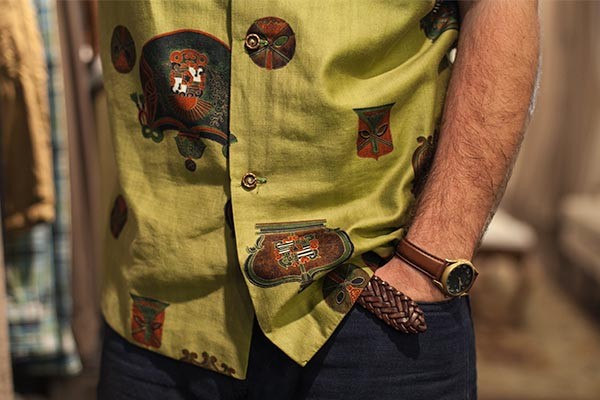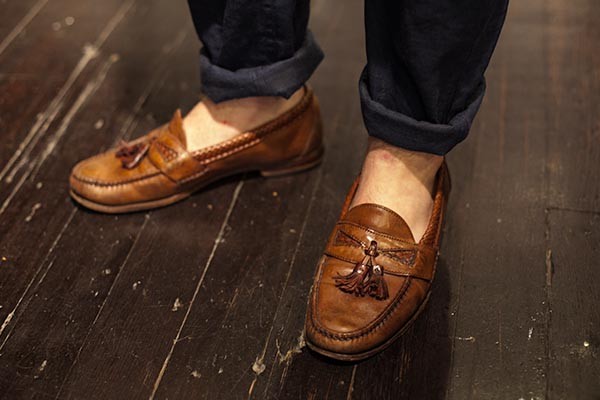 Seven Style Questions for Jordan and Alex:
1. How would you describe each other's styles?
Jordan:  Ultra, mega, totally.
Alex:  Jordan? Hmmm...How about 90s. Ska. Ninja.
2. What do you always have on hand?
J:  PMA (the song by Bad Brains).
A:  A hat. A straw hat is probably my stupid trademark at this point, which is funny because so many people hate them. 'Don't care! Other than that, my rules are that the shirt and shoes have to be excellent at all times. 
3. What's your dream purchase look like?
J:  The right to Michael Jackson's music.
A:  A car would be nice! And probably a super nice watch to hang out of the window of it. I'd have to do a lot of research first though... 
4. What's your greatest slice of style wisdom? 
J:  Bumpits fix every scenario in life always and forever.
A:  Follow the ABC of life:  always be cruisin'. Or, if you don't want to look like a grandpa on vacation all the time, then my best advice is do not follow the wrong ABC of life:  always be comfy. Forget that one right now!
5. What's one thing at Rand + Statler that every SF man should own?
J:  Acne Mic slim fit denim.
A:  A Uniform Wares watch for sure. Lose the phone, bro -- you got wrists. 
6. What would you not be caught dead wearing?
J:  Ed Hardy? Wait no...Ed Hardy is so awful it's genius.
A:  Anything black. Anything with a logo.
7. What's your SF Top 5?
J:  Painted Bird, TMG Studios, The Uptown, Bean Bag Cafe, Fort Miley.
A:  Swilling wine with friends and random dogs in Dolores Park on a nice summer day. Whiskey-sodas at those Mission bars everyone is so into. Doing the boutique crawl down Valencia is a good afternoon-killer. Hardly Strictly Bluegrass in Golden Gate Park is always a good time. And I do love myself a good Mission burrito with way too much salsa. 
Lily Ko (lily.7x7 @ gmail.com) studied fashion design and merchandising at Central Saint Martins and the Academy of Art University. In addition to writing for 7x7, Lily is an editor at SF Station, and works as a freelance stylist and apparel designer.