A few weeks ago, we asked you to nominate your favorite local charities to give seven of them a chance to win $700 from us. We'll be profiling each of the seven with the most votes here in the weeks leading up to the holidays, with links to give back yourself. Don't forget to pick your favorite to be featured in the February issue of the magazine as a "Charity You Love."  See the list of the seven you voted as your favorite here. 

Summer Search, now a national organization but based in San Francisco, is a light in the dark for low-income students in the Bay Area. It strives to make up for educational inequality by providing high school sophomores with the resources and support they need to graduate, go to college, find jobs, and take summer trips around the world to find their passions in life. We talked to Executive Director Melissa Rawlins and Outreach Director (and Summer Search alumnus) Cazzie Brown about the work they do for impoverished kids around the Bay.
How does Summer Search choose the students they mentor?
Melissa Rawlins: We have three offices in the Bay Area and between those we work with about 90 schools and mentoring organizations who refer students to us. We ask teachers and guidance counselors to look for three things: a sense of self reflection, caring about others, because we want these kids to not only use these services to better their own lives, but we want them to give back to others in their community. We also look for performance –they don't necessarily have to have the top GPA in their school, but they have to have energy in terms of follow-through and commitment. All students who are nominated right away take initiative in their own process. They fill out an application and come to an interview. We select about 60% of the kids we talk to. It's a competitive process. In SF and the East Bay this year we served 90 sophomores. Bay area-wide, collectively we're serving about 550 students this year.

Do you guys help them find jobs after college?
MR: It's really a long-term investment. We provide support and resources to help students broaden their vision of careers and give them opportunities to network and to go to informational interviews. We have career coaches, shadow days, and we partner with organizations and companies around the Bay to give our college students internships. We have about 40 college students who've interned this year.


What are some of the biggest causes of educational inequality?
MR: Places like Oakland and Richmond have had a lot of challenges and school budgets there are getting tighter and tighter. And in public schools, teachers and staff resources are getting tighter and tighter.

There are a lot of reasons, it's hard to tease out just one. Students who are low income are facing a lot of issues in their lives and communities that other students are not, and certainly schools lack the resources they need to make up for that. For a lot of kids, when you're growing up and no one around you has gone to college or to a professional career, you don't necessarily have that vision of yourself. That's why I think Summer Search programs are so effective, because we can show students a different vision of what they could possibly do. But also give them a cohort of other students who are succeeding and going onto college and becoming professionals.

Cazzie, tell us a little about your experience as a student in Summer Search.
Cazzie Brown: I was in foster care at the time in Forestville, and I was pretty optimistic about what I wanted to do in the future in terms of going to college, but I had no idea how challenging it would be to get there. I don't know if you know this but just 3% of kids in foster care complete college.  Summer Search became the most consistent adults in my life. They became my lifeline at the time.
My mentor was the founder Linda Mornell. She held me more accountable than any adult in my life ever had. I learned accountability and had higher expectations than I'd ever had before for what I was capable of. I went to University of Redlands. Best school ever!

What did you major in?
CB: I developed my own major of Psychology and Cultural Studies. Then I traveled abroad five different times, including to Russia and Siberia. Their trips were what inspired me to study what I did in college.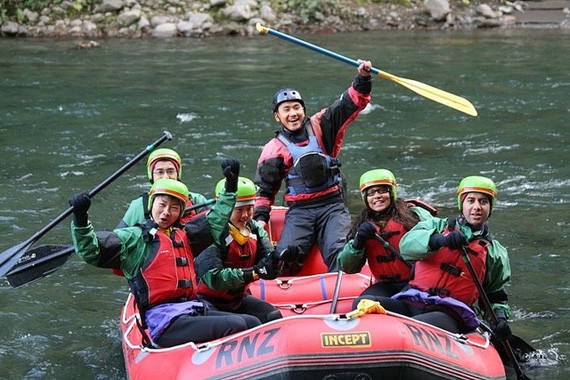 What made you want to come back and help Summer Search?
CB: After college I worked for the UN's refugee agency, I worked for an agency that does anti-human trafficking work, at a college access organization in LA, and then I came here. Ultimately, Summer Search does incredible work--the accountability matched with the love, dedication and commitment to every single student is what brings me here more than anywhere else. And I just love being in the community and our school and connecting about educators who are passionate about providing opportunities but also students who really have a need for Summer Search. This is definitely my second family.
The story of Summer Search - The 20th Anniversary Trailer from Summer Search on Vimeo.