By
What's eating San Francisco? We asked, and you told us, casting your votes in 26 mouth-watering categories, from best newcomer to best cocktail list to your favorites in every ethnic category in town. No matter what you're craving, it's right outside your door. Here's what won in each category:
Photography by Aubrie Pick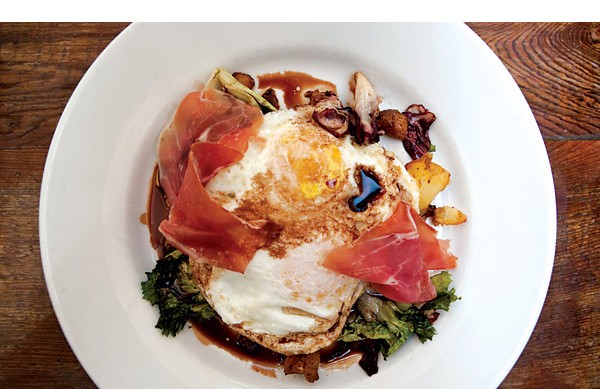 Best Brunch - Foreign Cinema
Given that owners Gayle Pirie and John Clark have written a book on the subject of breakfast, it's not surprising that the Foreign Cinema brunch is an enduring favorite. From the balsamic fried eggs (pictured above) to the housemade pop tarts, a meal on the patio amid sun-dappled tables and Mission-hipster chatter is the best way to start the weekend.
2534 Mission St., 415-648-7600, foreigncinema.com
Best Classic - Zuni Café
For oysters at sunset, for weekend Bloody Marys, for late-night burgers with mountains of shoestring fries, there is no place quite like Zuni Café.
1658 Market St., 415-552-2522, zunicafe.com
Best Wine List - RN74
It's hard to argue with a wine list that includes a deep collection of some of the world's finest bottles of Burgundy, served without pretense by Rajat Parr and his team of jeans-clad somms.
301 Mission St., 415-543-7474, michaelmina.net/rn74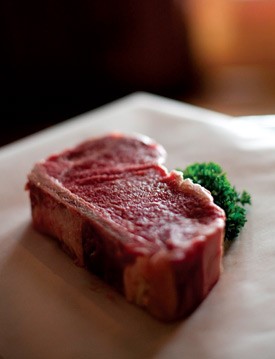 Best Steakhouse - Harris'
This is classic steak house in every sense of the word, from the on-display dry-aged beef to the vest-clad servers to the menu—all cuts of steak, baked potatoes, lobster and wedge salads. Sometimes retro can be quite tasty.
2100 Van Ness Ave., 415-673-1888, harrisrestaurant.com
Best Mexican - Nopalito
Though we all love the Mission taquerias, you chose 2-year-old Nopalito as your favorite Mexican in the city. We have craved the carnitas and the totopos from the day it opened, but with a newly issued liquor license ensuring a steady stream of premium tequila, there's one more thing to love.
306 Broderick St., 415-437-0303, nopalitosf.com
Best Vegetarian - Greens
With its picture-perfect setting and innovative vegetarian menu, Greens stands the test of time. The light-filled room makes for a cheerful weekend brunch, but for the ultimate experience, book a table for sunset.
Fort Mason, Building A, 415-771-6222, greensrestaurant.com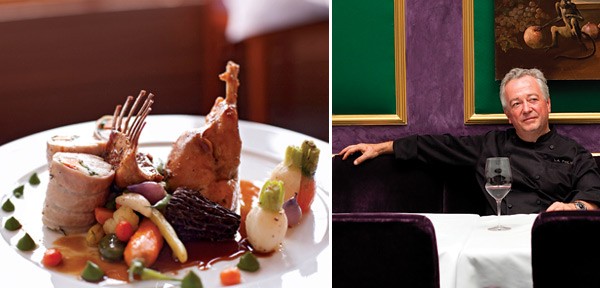 Best French - La Folie
There's something about an enduring legacy. La Folie, now in its 22nd year, is still your choice for French food. Little wonder: Chef Roland Passot continually turns out beautiful, classic dishes, from sautéed escargot in lemon butter, to stuffed quail and squab adorned in potato strings and truffles, to an Edam cheese soufflé for dessert.
2316 Polk St., 415-776-5577, lafolie.com
Best Japanese - Zushi Puzzle
The cheeky owner of Zushi Puzzle doesn't suffer fools (or Yelpers) lightly. Despite—or perhaps because of—this, the Lombard Street restaurant is always busy. The menu includes nigiri, sashimi and a selection of those not-so-authentic but still tasty rolls. Udon and soba noodles are available for land-lubbers; for best service, sit at the counter.
1910 Lombard St., 415-931-9319, zushipuzzle.com
Best Desserts - Waterbar
You chose Emily Luchetti's homey desserts as your favorites—because truly, who can resist well-made profiteroles with cherry compote, black-and-white ice cream cake and aprium pain perdu? Not us.
399 the Embarcadero, 415-284-9922, waterbarsf.com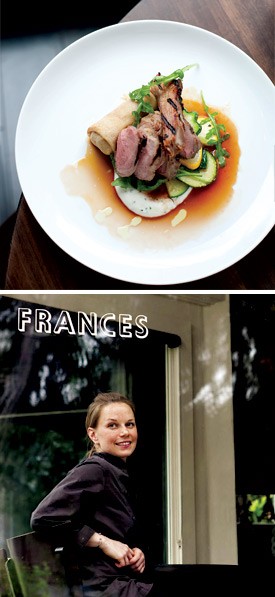 Best Newcomer - Frances
A reservation at 8-month-old Frances is one of the hardest to get in town. What chef Melissa Perello intended as a neighborhood restaurant has quickly become a destination spot, with locals and visitors alike jockeying for tables and tastes of Perello's food. Her melding of classic technique with California ingredients (stuffed guinea hen with chanterelles, white corn and apricots, anyone?) has earned her a James Beard Foundation nomination for Best New Restaurant, which only goes to show that you know what you're talking about.
3870 17th St., 415-621-3870, frances-sf.com
Best Cocktails - Beretta
What's not to like about the Dolores Park Swizzle, the Hemingway and the Londsdale, all made-to-order by a team of expert bartenders? No wonder this place is packed every night.
1199 Valencia St., 415-695-1199, berettasf.com
Best Late Night - Nopa
San Francisco isn't known for a late-night scene, but pop into Nopa after midnight, when the place is filled with restaurant industry folks, eating burgers and drinking excellent cocktails, and you'd never know we had a reputation as an early-to-bed town.
560 Divisadero St., 415-864-8643, nopasf.com
Best Outdoor Dining - Waterbar
By the end of this month, we'll be enjoying our best weather of the year. Soak it up—along with lobster rolls, fish and chips, and fresh oysters—from Waterbar's bay-front patio. Because you voted it your favorite for dessert, too, we know you'll stay for the final course.
399 the Embarcadero, 415-284-9922, waterbarsf.com
Best Italian - Delfina
The next six months promise to be big ones for the Delfina team, who will open their fourth restaurant (in the former Ramblas space at 16th and Valencia streets) this winter. In the meantime, get your Italian fix at the mothership, which year after year wins the readers' vote for Italian.
3621 18th St., 415-552-4055, delfinasf.com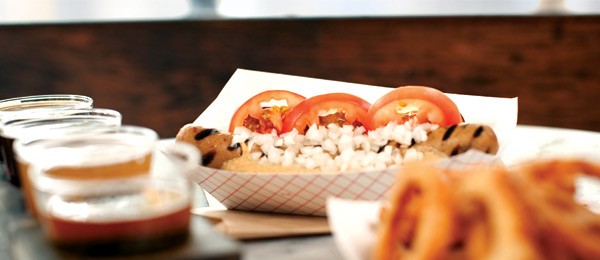 Best Meal Under $15 - Showdogs
At this hot dog and sausage emporium—opened in July 2009 by the Foreign Cinema team—you can sample any number of links made by local producers, including Fatted Calf and 4505 Meats. Complement it with french fries, superlative onion rings and pints of local beer, all best enjoyed on Friday evenings, when the diminutive Market Street spot also offers live jazz.
1020 Market St., 415-558-9560, showdogssf.com
Best Thai - Osha
With a branch in nearly every corner of the city (seven locations and counting), you're never far from green papaya salad, yellow curry and mango sticky rice.
4 Embarcadero Center, 415-788-6742, oshathai.com
Best Mediterranean - Kokkari Estiatorio
Nebulous though the "Best Mediterranean" category may be, you all had a clear favorite. Kokkari's spit-roasted meats and classic Greek dishes (moussaka, souvlaki and the like) still garner raves. The suited politicos dining at the bar don't hurt either.
200 Jackson St., 415-981-0983, kokkari.com
Best Burger - Epic Roasthouse
This is a serious burger. Weighing in at half a pound, accompanied by all the (housemade) trimmings and with a $20 price tag, it's best shared with a friend—a hungry friend.
369 the Embarcadero, 415-369-9955, epicroasthousesf.com
Best Korean -Tie: Brothers BBQ and Namu
The tie in this category represents the two faces of Korean food in San Francisco—the classic (Brothers BBQ) and the modern (Namu). No need to play favorites; there's enough kalbi love to go around.
Brothers BBQ, 4128 Geary Blvd., 415-387-7991; Namu, 439 Balboa St., 415-386-8332, namusf.com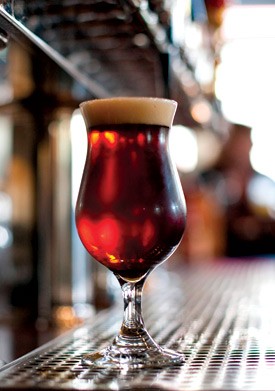 Best Beer List - The Monk's Kettle
Now that we've witnessed the arrival of cicerones (beer sommeliers), it's clear that suds are on the rise. The selection of beers available at The Monk's Kettle is unrivaled: From more than a dozen draught options to pedigreed bottles of barleywine, Imperial Stouts and German Rauchbier, this is the place for the uninitiated to get a crash course and the connoisseur to talk shop with other beer freaks.
3141 16th St., 415-865-9523, monkskettle.com
Best Indian - Kasa
With two locations now serving the kati roll (think Indian burrito), Kasa continues to bring its fresh, homestyle Indian food to the masses. Bonus: The Fillmore Street location is open until 2:30 a.m. on Friday and Saturday.
4001 18th St., 415-621-6940, and 3115 Fillmore St., 415-896-4008, kasaindian.com
Best Chinese - House of Nanking
For the best meal at this Chinatown mainstay, tell the server how hungry you are, and then let him choose the freshest dishes, which vary according to season and the cook's whims.
919 Kearny St., 415-421-1429
Best Spanish - Zarzuela
For tapas—squid with aïoli, patatas bravas and plates of jamón Serrano (and, of course, glasses of sangria)—look no further than this cozy Russian Hill standby.
2000 Hyde St., 415-346-0800
Best Vietnamese -,The Slanted Door
After 15 years, the Slanted Door is still one of the city's most beloved restaurants. With its full bar and huge menu of Viet-Cal dishes (not to mention that view), the restaurant is poised to endure for another 15—at least.
Ferry Building Marketplace, 415-861-8032, slanteddoor.com
Best Pizza - Pizzeria Delfina
Let the Neapolitan wars rage around you. If you've got a stool at one of Pizzeria Delfina's two locations, with a panna pie on its way, you're in the right place.
3611 18th St., 415-437-6800, and 2406 California St., 415-440-1189, pizzeriadelfina.com
DON'T MISS A BAY AREA BEAT! SUBSCRIBE TO OUR NEWSLETTER.