By
Halloween isn't just for kids. Certainly not in the Bay Area. But the 21 and ups can't have all the fun right? Mark your calendars because The Coachwhips (one of John Dwyer of Thee Oh Sees' edgier previous bands before his latest project began evolving in the same direction. Guess it all comes full circle?) and Total Trash Booking have heeded our prayers and added a second "all ages" show to their trans-Bay Halloween Bash. Clearly the popular demand is deafening and the show's promoters are listening.
This one's at Oakland's Lobot Gallery on Sunday, October 28th and is co-headlined by Pangea (L.A.). You should definitely show up on time to catch Chicago's White Mystery. There will be backbends with guitars strapped on. That's an almost guarantee.

With this added show, it might take off some of the costume stress for The Coachwhips' first show (in seven years!) at SF's Verdi Club. That's where the venue will be converted into a Haunted House for the night, but it's sold out. The only way you're getting in is by schlepping out in costume for the limited number of tickets at the door. So get on it kids, you asked for it.

Tickets for added show in Oakland on sale now. See below for all of this year's Total Trash bands: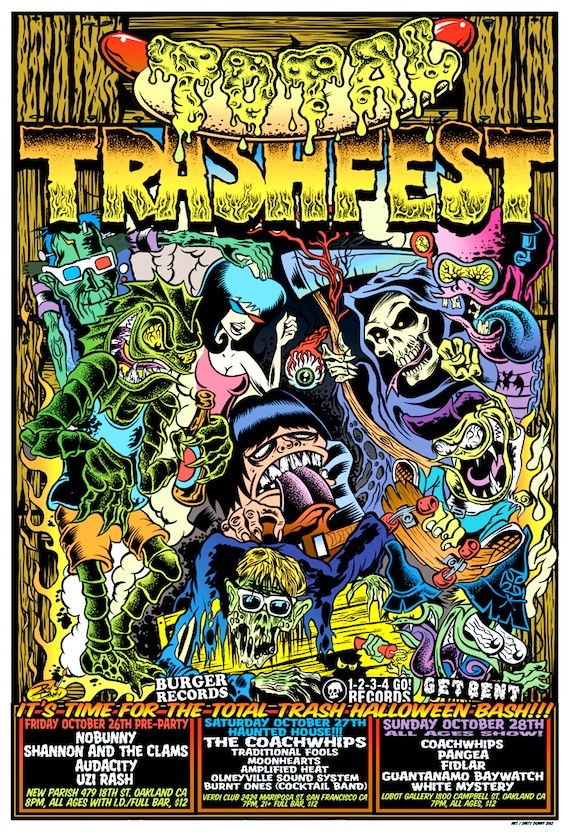 DON'T MISS A BAY AREA BEAT! SUBSCRIBE TO OUR NEWSLETTER.