By
San Francisco may be one of the only cities where "Victorian" is not a dirty word.
While, elsewhere, people invariably dwell on the period's intense social conservatism, sexual repression and industrial filth, a San Franciscan might just as easily envision familiar pastel-colored duplexes and Oscar Wilde's band of irreverent aesthetes, flaunting their dandyism in proud protest.
Wilde returned SF's affection, by the way. "I find the eastern states … too much of a reflex of English manners and customs … What I like best is the civilization which the people of the West have formed for themselves," he told the San Francisco Chronicle in 1882.
The Cult of Beauty: The Victorian Avant-Garde, now at the Legion of Honor, asserts a controversial claim to which our city, imbued with an unusually rose-tinted view of the period, should be uniquely receptive: that "Victorian avant-garde" is not an oxy-moron; that English artists, like their more celebrated Impressionist counterparts across the channel, took a radical stance of their own in the latter 19th century, crashing against the conservative tides of Victorian life at large. Call it aestheticism, and consider Wilde its poster boy.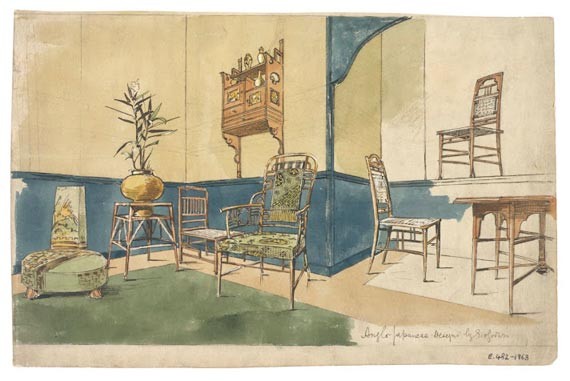 Edward William Godwin, Anglo-Japanese furniture designs, 1872–1883
pen, ink and watercolor on paper © V&A Images
The Victorian avant-garde's battle cry was "art for art's sake" - a subversive stance for the sanctimonious academy of the time. The paintings on display, by artists including Whistler, Rossetti and Tissot, are best described as objects of beauty. They defiantly possess no motives grander than that of asserting their own sumptuous physical presence and languid airs. Brush strokes remain visible and the once-requisite kernel of historical reference or clear narrative dissipates, ringing in the beginnings of modernism.
The Cult of Beauty just as thoroughly explores a corollary attitude, "beauty for beauty's sake," which came to guide the self-stylings of the Victorian middle class. A relatively new social group, the Victorian bourgeoisie and petit bourgeoisie hoped to define themselves through the adoption of such an attitude toward aesthetics, and consumed of home decor, product design and fashion accordingly. The soft, tertiary greens and intricate patterns of Victorian wallpaper adorn the galleries (for the full effect, make sure to check out the reproduction of Whistler's famed Peacock Room), along with Japanese-inspired tea sets, carved armoires, pleated gowns and velvet knee-breeches.
Through its varied array of beautiful objects, The Cult of Beauty makes for a vivid and well-rounded glimpse at an era not so different from our own, in which people sought respite from the hurried, conservative and at times gritty nature of city life in aesthetic pursuit – a (perceived) antidote available to any member of the growing middle class. The encounter with such a cultural predecessor is as intriguing as it is unsettling; the pastel façade crumbles in more ways than one.
The Cult of Beauty: The Victorian Avant-Garde runs through June 17, 2012, at the Legion of Honor, 100 34th Avenue.
DON'T MISS A BAY AREA BEAT! SUBSCRIBE TO OUR NEWSLETTER.