Jerky has arrived and the case can be made for indulging in gourmet versions around the Bay Area. Chefs are getting into the meaty mix and even looking to the sea for their jerky inspiration.
The bar menu at Charles Phan's new South Restaurant in the SFJAZZ Center spotlights spicy beef jerky, a non-traditional jerky dish has landed at Parallel 37 at The Ritz-Carlton on Nob Hill, Wine Country visitors can get their jerky fix at Long Meadow Ranch and the Peninsula is blessed with jungle jerky by a Phan protégée at Asian Box.
South's hand-cut, spicy beef jerky ($7) is the addictive creation from Slanted Door Group Chef Justine Kelly, who marinates then dehydrates each thirty-pound batch. The Niman Ranch beef jerky comes from the flank and is inspired by jerky that Kelly tried at Central Grocery in New Orleans. She uses a marinade with light and dark soy sauces, and molasses for results that are peppery, smoky, and appropriately salty–the perfect foil for a French 75 cocktail.  
Parallel 37 Chef Michael Rotondo turns to the sea for jerky inspiration–and yes, there is still some beef involved. He does geoduck Panopea generosa clam jerky that is folded into a dumpling. Rotondo's jerky-centric dish also includes Wagyu beef, sea bream, pomelo, Miner's lettuce and a pomelo emulsion—fork required.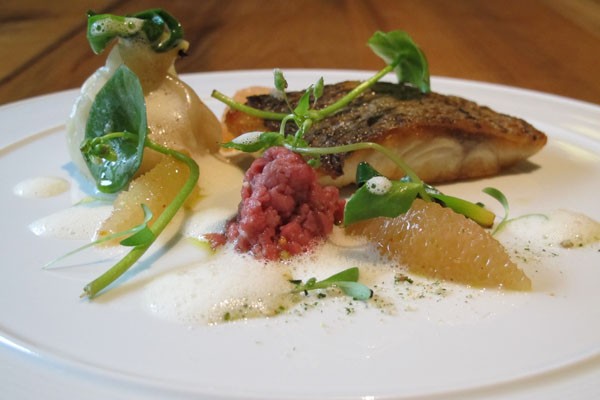 Geoduck Clam Jerky Dumpling. Photo courtesy of The Ritz-Carlton, San Francisco.
Tuck into beef jerky of the grass-fed variety at the Long Meadow Ranch Winery & Farmstead in St. Helena. Three varieties of jerky are showcased from jerky maker Mark Keller of Keller Crafted Meat, for $6 each. Purists cite cowboy jerky as classic and traditional, with almost no moisture. Heat lovers meet their match with hot and spicy jerky, for it is lightly sweet with a little kick. Adventurous and international types dig Landjaeger, a ground and cured sausage made from beef and pork. The popular Cabernet jerky may return to Long Meadow, and is said to be available later this year.  
Chef Grace Nguyen worked for many years with Charles Phan and now brings her own Vietnamese heritage to the concept at Asian Box, the only gluten-free, fast-casual dining destination of its kind. While watching her mother bake piqued her interest in cooking, it was her Vietnamese grandmother whom she credits to introducing her to traditional Asian fare. One of Nguyen's favorite foods is Jungle Jerky ($2.75), an herbed and spiced dried beef, which has become a favorite at Asian Box and cited as a perfect, all-day snack.