By
No chef worth his sea salt wears a white coat anymore. Bar Agricole's Brandon Jew models his uniform.
HAT
"My hair's long and this keeps it out of my face. I got it at a cool local skate shop. I used to skate. I bike more now. Yes, it's a fixed gear." Benny Gold beanie, $24 at Benny Gold, 3171 21st St., 415-814-3940, bennygold.com

APRON
"I always wear a long Bragard apron in the kitchen. This one was given to me by Michael Tusk when I worked at Quince. It's pretty tattered, but
it's so comfortable." Pinstriped Bragard apron, $25 at bragardusa.com

TONGS
"These are somewhere between regular tongs, which can destroy delicate things, and tiny tweezers, which are too precious. They're great for moving things around in a pan and taking slippery noodles out." Rösle fine tongs, $27 at Sur La Table, 77 Maiden Lane, 415-732-7900, surlatable.com

CLOGS
"I hate Crocs, but they're comfortable. I had a sous chef break his ankle once wearing real clogs, so I always remember that." Bistro Crocs, $40 at Crocs kiosk, Westfield San Francisco Centre, 415-541-9502, crocs.com

CAKE TESTER
"Meat thermometers miscalibrate. I use a cake tester and insert it into the meat, pull it out, and hold the metal tip on my bottom lip. You can train yourself how to feel the meat's internal temperature by doing this." Ateco cake tester, $1.25 at Sur La Table, 77 Maiden Lane, 415-732-7900, surlatable.com

CLEAVER
"I got this cleaver when I worked in Shanghai for a year. I learned to break down an entire pig with it. Now I use it to butcher whole animals at Bar Agricole—the kitchen staff gets really scared because I swing it around." Chinese carbon-steel cleaver, $9 at The Wok Shop, 718 Grant Ave., 415-989-3737, wokshop.com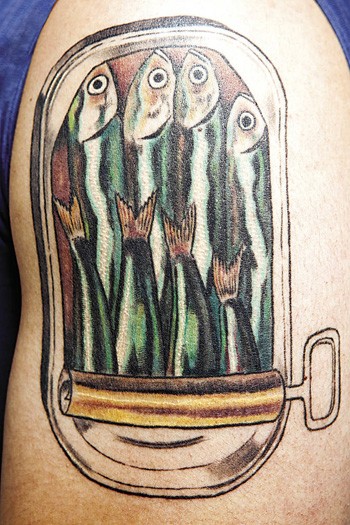 TATTOO
"I got this tattoo a year ago at a local shop off Market Street. I love it. Sardines are a type of fish that gets disregarded." 2Spirit Tattoo, 11 Pearl St., 415-701-8288, 2spirittattoo.com
DON'T MISS A BAY AREA BEAT! SUBSCRIBE TO OUR NEWSLETTER.