Eating fresh anchovies or whole sardines along the coast of Italy with a glass of Prosecco is a singular experience. That is, until I moved to San Francisco and realized that the salty, ocean flavor of these small, oily fish are a quintessential flavor of the Bay as well. For brunch or dinner, salty fish complements almost any meal. I've rounded up the restaurants that are serving the best plates of anchovies and sardines in town. A bonus? They're good for you!
1.  Nopa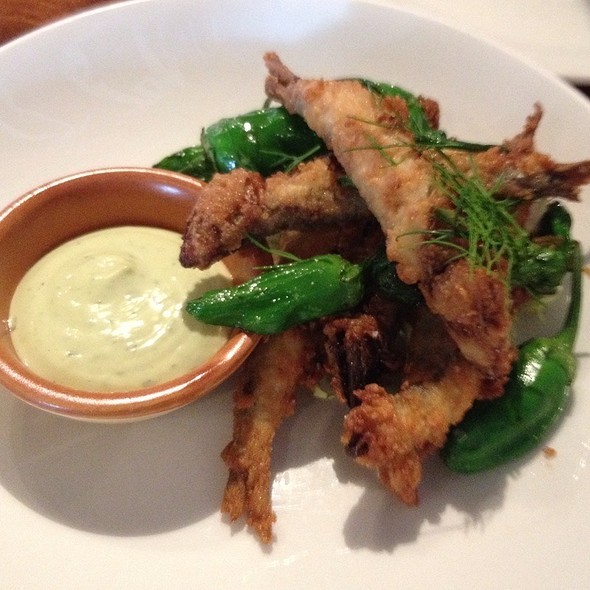 Little fried fish by Foodspotting user Kelly
My first anchovy experience in the Bay Area came from Nopa's kitchen. Their "little fried fish" stood out to me among the appetizers, and ever since, I have been known to pop in for a quick drink and an order of this salty, fried masterpiece. Served with a lemon and dill crème fraiche, it's light, delicate, and satisfying.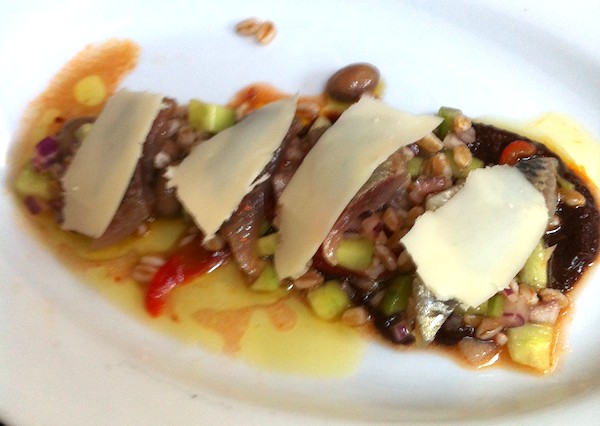 Cured anchovies or sardines are a familiar flavor in many different coastal cultures. Foreign Cinema introduces Middle Eastern flavors in their house-cured sardines, whose spices and oils lend a smoky, complex flavor to its taste. The sardines are served over a spiced farro with harissa, cucumber, and roasted peppers, and topped with thinly shaved Tarentaise cheese.
3.  Zuni Café (pictured above)
Zuni preserves the integrity of the anchovy with this modest rendition. A lattice of house-cured anchovies is bathed in olive oil and accompanied by Parmesan slices, small Taggiasca olives, and thinly shaved celery. The flavors of the ocean jump off the plate, and truly make you wonder how you will ever hide these fish on a pizza again. 
4.  Rich Table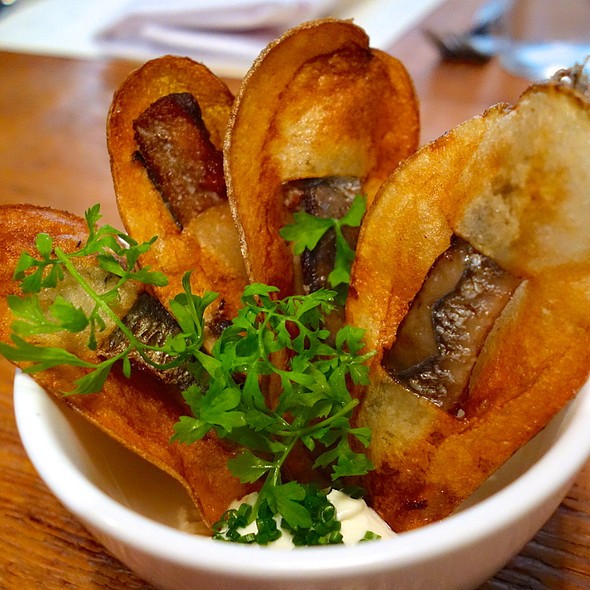 Sardine chips by Foodspotting user Jeffrey Chiang
Rich Table takes a unique approach to the anchovy appetizer with their sardine chips. Freshly made potato chips envelop large sardines. The two are fried together, creating a crunchy, salty combination, which is nicely balanced with a horseradish cream. This dish is playful, tasty, and a wonderful elevation from the simple potato chip.
As a traditional Italian pastaria, it's no wonder that Flour + Water's menu always offers some version of a sardine dish. They're a fresh, mouthwatering start to any rich pasta meal, and can be prepared in many different ways.  Currently, Flour + Water pairs cured sardines with pickled turnips, kohlrabi, and shallot.
6.  Maverick
Maverick's anchovies are reminiscent of Spanish tapas. Cured Spanish anchovies are placed over thinly sliced levain toast, which is spread with tart kumquat and fresno chili jam. Sour, salty, spicy, and sweet meld harmoniously on this unassuming plate.