If you ask a pizza snob where they think the best pizza in town is right now, they're likely to name Una Pizza Napoletana, because when it comes to pizza purity, Neapolitan is the O.G. style, and Anthony Mangieri is the Zen-like pizzaiolo who gets it right just about 100% of the time. 
As for other styles, San Franciscans frequently complain that it's impossible to find a good New York-style slice in this town, however we have our fair share of good deep-dish, with Little Star and the new Capo's doing it best.
But today we're here to talk to you about the much harder to define, though quite well represented, "California style" of pizza, of which there are quite a few good examples across the city. They're not necessarily wood-fired, not necessarily made with zero-zero flour, and the toppings lean in a more seasonal, and idiosyncratic direction. But they don't always deserve second-fiddle status  -- we just do our own thing here, and these are the finest examples: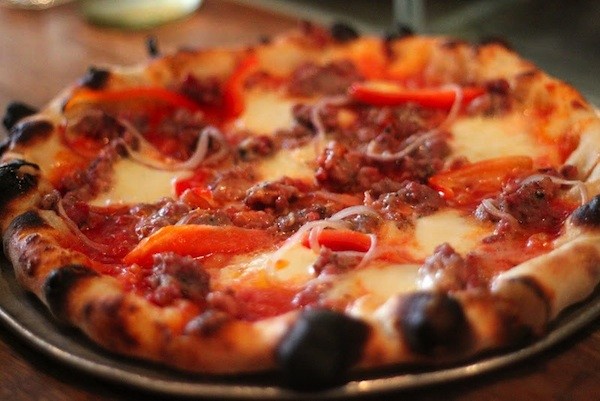 1. Salsiccia Pizza at Pizzeria Delfina 
Any pizza on the menu at Pizzeria Delfina would qualify for this list, including the changing seasonal specials, but we'll kick this off with one of their menu stalwarts. The housemade sausage pie is a great example of Pizzeria Delfina's "Cali-politan" greatness. The pizzas come out excellently blistered, crisped, and with a little char, despite there not being a wood fire involved (they use a brick-lined, gas-fired Marsal oven that reaches a nonetheless respectable 700+ degrees). Some of their pizzas are more purely Neapolitan in style, like their red pie and their Margherita, however many of the house favorites, like the broccoli rabe pizza and a current seasonal special with winter chicories, are definitively Californian, and delicious. Photo courtesy of Iron Chevsky.
2. The Honey Pie at Tony's Pizza Napoletana

Of the nine different sections of the menu at Tony Gemignani's four-year-old North Beach pizzeria, the California-Style section may be our favorite. Don't get us wrong -- his Neapolitan stands up to the best of them, depending on who's manning the oven. But some of the most original and enticing concoctions are the Cali-style creations, like the Honey Pie (top photo), featuring Calabrese peppers, scallions, mozzarella, shaved Piave cheese, serrano chiles, and crispy fried caramelized onions, all drizzled with honey harvested from the restaurant's own rooftop hives. It's about as California as you can get, and the chewy, bready crust is terrific.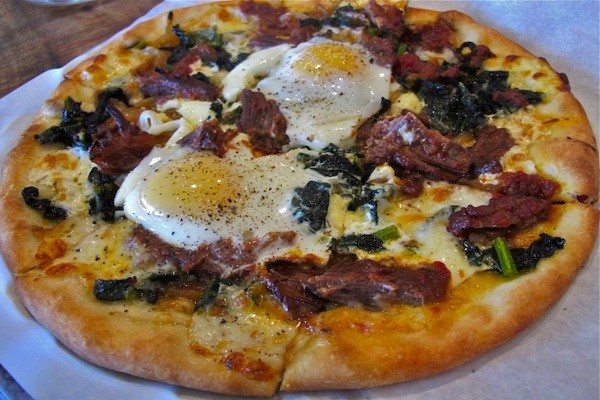 3. Any Pizza at Pizzetta 211 
This Outer Richmond gem is well known to everyone in the neighborhood, but less so to those with a phobia for the Avenues. The small, gas-fired, thin-crusted, well oiled pizzas aren't trying to adhere to any traditions, but are always excellent; and they caused pizza blogger and NY-style devotee David Kover to declare himself "pie-curious." Go for simple menu staples like the pizzetta with tomato, mozzarella, and a few dollops of basil pesto; or the rosemary pizzetta with Fiore Sardo cheese and pine nuts. Or try one of their daily changing specials, which feature things like lamb sausage and mint, or butternut squash with brown butter, fried sage, and ricotta. Photo above courtesy of citygirlonthego.
4. The Amatriciana at Gialina
This one is a Michael Bauer favorite, and we have to say it is worth the trip to Glen Park. It's another gas-fired pizza that comes out beautifully and satisfyingly crisp from edge to center, topped with tomato, pancetta, chilies, Pecorino, and a farm egg. The combination derives from a classic Roman dish, spaghetti all'Amatriciana, which comes with a tomato sauce flavored with guanciale, pepper, and Pecorino. In Gialina's pizza version spicy and delicious, and beats out other versions at Pizzeria Delfina and Gialina's own sister restaurant, Ragazza. Photo below courtesy of Deep Dishing.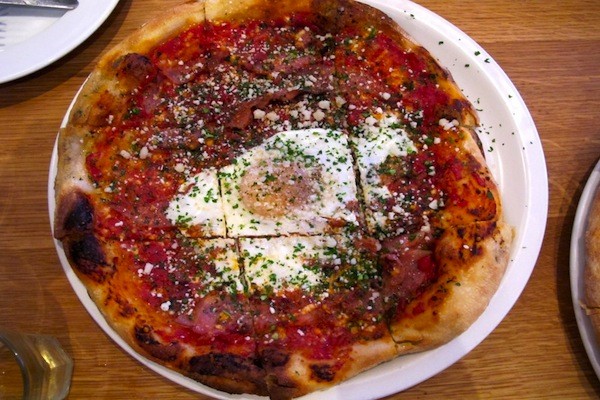 5. The Italian Combo at Pauline's 
Pauline's is a Mission classic, still going strong after 26 years on Valencia Street. Their house-made dough is more yeasty and bready than the city's thinner, more fashionable counterparts, but the resulting crust is still awesome, idiosyncratic, and emblematic, we would argue, of a San Francisco style. You shouldn't miss the signature pesto pizza, which may feel a little bit 1980s to some, but is incredibly tasty -- the chefs take a hot, fully cooked crust out of the oven and immediately brush with a thick paste of fresh basil pesto, sprinkle with parmesan, and scatter it with pine nuts. But we are also fans of the Italian Combination pizza (marked forever on the menu as "Our Best Deal"), topped with tomato sauce, sweet house-made Italian sausage, salami, scallions, mushrooms, and fresh garlic. And don't miss their nightly chef's specials, which usually feature toppings from the restaurant's two organic farms.
6. The Osso Pizza at Flour + Water
And the list wouldn't be complete without another Mission staple and modern classic, Flour + Water, so named because it's a temple of pasta and pizza. It's the only wood-fired spot on this list, and therefore the closest to Neapolitan, but Executive Chef Thomas McNaughton has always taken liberties with the form, leaning toward seasonal, market-inspired toppings. This week happens to mark the three-day return of one of their rotating signatures, the Osso pie topped with bone marrow, fontina, broccoli rabe, and fresh grated horseradish -- a rich but balanced combination, only available through February 20, though it makes frequent return appearances. Also great is the wild mushroom pie, and their sausage pie with tomato, Treccione, olives, capers, and oregano.
[Author's note: I just did a compendium of the 50 Best Pizza Places in the Bay Area for Grub Street, if you're interested in further study.]