Dreaming of a white Christmas? Embrace everything winter has to offer by looking north—way north—for the perfect weekend away.

Canada is a sanctuary of vibrant cities, world-class spas, fabulous dining options and unique outdoor adventures. And winter is when it all comes alive. Whether you hope to relax in a seaside town in British Columbia, experience a true Canadian winter in the Yukon, wine, dine, and ski in Whistler, or see the Northern Lights in Alberta, our friendly neighbor to the North has something fun to offer every girl in your squad.


---
Snowshoe on the Sunshine Coast, British Columbia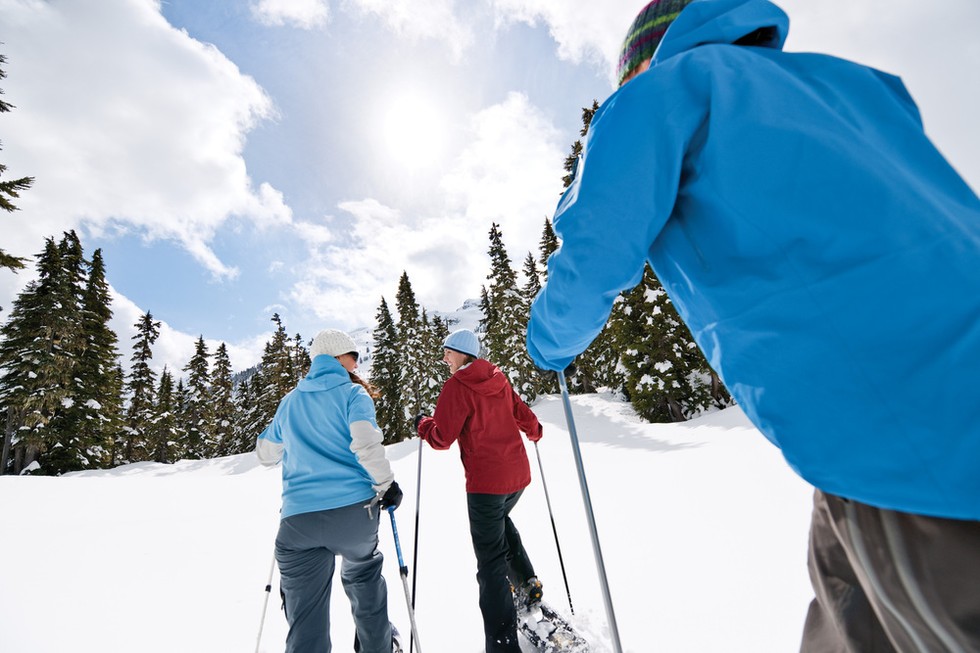 (Destination Canada)
DO
The Dakota Ridge Recreation Area on the Sunshine Coast offers world-class cross-country skiing and snowshoeing for visitors of any skill level. Dakota Ridge maintains eight miles of track-set cross-country ski trails and five miles of snowshoe trails that wind through old-growth forests and open areas in a beautiful sub-alpine setting. Tetrahedron Provincial Park also features snowshoe trails, and don't miss the opportunity to crash at one of its 12-person, first-come-first-snooze cabins that can be found throughout the park
EAT
Found in Gibsons, British Columbia, Molly's Reach is an iconic stop for visitors and locals alike, but not only due to its stunning seaside location. This restaurant on the wharf was featured in Universal Films' romantic drama Charlie St. Cloud starring Zac Efron, although the regulars are more impressed with the menu than the restaurant's silver screen credentials. Choose from a great selection of BC wines and pair them with meals ranging from traditional fish and chips to the highest quality beef. Reservations are recommended at this popular spot.
RELAX
A world-class relaxation experience awaits. Nestled in the quiet sanctuary of Pender Harbour, The Spa at Painted Boat features a broad range of treatments, each incorporating a unique blend of sea nutrients and essential oils. Receive a massage, meditate, then head to the Spa Garden, an outdoor oasis where you can enjoy the sauna, outdoor glacial-rain shower, warm saltwater flotation pool, and outdoor fire pits. For a weekend of ultimate relaxation, hit up Rockwater Secret Cove Resort and Spa to truly Zen out.
STAY
Escape to the six-acre Pender Harbour Resort, which offers the widest range of accommodations in the area and 600 feet of waterfront along Garden Bay. Perhaps the most luxurious of its offerings is the large chalet that sleeps up to eight—remember, this is a girls' weekend! The resort also offers a number of cozy, traditional cottages with oceanfront views and four motel rooms for more modest travelers. Feeling adventurous? Take your pick from 27 fully serviced RV sites, three yurts and three tenting sites. Launch your kayaks into the bay, take a dip in the heated swimming pool, or just chill out by the fire and share some s'mores
Visit the Wildlife in Whitehorse, Yukon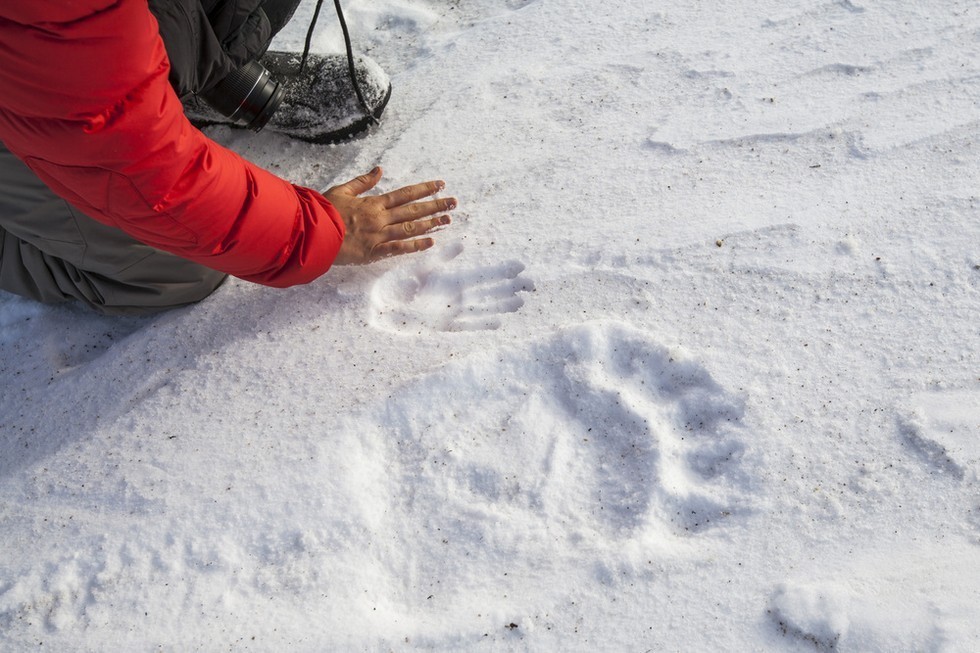 (Destination Canada)
DO
The Yukon is an abundant, wild kingdom, where the animal population outnumbers its human residents. Take the crew on a wildlife viewing tour to spot cute critters you can't find in the great U S of A. Animals are more active in early morning and evening, so plan your tour then head out for a mid-afternoon nosh at one of the nearby lodges or restaurants!
EAT
Head to Wheelhouse Restaurant in Canada's north for traditional comfort food from the region—think bison Shepherd's pie and elk-and-roasted-tomato penne. Housed in the south end of a newly constructed building known as Waterfront Station, this "Yukon-casual" eatery celebrates the sternwheelers that plied the Yukon waterways prior to the development of highways in the area. In addition to good food and friendly service, you'll find archival photos, artifacts, period finishings, and live jazz every Wednesday from 6 p.m. to 9 p.m.
RELAX
The Takhini Hot Springs have been in operation for more than 100 years, but the natural pools have been used for centuries. The water is rich in minerals, providing a relaxing and rejuvenating soak for visitors. An added bonus—no kids are allowed in the pools after dark, giving you and the crew room to relax.
STAY
Thirty-five minutes outside of Whitehorse lies an impressive log structure with cathedral ceilings and an expansive decking overlooking spectacular Marsh Lake. This is the Inn on the Lake, a prime spot for aurora borealis watching. In winter, you have access to complimentary snowshoes, a hot tub, and the sauna, while summer accommodations include at-will access to mountain bikes, canoes, and kayaks. Our truly Canadian recommendation? Soak in the hot tub before daring each other to jump into the freshly fallen snow outside.
Winter Bungee or Zipline in Whistler, BC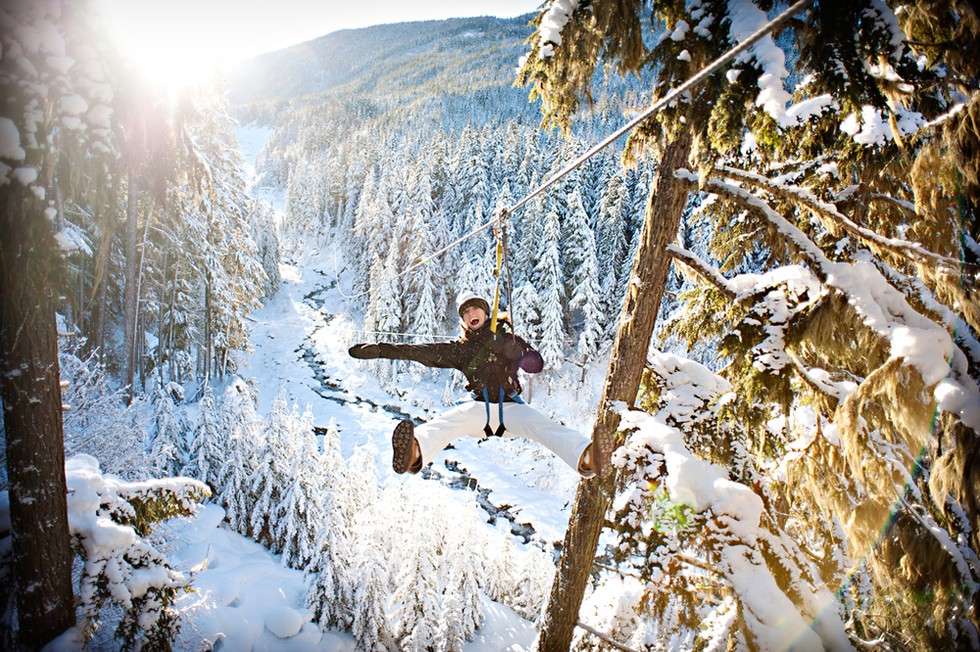 (Tourism Whistler/Chad Chomlack)
DO
Winter bungee, anyone? That's right— Whistler Bungee caters to locals and tourists year-round just steps from The Village. You and your friends can have the experience of a lifetime, jumping 160 feet over the Cheakamus River, surrounded by basalt column cliffs and gorgeous old growth forest. Looking for a tamer option? Do something the gang would never try at home and explore Ziptrek's network of sky-high ziplines and suspension bridges, open year-round.
EAT
Araxi, located in Whistler's pedestrian-only village, was the region's early pioneer of farm-to-table dining. Chef James Walt's menu features a dozen varieties of oysters, sourced daily from Cortes Island and Desolation Sound in British Columbia. Don't miss this restaurant's delicious seafood towers and gorgeous shellfish platters.
While in Whistler, you have to try this Canadian classic: Beavertails. We get it, it sounds strange, but trust us. A national favorite since 1978, this whole-wheat pastry is hand-stretched to resemble the tail of a beaver and served piping hot with your choice of toppings. We like the Classic with cinnamon and sugar, but if you're really feeling indulgent, go for the Triple Trip—a chocolate-hazelnut spread topped with peanut butter and Reese's Pieces.


RELAX
After experiencing such thrilling activities and delicious eats, wind down at Scandinave Spa, Whistler's unique outdoor spa experience just north of the Village. This authentic Scandinavian spa is tucked inside a spruce and cedar forest on the edge of Lost Lake and Spruce Grove parks. There's even a no talking rule, which makes this is a perfectly peaceful spot where all of you and the gals can leave your troubles behind. Invigorate and cleanse the body and mind with hot baths and refreshing waterfalls, melt away with a relaxing massage treatment, and breathe in the invigorating mountain air.
STAY
Pan Pacific Whistler Village Centre is a breathtaking vacation destination nestled in the heart of Whistler. With stay and ski packages, the resort offers effortless access to pristine skiing, hiking, mountain bike trails, world-class golf, and superb fishing. Choose one of their private suites with amenities such as full kitchens, cozy fireplaces, and a balcony from which to take in the stunning mountain views as you sip some bubbly with the girls.
See the Northern Lights in Jasper, Alberta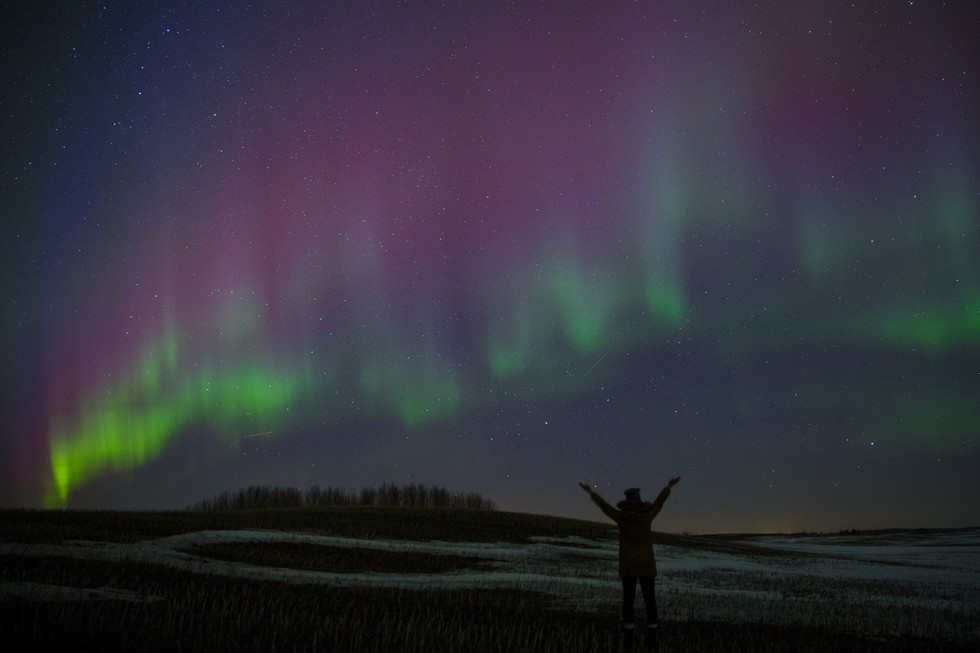 DO
Check off another box your bucket lists and see the Northern Lights at Jasper's Dark Sky Preserve. In 2011, the Royal Astronomical Society of Canada gave Jasper National Park this designation because it has almost no artificial nighttime lighting, making it the very best Northern Lights viewing spot around. For a cozier experience, you can also see the show at Sun Dog Tours' outdoor inflatable theatre.
EAT + DRINK
Wander into Coco's Café, a locally owned-and-operated eatery specializing in vegan, vegetarian, and gluten-free fare for all-day breakfast. Or, if you're rushing off to a mid-morning snowshoe adventure or mountain hike, grab a fresh-brewed coffee or espresso by Phil & Sebastian, a local coffee producer, and a healthy breakfast bagel for the road. Lunchtime eats feature the likes of hearty veggie chili and, for any visiting carnivores, Montreal smoked meat.
Have all your adventures left you and the girls parched? Experience Canadian craft beer culture at Jasper Brewhouse, a local microbrewery boasting premium hops, malts and house-cultured yeast in the heart of Jasper. At this spot, there's an occasion for every beer and a beer for every occasion. Try the Jasper the Bear Ale, brewed with clover honey from the Okanagan Valley.
RELAX
Treat yourself to a day at the Fairmont Spa at The Fairmont Jasper Park Lodge. The grandeur of Jasper does more than simply take your breath away: It inspires you to slow your pace. To breathe deeply. To reflect on the amazing artistry of nature. This reflection underscores every treatment and experience offered at the spa. From lavender-infused stone massages, to maple-butter body wraps, to a mineral-wellness soak, there's something for every member of your squad. Take all the time you need to breathe, relax and enjoy each other's company.
STAY
Surrounded by majestic snow-capped mountains, the Tonquin Inn in Jasper National Park is your Rocky Mountain getaway. With easy access to the best skiing and hiking trails the Canadian Rockies have to offer, you'll be out of your cozy bed and onto your next excursion before you (or your sleepy friends) know it.