If you've read this far, it's probable the title of this month's hike piqued your curiosity. I discovered this hidden jewel on a recent weekend in Santa Cruz; we were looking for some easily accessible morning hiking/dog walking. A Yelp search pulled up Pogonip Park, located just minutes up River Street (Hwy. 9) from downtown and sandwiched between the San Lorenzo River and the UCSC campus.
The Yelp reviews were pretty enticing: "Great place to go hiking with your girl and you could bring your dog. Love the trail, love the hiking . Had a great time great time." and "There are about eight miles of trails, most of the giant redwood/ shaded ferns variety, but a couple of the loops take you out to wide open fields..." and perhaps the kicker being "Pogonip is the spot for nature lovers and lovers in nature. Watch out as you round corners cause you could just as easily come across a nude sunbather as a mountain lion (seriously)."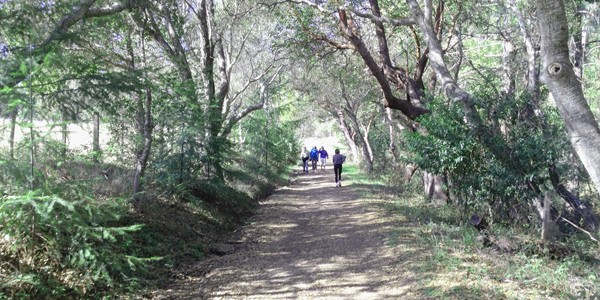 Okay, that said, it was not a hard decision to go try it out, no matter what we might find. Access parking is limited on Golf Club Drive, just off River Street, so you may have to hike up the road a bit to reach the main entrance. Our one-hour CCW loop was about three miles in length and yielded 400 feet of ascent/descent giving us a full plate of all that Pogonip's 640 acres has to offer. The views of Monterrey Bay from the upper reaches are just jaw-dropping, and there are a variety of trails and habitats to explore, along with connections to trails on the UCSC campus and Henry Cowell State Park for those wanting an extended hiking experience. Unfortunately, it was rather chilly (and early) to encounter any nude mountain lions sunbathing, but it was still an outstanding hike.
A few notes: Dogs (on leash) and MTBs are welcome but not allowed on all trails; restrooms or water are not available. The visitor's center is open on Fridays. More info at City of Santa Cruz website (but not a clue as to how the park got its name).