One of the greatest food cities on earth, New Orleans has a truly one-of-a-kind spirit and verve. Its sensual magic easily translates into unique cuisine, historically formed from an array of cultures, and coalescing into unmatched Creole and Cajun cuisines. In keeping with the rest of the country, there's a renaissance of mid-range, urban-chic, smart restaurants in Nola, alongside the eternal classics. As it reinvents itself, Nola wisely reveres the past while continuing to celebrate life like no other city in America.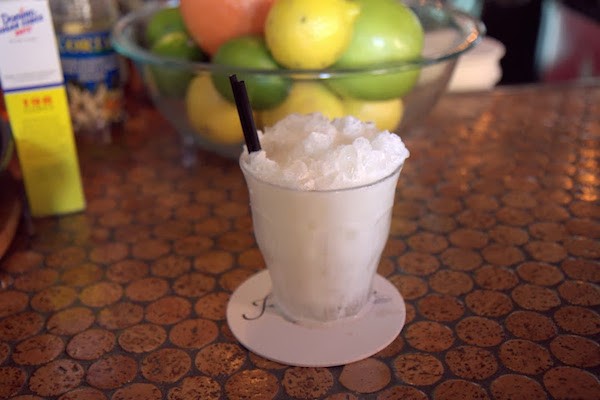 Cocktail at Kingfish
WHERE TO DRINK
Summer is the hottest, sultriest time of year to visit New Orleans, climaxing in mid-July with the biggest cocktail party in the world. Tales of the Cocktail is a mad frenzy of a week of seminars, parties, tasting rooms, dinners, spirits/cocktail education, streetside bartender competitions and drink carts, and general mayhem in the Nola streets overrun with over 20,000 industry folk and fans. Though the event has gotten crazier and larger each year, in some ways, you can't be truly initiated into cocktail geekdom without at least experiencing its one-of-a-kind intensity once. 
Anchor Distilling's The Great Old Fashioned
Check out seminars sponsored by local companies like Anchor Distilling's seminar on the great Old Fashioned cocktail on Saturday morning, July 19. 
For a walking tour on New Orleans' rich cocktail history, try the New Orleans Cocktail Tour, happening daily with the added bonus of absinthe cocktails to sip as you walk 
The big shindig of the week is a Truman Capote-Black & White Ball-themed Spirited Awards Ceremony on Saturday, July 19, modeled after the famed writer's 1966 party where the world's best bars, bartenders, writers, menus, mentors and more, are awarded.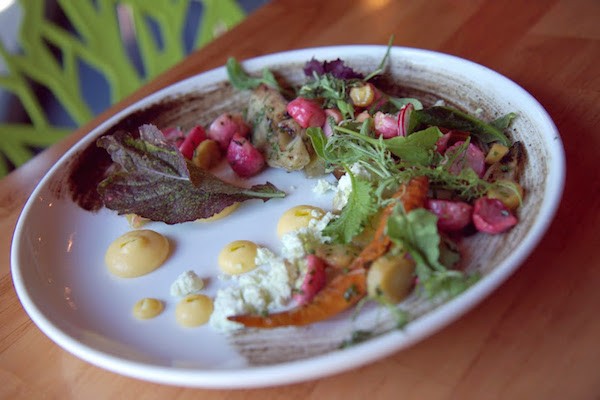 A plate at Root
WHERE TO EAT
While you're beating the summer heat during Tales, here are seven newer restaurants and bars in which to seek delectable nourishment New Orleans-style. 
ROOT, CBD (Central Business District)
Root is one of New Orleans' great contemporary Southern restaurants, though only open since the end of 2011, a whisper in a city with a surprising number of restaurants that have survived over a century. Executive Chef/Proprietor Phillip L. Lopez best marries the fresh invention we're used to in California and the vegetable-forward, Scandinavian wave of recent years with the regional cuisine of Louisiana. A prime example is a playful turn on ubiquitous deviled eggs: Louisiana pickled shrimp served in an egg-holder platter, each holder filled with either whipped truffle salt cod-egg yolk mousse, remoulade sauce, lemon pickles, charred artichokes or shrimp-stuffed deviled eggs.
SQUARE ROOT, Lower Garden District (1800 Magazine St.)
From the owners of Root comes our most-anticipated New Orleans opening of the year (currently slated to open Spring 2014). At merely 16 seats at a wrap-around counter encircling an open kitchen, Chef Phillip Lopez will offer two seatings a night of roughly 15 course prix-fixe dinners ($150 per person). The concept with weekly-changing menu is ambitious, attempting to bring to Nola El Bulli-influenced creative fine dining. Given the quality of Root, we can only imagine what treasures await at Square Root – not to mention a 3000+ bottle wine cellar.
KILLER PO BOYS in back bar at Erin Rose, French Quarter
In the back of beloved dive bar Erin Rose, all-day Killer Po Boys popped up in 2012. It's definitely hipster po boys but among the countless traditional po boy joints around New Orleans, it's refreshing having this funky outpost in the mix. Try a Dark & Stormy (yes, named after the cocktail) pork belly po boy, glazed in rum ginger, zippy with lime slaw and garlic aioli. Don't miss Jameson grilled cheese on wildflower whole grain bread. Consider them boozy po boys. 
COQUETTE, Irish Channel
One of Nola's underrated greats, Coquette is "the whole package": heartwarming service in a historic building, contemporary New Orleans cuisine interpreted by Chef/Owner Michael Stoltzfus, sourced mostly from farms and fisherman in Louisiana and Mississippi. South meets East in cubes of raw yellowfin tuna, cantaloupe and country ham given texture from a smattering of popcorn. The St. James Sour is a beauty of a cocktail mixing Herbsaint (an absinthe-like anisette), lemon, egg white and bitters perfected by root beer extract – a sort of root beer absinthe sour.
PECHE, CBD (Central Business District)
Beloved New Orleans Chef Donald Link (of Herbsaint and Cochon, to name a few) opened Peche in summer 2013. The spacious seafood "temple" doesn't disappoint. In the roomy, casual space, daily changing whole fish, oysters, and raw bar offerings, like a crudo of tuna in tomato water, fennel, corn, parsley and chili flakes, can be light and delicate, but flavors are bright and bold, in the Southern tradition. Finish with a tart Key lime pie in buttermilk whipped cream.
KINGFISH, French Quarter
Wherever bartender Chris McMillian tends, go. As the consummate, lifelong bartender, he's what the great bartenders of yore must have been: perfecting the classics, not worrying about the latest trendy cocktail, focused on service first (he is also a co-founder of the Museum of the American Cocktail, a must visit for cocktail aficionados in Nola, currently closed as it moves to its new location in the Southern Food & Beverage Museum). Kingfish is McMillian's current home, a worthwhile restaurant in the Quarter, just opened in 2013. Try his perfect Ramos Gin Fizz on a sultry Nola day. As he foams up egg white over the back of a spoon in a tall glass, served cool with absinthe, creme de menthe, orgeat (almond rose water syrup) and cream, you know you're being served by one of the greats.
LOA, CBD (Central Business District)
Don't let the almost gaudy hotel bar (International House) setting dissuade you.  Loa remains the truly inventive cocktail menu of New Orleans thanks to Bar Manager Alan Walter. Here New Orleans' classics like an Absinthe Suissesse are given a unique turn using coconut milk instead of cream. Try fascinating creations like Pearly Gates, decadently mixing 20 year old Grappa Stravecchio, Rothman & Winter Orchard pear liqueur, a bracing golden raisin-Pinot Grigio vinegar and sparkling lemon radler, a traditional German lemon soda-beer concoction.
WHERE TO STAY
International House is just across Canal Street from the French Quarter but automatically quieter while still easily accessible. It's modern, slick and boasts the most imaginative cocktail menu in Nola in its lobby at the aforementioned LOA bar. 
For luxury and quiet, though easily walkable to the Quarter and short bus or cab rides to the Garden District and Magazine Street, Windsor Court is Nola's elegant retreat from the party spirit that often pervades nearby streets. Roomy suites boast "powder rooms" or well-lit vanity areas, decks and spacious living rooms.