The Craftsmen: Jack/Knife
Nick Kemp, 24, looks as if he's been panning for gold, circa 1849. He answers the door at the John Whitmarsh Gallery in SoMa—where his bespoke denim enterprise Jack/Knife occupies a modest workshop space—wearing slim, high-waisted jeans hitched up with vintage suspenders, a denim work shirt, and leather boots. The grizzly mountain-man beard? Icing.
---
Since the term "bespoke" is usually reserved for custom men's suits á la London's Savile Row, Kemp's rugged look seems a little jarring at first, but then he explains the clothes-as-tools theory that he and Jack/Knife cofounder John Alburl, 24, devised while restoring a vintage motorcycle back in their college days at University of Georgia. Suddenly the concept of finely tailored denim isn't a novelty. It's downright legit.
"We realized that we're very hard on our clothes and need them to be totally functional and durable, just like tools," says Kemp, who spent a lot of time on Alburl's grandfather's Madison, GA farm. "Just like a jackknife."
In November 2011, after gaining invaluable industry experience at Levi's—where Kemp ran the SF Tailor Shop and Alburl worked for Levi's Vintage Clothing—the two friends at last opened their Jack/Knife studio "to construct the toughest and best-fitting selvage-fabric pieces out there," says Alburl.
The devil is in Jack/Knife's signature utilitarian details. Based on your measurements, patternmaker Melissa Vu meticulously drafts a jean template by hand—at least, a 20-hour process. The jeans can be fashioned in any custom style—they've never used the same pattern twice—in rare and practically indestructible fabrics (think black-resin-treated selvage denim or Japanese dead stock shuttle-loom selvage). Painstaking single-needle lockstitch construction supersedes the flimsy chain stitch, an industry standard. And copper burr-and-washer rivets are hand-hammered into the jeans. For added reinforcement, seams are bound in cotton twill.
Undeterred by their two-month waiting list for bespoke jeans, Kemp and Alburl also hone their blades on industry commissions. Currently, they're reproducing a pair of jeans from the 1880s, unearthed in a Death Valley mine by Mike Harris, a professional denim hunter; designing a dead stock duck-canvas outdoorsman's vest in collaboration with SF-based Tellason; and executing all of the tailoring, alterations, and denim-restoration needs for Unionmade in the Castro.
"As you can see, we have decided to Jack/Knife everything," says Alburl. It's an edgy tactic befitting the sharpest knives in the drawer.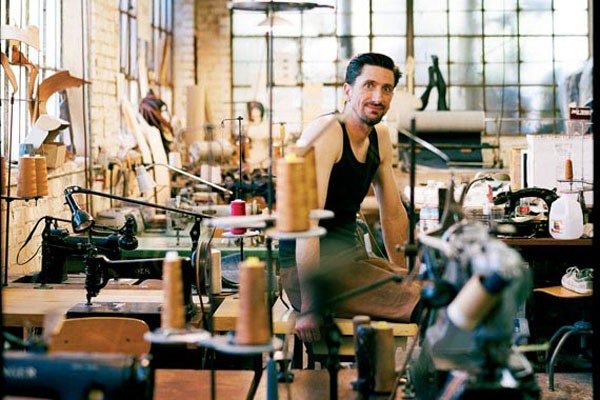 The Lone Star: Roy Slaper
When it comes to jeans, 40-year-old Roy Slaper, founder of Oakland-based selvage-denim line ROY, has a strong tendency to spout philosophical deliberations: "Is jean-making a lost art? Is it art or is it technique? Is it lost? Maybe not lost, lost." Except for that one time, not too long ago, when he was forced to reinvent his life.
In February 2007, after Slaper's metalwork job at an Oakland signage shop dissolved and a subsequent career in neon-bending proved fleeting, he asked himself, "What have I always wanted to do?" He replied with an uncharacteristically succinct "Oh yeah, make clothes. Jeans are nice." But despite this quick glimpse of his indigo parachute, the extent of Slaper's fashion savvy amounted to a casual familiarity with Dickies workwear. Fortunately, utilitarianism and denim are not such strange bedfellows.
An intense (and ongoing) self-education ensued, in which he spent nearly two years entrenched in his apartment—and then, starting in December 2008, in an actual factory space—sewing, cutting patterns, reading trade publications, interviewing industry veterans, and repairing vintage sewing machines. The lost art of jean-making, it seemed, was well on its way toward a revival in Oaktown. "This work is a dream for me, but I know there are people all over the world who consider it drudgery," he says with trademark circumspect.
Despite ROY's popularity among die-hard jean junkies, Slaper is still a one-man operation, designing and manufacturing his men's raw-denim jeans with a few styles cut from his own proprietary selvage. Woven to Slaper's specifications at Cone Mills in Greensboro, N.C, the loomstate fabric forgoes any modern finishing treatment in favor of a substantial weight, honest texture, and supple feel.
"I like my denim to feel like a heavy blanket, not a petrochemical-laden textile," he says, after indulging in a long manifesto about synthetic preshrinking and faux-distressing processes. This commitment to craftsmanship inspired Slaper to reinforce his jeans with hidden rivets (a 1930s Levi's invention that prevents the metal hardware from scarring your furniture), naturally age his leather branding patches with sunrays, and embroider his name onto heavy twill pocket bags in an old-school bowling-shirt script—a finishing touch that isn't an autograph so much as a sworn testament to a courageous leap of faith. Philosophy aside, ROY is a tangible result of Slaper's mid-life change of course. The jeans are available at Self Edge in SF and online.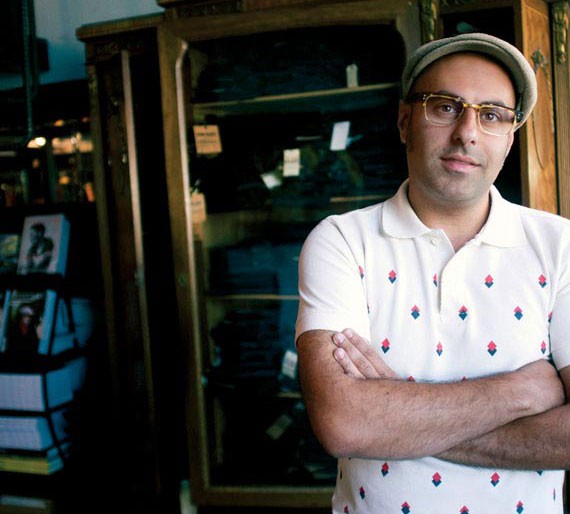 The Retail King: Self Edge
Obviously, Kiya Babzani does not share the global fervor for the Mad Men-inspired return of the dapper gentleman. "That style is my worst nightmare," says the 34-year-old owner of SF-based Self Edge, a pioneering denim retailer that stocks the largest collection of men's selvage-denim jeans in the country. "Bow ties and oxfords seem so uptight," he says. "Don't men want to look like they can fuck shit up if they have to?"
In Babzani's case, a more brawny fashion sense translates to tough denim jackets and dark blue jeans—the definitive uniform of a rockabilly rebel. His love of rollicking 1950s music fueled his fascination with vintage-style clothes, especially the painstaking reproductions hailing from Japan, where Americana is practically a religion.
"The Japanese actually make the reproductions better than the originals, with details like sterling-silver rivets and tags made from python skin," says Babzani, an SF native. "I didn't want to see the Japanese labels I loved so much being sold alongside lesser-caliber brands." When pressed to identify a few subpar culprits, Babzani fidgets a little and then scoffs: "Every U.S. brand that's hot right now!"
Self Edge on Valencia Street opened in 2006, after Babzani signed exclusivity deals with 11 Japanese denim labels, including Iron Heart, The Flat Head, and Real Japan Blues. Stores in L.A. and NYC soon followed suit. A fourth boutique in a yet-to-be-announced fashion-forward European capital is slated for an end-of-the-year grand opening.
As a self-professed branding control freak, Babzani maintains a tight rein on what he calls Self Edge's "1950s tough guy" image. The vintage Velocette motorcycle on display at the Valencia Street flagship? Trés Rebel Without a Cause. The well-edited array of denim? Strictly limited to the basics: the jean jacket (behold the beautiful blanket-lined specimen from Iron Heart this fall), the work shirt (Flat Head's Wabash version has historic Native American roots), and the classic five-pocket selvage raw-denim jean (55 styles, including limited-edition collaborations between Babzani and a few Japanese brands).
Although the store's walls are mounted with framed jeans broken-in after years of continuous, hard-earned, and character-building wear—like works of art—the retail inventory is void of anything that's been faux-distressed, honoring the Japanese concept of wabi-sabi: the graceful acceptance of imperfection. "The denim will age beautifully," says Babzani. "All you have to do is wear it."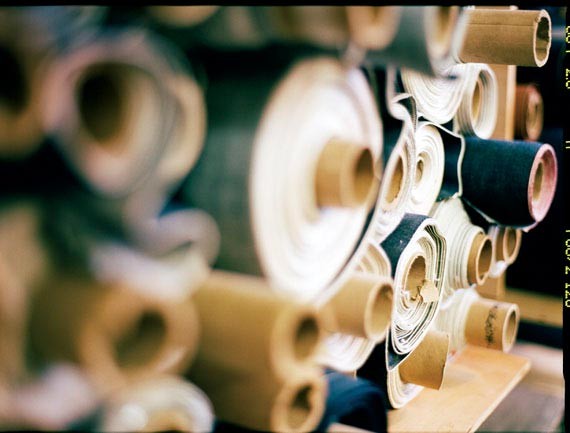 The Wayfarer: Levi Strauss & Co.
If you think that a mega corp like Levi's couldn't possibly fine-tune their planetary domination to focus on more artisanal endeavors, then you haven't met Jay Carroll, 32. After all, as a brand-concept designer and certifiable denim geek ("I obsess daily on how the fabric is breaking in," he says), this ambitious task is actually his job description. The native New Englander, whose travel blog One Trip Pass—dedicated to discovering stylish Americana—led to his commission at Levi's, enjoys an enviable existence as a professional globetrotter, befriender of craftsmen, bazaar surveyor, and soaker-upper of cultural traditions. The rich data he collects on his adventures translates into a seasonal story for the iconic, 159-year-old San Francisco brand.
Levi's fall 2012 looks, for instance, are inspired by the handcrafted traditions of the world's coastal communities. While this maritime artistry is very subtly evoked in the season's headliners (a new tapered men's jean and women's bootcut skinny), more perceivable evidence can be detected in, say, the small run (less than 100 pieces) of vintage Levi's denim vests repurposed with down-stuffed puffer collars and trucker jackets lined with 1940s printed cotton blankets. These instruments of warmth, foreseeably effective against the chilly coastal elements, were handcrafted in the creative laboratory that is the Levi's Tailor Shop in Union Square.
A former stone carver and band roadie, Carroll calls the DIY utopia "where history meets innovation"—Levi's response to the global movement away from mass production and toward sustainability and artisanship. Here, flea market textiles from old Beacon blankets and Army fatigues await a denim reincarnation. Vintage 501s are repaneled with other timeworn fabric. Sewing machines clamor nonstop. And a natural indigo dye bubbles away in the corner. It's also where Carroll and frequent coconspirator, head tailor Jared Everett, designed concept pieces for Levi's first runway show at New York Fashion Week in February.
Drawing from his experience writing for One Trip Pass, the Telegraph Hill resident also curates work from American craftspeople for Levi's Made Here collection, which includes denim baskets by Tenderloin designer Matt Dick, custom shoes by Al Ribaya of Al's Attire in North Beach, and surfboards shaped by Ocean Beach O.G. Danny Hess. Growing the Levi's empire one made-in-the-USA handicraft at a time seems a foregone conclusion for the true-blue brand. "After all," says Carroll, "we already make the most beautiful jeans in the world."
This article was published in 7x7's September issue. Click here to subscribe.