November, traditionally a quiet month in the Wine Country, has become the most event-filled and star-studded of the year. Here's the inside scoop on these must-see events: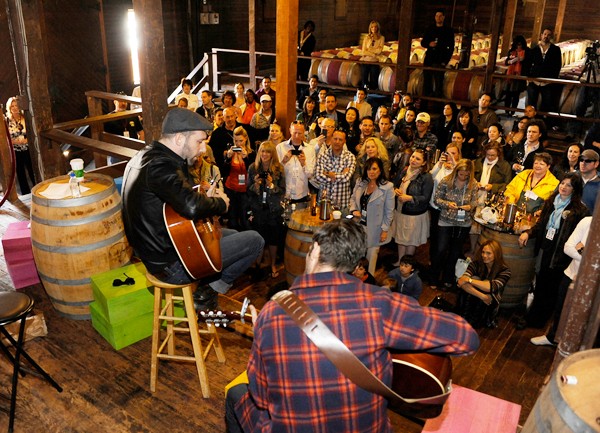 Mat Kearney performing in the barrel room at Trefethen Winery. Photo courtesy of Live in the Vineyard.
Live in the Vineyard (November 1-4 , 2012 | April 4-6, 2013) is probably the toughest ticket to get in Napa Valley. It includes intimate events like watching Fun. play We Are Young in the barrel room at Nickel & Nickel, Grace Potter and the Nocturnals in the vineyards at Peju, and Lenny Kravitz, Adam Lambert and, Alanis Morssette at the Uptown Theater.  
While almost all tickets go to high-level record executives and Napa Valley VIPs who support the event, there are a few ways you can get tickets: 1) join the 7x7 Wine Club, which enters you to win one of five pairs 2)  Live in the Vineyard website  3) On these radio stations 4) Call host wineries and become a VIP (list at end of this post) 5) Call your connected friends in Napa and buy the limited few available for purchase by locals. 
The Napa Valley Film Festival  (Nov 7 – 11) is a fantastic blend of food, wine and vines with the hottest films, movie stars, and exclusive winery screening venues and parties. The Gala at Robert Mondavi Winery is arguably the sexiest, all-the-stops party of the year and the VIP dinners, hosted by movie stars and winery owners, are exclusive and plush.
Fill your days with movies and tastings, and nights with VIP parties and celebrity sightings. For wine lovers out there, the world premiere screening of Somm should definitely be on your itinerary. There are also wine villages, VIP pavilions, and specials to be found throughout the Valley. Access to all events dependent on pass level.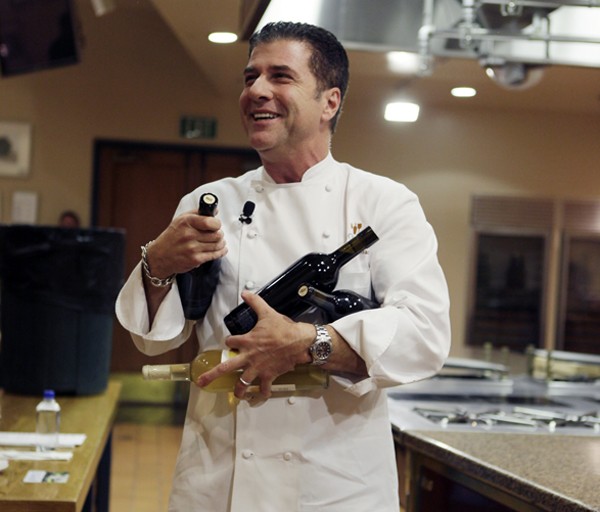 Photo of Michael Chiarello courtesy of  Flavor! Napa Valley
Flavor! Napa Valley (November 14-18) is in its 2nd year, and is unparalleled if you're into celebrity chefs, elite and exclusive dining and pairings, one-of-a-kind restaurant experiences, and cream-of-the-crop wines. Food experts and hosts include national celebrities like Masaharu Morimoto and Michael Chiarello, as well as local celebrities like Cindy Pawlcyn and Jeffrey Jake. Wine experts range from Karen MacNeil, author of The Wine Bible, to winery owners and next generation members like Hailey Trefethen.
Ticket prices range from $85 to $3500, and while many events are sold out or wait-listed, there are still plenty to choose from. If you're all about wine, the Appellation Trail Tasting on Friday night at the CIA brings together the best wineries, winemakers, and wines for three hours of vino bliss.
Here is the top-secret, complete VIP itinerary for Live in the Vineyards:
Thursday Nov 1:
Chef Demo with celebrity Chef Michael Chiarello at Bottega + surprise musical guest followed by midnight party at Morimoto with performance by Jayme Dee. 
Friday Nov 2:
Paloma Faith at Sutter Home Winery, Sebastian Mikael at Far Niente Winery , Delta Rae and Trash Pop Icons at Chimney Rock Winery, and Martin Harley, Casey Abrams, A Rocket to the Moon, Hedley and Gavin Degraw at the Uptown. Davina Leone at the late-night Westin Verasa party.
Saturday November 3:
Jillette Johnson at The Kitchen Door, Paloma Faith at Sutter Home Winery, Dunwells at Brix Restaurant and Grace Potter and the Nocturnals, Ryan Star, Adam Lambert and Alanis Morssette at the Uptown. Katrina at the late-night Westin Verasa party.