It doesn't matter whether you're a hardcore beach lover or not, it's hard to tear yourself away from scenic Carmel Beach. That usually leads to an afternoon or evening of wandering in Carmel-by-the-Sea. You can't complain about that–but if you're up for a relaxing change of pace, head to picturesque Carmel Valley.
Taste
Just a short drive from the coast, Carmel Valley has rolling, tree-covered hills, with vineyards and fields also a part of the mix. Wine tasting is quickly becoming a draw in these parts. Just head down East Carmel Valley Road, and you'll find plenty of choices. Stop at a favorite or try something new. At Holman Ranch's tasting room, visitors can taste wine along with their estate grown and bottled olive oil. Cima Collina's Howlin' Good Red benefits the SPCA of Monterey County.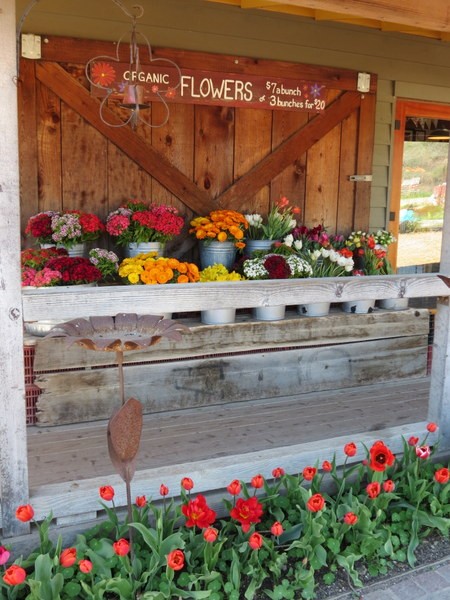 You'll want to take them all home
Take a Walk in the Fields
Along with growing veggies of every color, Earthbound Farm Organic has a flower garden that just might inspire you to get your hands dirty. The fresh cut display in front of the Farm Stand will get your attention, but be sure to wander out back and see all the colors bursting from the fields. The Walking Labyrinth is a fun place to stretch your legs, and kids of all ages love the teepee.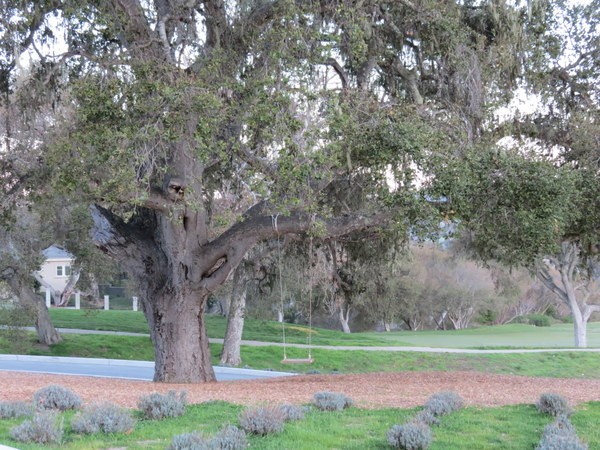 One of Carmel Valley Ranch's inviting swings
Play at the Ranch
When you pull up to the lobby at Carmel Valley Ranch, a set of beautiful tree swings will probably be the first thing you see. Don't be shy, playing is encouraged here. Inside, check in and say hello to Roxy the English bulldog. Then comes the tough part… figuring out what to do next. Go for a guided hike, take a Hatha Yoga class, maybe even sleep in.
Salt of the Earth

If you were inspired by what you saw at Earthbound Farm, be sure to check out the organic garden tour with Farmer Mark. The garden brims with what he calls "art supplies" for Executive Chef Tim Wood. On the third Saturday of every month, there's a get-your-hands-dirty gardening class. There's also a salt house in the garden that produces salt for The Lodge Restaurant and Aiyana Spa, using water from the Monterey Bay.
Do your best to fit a Bee Experience into your schedule. It's the real deal. Don a bee suit and learn about all the hard work Italian honey bees put into their sticky craft. Keep the sweet theme going after the sun sets with complimentary poolside s'mores at The Lodge.
Relaxation Playground
Make the blow of heading home a little lighter, by seeking Refuge. Based on European roots, it's the only co-ed relaxation spa in the US. Heat up in the sauna or intense eucalyptus steam room, then cool down in a pool the temperature of the Pacific Ocean. If you're truly committed to the cause, try a pool the temperature of an icy river. Next, relax in a zero-gravity recliner, or by one of many outdoor fire pits before jumping in a thermal waterfall pool. When you're finished, do it over and over again. Three hours is the average recharging time, but you can stay as long as you want.
There are some rules you need to know about. Refuge is co-ed, so swimsuits are a must. No electronics and no talking. Bring a pair of flip flops or sandals to wear as you make your way from one spot to the next, and if budget allows, rent a cushy robe. It'll make you feel good before you step out of the locker room.
Dana can be found on Twitter @drebmann
Dana's trip was organized by the Monterey County Convention & Visitors Bureau, but as always her thoughts and opinions are her own.