By
San Franciscans are generally a well-fed bunch, but clearly they've been starved for pastrami—and not simply between two slices of double-baked rye. They've been hankering for pastrami cheese fries (a mess of pastrami plus béchamel, onions, Russian dressing, and pickles), a burger made of beef ground with pastrami and smeared with a beet-horseradish spread, and a crispy pastrami and fried egg sandwich (called The Semite).
Wise Sons Jewish Delicatessen, opened by Evan Bloom and Leo Beckerman, is responsible for this madness. The two met in 2003 at UC Berkeley, where they threw a weekly 250-person barbecue for Hillel House, the Jewish student center. A year and a half ago, they started their Jewish deli as a pop-up, graduated it to a stand at the Tuesday Ferry Plaza Farmers Market, and then in February of this year, opened a permanent space on 24th Street in the Mission. It garnered an instant following of diners who have long bemoaned the city's lack of deli culture.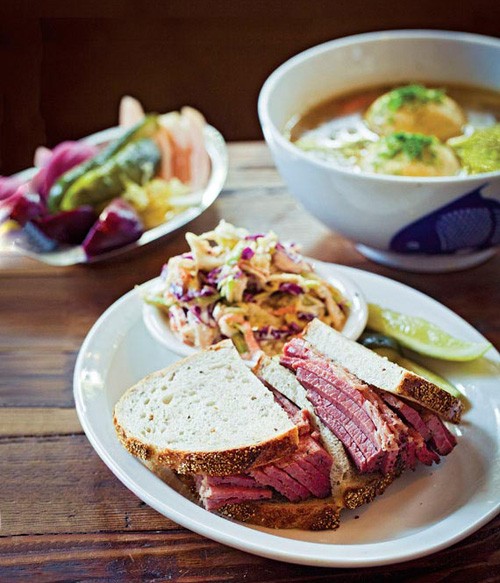 Depending on how you view it, Wise Sons is either forward thinking or a throwback to the Jewish deli's founding fathers who actually cured and smoked pastrami and other meats on a deli's premises. Unlike the beloved Katz's in New York or Canter's in LA—institutions that would never consider making everything from scratch and are open 24 hours—Wise Sons closes at the early-bird hour of 3 p.m. Beckerman and Bloom say they need the extra hours to make half-sour pickles, bialys, ridiculously rich and delicious chocolate babka, smoked fish, and, yes, the handmade brisket-based, seven-day-brined pastrami. (There's one exception: hand-rolled Montreal-style bagels that they get from Beauty's in Oakland on Saturdays.)
This kind of work ethic might not be as business-minded as it is idealistic, but it fits right in with SF's restaurant culture where many chefs find it dishonorable to execute a menu otherwise. "Short of growing the mushrooms on the roof, we're making just about everything," says Beckerman. "It's insane, but this is our food heritage, and it deserves more of what it's been given as of late."
A reminder of who Beckerman and Bloom are cooking for hangs on the restaurant walls in a hodgepodge of family photos and portraits. Then there are the diners, most for whom Wise Sons satiates a hungry nostalgia, while others find the seven-ounce pastrami portion and $12 price un-American. But Beckerman knows he's tapped into something. "I ask my staff how often customers talk about their grandmas," he says. "At least twice a day, there's a comment about someone's family. It's community through food."
3150 24th Street at Shotwell
DON'T MISS A BAY AREA BEAT! SUBSCRIBE TO OUR NEWSLETTER.