Unplugged travel. The term may bring to mind trips like canoeing the Okavango Delta in Botswana or exploring the wilderness of Alaska, like Christopher McCandless. However, right here in California, beyond the boardwalks, concrete jungles, and doors of technology companies like Twitter, unplugged vacations await the traveler who is willing to escape, including Alisal Guest Ranch and Resort, located along the Central Coast in Solvang.

Despite growing up on a cattle farm, even I was taken aback by the pace of life at Alisal, where the highlights of each day are horseback rides through the rolling hills and a multicourse dinner. And yes, there is in fact a dinner bell. Yet it's this pace of life, spending time with farm animals and devoid of ringing cell phones and honking horns, that brings the same families back year after year. But while I talked to many parents who talked of the special bond they had with Alisal, it was conversations with the kids and teenagers that left the strongest impression. Despite the slow pace and absence of technology (Cell phone service is spotty at best and there are no televisions or telephones in the rooms), I talked to a couple different teenagers who discussed their appreciation and enjoyment in coming back to Alisal annually, appearing unbothered by guest rooms without TVs and spotty cell service.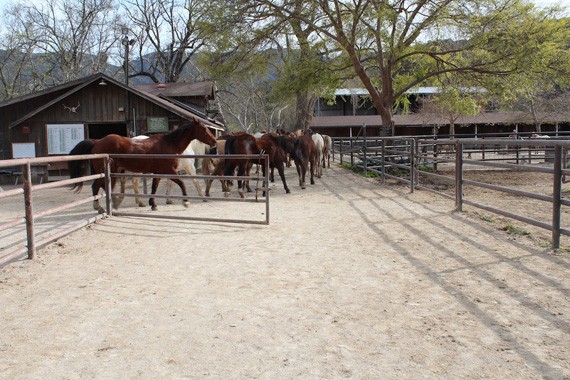 As you would expect from a resort, Alisal has an extensive array of activities. There are two golf courses, the Ranch Course, which is exclusive to members and guests, and the other, the River Course, which is open to the public. The fitness center and spa maintains normal business hours and includes cardio-weight equipment, fitness classes, and a full-service spa. Located a couple miles from the main property is Alisal's lake, which offers fishing, archery, and boat rentals. On a nice day, you may see a bald eagle departing or landing on one of the trees on the far end of the lake.

With 10,000 acres of land and a staff of wranglers, it's only expected that if you're staying at Alisal, you have to put in some time horseback riding. If you've never sat atop a horse, that's alright, because Alisal offers lessons and rides for people of all experience levels, even children. There are numerous rides available, with the breakfast ride being a favorite among guests. The ride takes guests to the resort's Adobe camp, where live music, a campfire, and a breakfast buffet awaits. Make your visit during the summer and make sure it includes being around on Wednesday evenings for Alisal's rodeo.

While rates start at $515 per night, this includes large guest rooms, access to the resort's facilities, and breakfast and dinner for two daily. Breakfast consists of a buffet, as well as á la carte selections. Dinner is a multicourse meal, but make sure you dress up. Men, that means a jacket and no jeans. Tip is included in the room rate.