While San Francisco sits on the Pacific Ocean, it doesn't have the wildlife viewing opportunities that many have come to expect from the west coast.
In fact, you have a better chance of seeing wildlife in the San Francisco Bay, such as the sea lions at Pier 47 or the occasional dolphin. Just off the coastline you can have the excitement of possibly seeing great white sharks at the Farallon Islands, although it may not have the allure you're looking for.
However, take a short flight north to Alaska and you'll find some of those unique wildlife viewing opportunities that you've heard about in the Pacific Ocean, but may have not experienced firsthand for yourself, such as whale watching.
While there are opportunities to view whales in the Pacific Ocean along the California coastline, the experience and landscape isn't quite what you'll find in Alaska. Alaska's natural landscape is a rarity, not just in the U.S., but the entire world. Few places are so undeveloped, yet so unique in the views they provide, from snowcapped mountains to natural waterfalls flowing into the ocean to large chunks of ice floating by. These are some of the things you're likely to see on a whale-watching excursion in Alaska.

The most blatant consideration for whale watching is timing. While many whales have migrated by early to mid-spring, the best time to view whales is mid-summer. Not to mention this is the most comfortable time of year, as you'll not likely have to pack your parka. However, watch and plan accordingly for the weather. Give yourself a couple different days to see whales in case the weather isn't good or you go on an excursion with a low number of sightings. However, many of the charter companies guarantee sightings.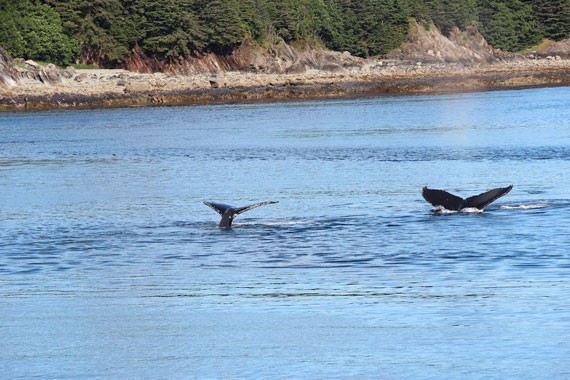 On the recent Alaska trip I went on to Juneau in mid-July, I saw approximately 20 humpback whales. The Juneau area has become known as a popular feeding area for humpback whales, while Southeast Alaska in general has established a name for itself for prime whale viewing during the summer months. Killer and humpback whales are what you're most likely to see, although an Alaska whale-watching trip may include sightings of gray or beluga whales. Excursions are often anywhere from three to six hours. For the lower price points, you'll typically be on a boat with a lot of other visitors, while the price increases if you want a more intimate, customized experience.

While binoculars are usually provided, I recommend bringing your own and having a camera with a good zoom. If traveling with a camera, bring along a telephoto lens. While some whales may get as close as 50 yards away, there are regulations in place to keep boats at a safe distance since it's the whales' natural habitat.