Cinco de Mayo is a time for eating, drinking, and celebrating (some of our favorite things here at 7x7). While we all know how to throw back a few strong margaritas (Latin American Club, anyone?), we thought we'd help you and your hangover out a little more by putting together a Cinco de Mayo menu for you. We've picked out some of the best Mexican dishes and drink pairings at restaurants around the city for your weekend celebration. Try one or make it a daylong food and drink crawl!
1. Crab tostada with a Michelada at Playa Azul (3318 Mission St) pictured above
This unpretentious Mexican joint is a surprising must-try for the seafood lovers out there. Fresh ceviche, shrimp cocktail, shrimp nachos, and fish soup are just some of their featured menu items. Try the crab tostada for a generous serving of crab ceviche atop a crispy corn tortilla with avocado.  Their Michelada is a refreshing complement to the light meal, made with clamato juice, Worcestershire, lime, spices, and whatever beer you choose. 
2. Carnitas with a shot of tequila at Tres (130 Townsend St.)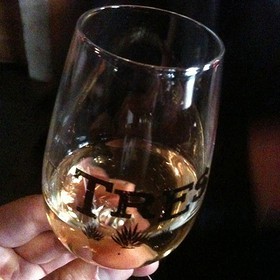 Shot of Espolon Tequila by Yelp user Ted Grubb
Tres Tequila Bar is, unsurprisingly, known for their great selections of tequila.  Do a shot of your favorite, or, if you're a novice, have the bartender help you pick a new one out. If you're especially timid about your tequilas, their various margaritas are made with fresh lime juice and come in pitchers. Their tacos are great, but for something a little heartier, try their carnitas; juicy, flavorful, and tender, they fall off the bone and into your mouth.
3. Chilaquiles with a Bloody Maria at Nopalito (306 Broderick St.)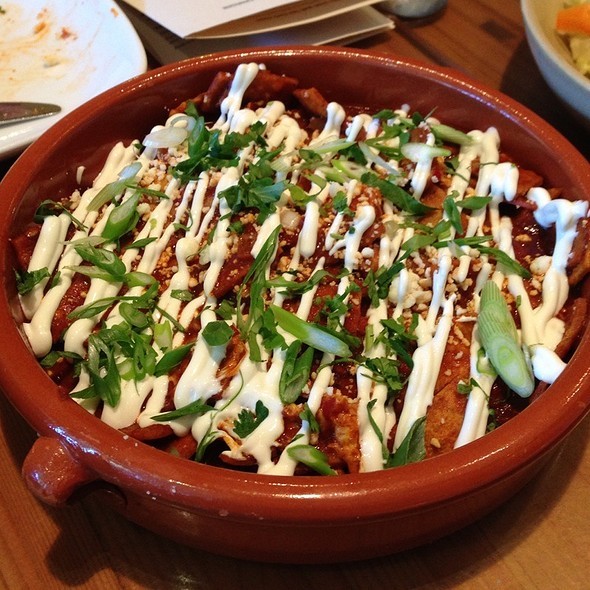 Chilaquiles from Foodspotting user Gemmy
Nopa's little brother restaurant cooks traditional Mexican dishes using local, organic, and sustainable ingredients. They stay open all day, but we particularly love parking ourselves there for brunch. Stop by early on the morning of Cinco de Mayo for their Chilaquiles, made using tortilla chips topped with guajillo and chipotle chiles, tomato, egg, green onion, crema, and queso fresco. Top your morning off with a Bloody Maria: A spicy tomato cocktail with Pueblo Viejo Blanco tequila. 
4. Torta Cubano with a Tecate Tall Can at That's It Market (2699 Mission St.)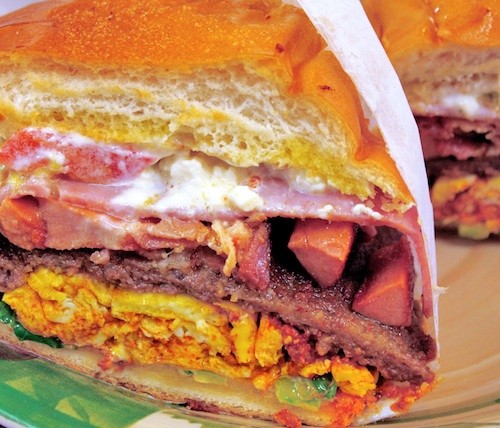 Torta Cubano from The Accidental Wino
This massive, everything-but-the-kitchen-sink torta was featured by Anthony Bourdain, and has since become a quintessential part of San Francisco cuisine culture. Chock full of chorizo and egg, breaded beef, hot dogs, bacon, ham, queso fresco, lettuce, tomato, pickled jalapeno, guacamole, and mayo, it has enough grease and substance to lay a solid foundation for a day of drinking. Grab a cheap beer to wash it all down and enjoy it in the park or on your walk to the next bar.
5. Green Chile Mac n Cheese with a Prickly Pear Margarita at West of Pecos (550 Valencia St.)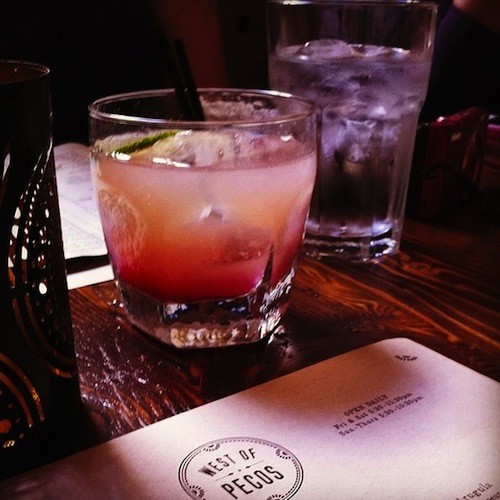 Prickly Pear Margarita by Foodspotting user Suzanne Kissinger
Known for its killer cocktails and Southwestern flair, West of Pecos is a great place to grab a bite and a drink on your Cinco de Mayo crawl–especially if you try their spicy, sour prickly pear margarita. Order their green chile mac n' cheese for a Tex Mex version of an American classic. Creamy, cheesy, and spicy, this dish has it all.
6. Enchiladas rojas with La Copa Verde Padrecito (901 Cole St.)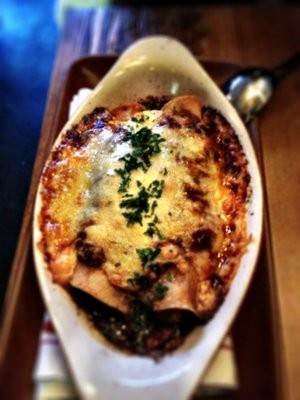 Enchiladas Rojas by Yelp user Greg H.
The sequel to Mamacita, Padrecito serves up unique tequila cocktails and delicious food to match. Try their enchiladas rojas, which consist of layers of roasted chicken, mole Amarillo, jack cheese, and roasted garlic crema. Pair this rich, creamy dish with La Copa Verde, a cocktail of mezcal, cilantro, chipotle powder, and lime. All that spice will have you ready for a Cinco de Mayo celebration in no time.