Why spend the night at a hotel, when you could stay the weekend at a winery? Here are our favorite wineries that have guesthouses or inns for true fans like you.
---
Napa Valley
Salvestrin is walking distance from downtown St. Helena, and the family who owns and operates the winery and B&B have farmed grapes here since the repeal of Prohibition in 1933. Although closed at the moment while the family travels, the location of the property, kindness of its owners, and beauty of its surroundings make this a prime place to stay.

Cliff Lede Vineyards' spectacular Poetry Inn is located on the hillside just above the winery. This luxurious property is just as breathtaking as the price it is to stay there. If you're looking for something truly special and over the top, you've found your spot.
St. Helena Winery just remodeled their two-bedroom guesthouse, which is nestled in the vineyards between their pool and bocce court, and located a short drive from downtown St. Helena. It's worth joining the wine club for the wines, but the opportunity to stay the night takes it to the next level.
Sonoma County
The one bedroom Cottage at Landmark Vineyards is hidden by vines and surrounded by roses. While it's not as polished as the winery or as posh as a resort, it's a comfortable stay in a very convenient location.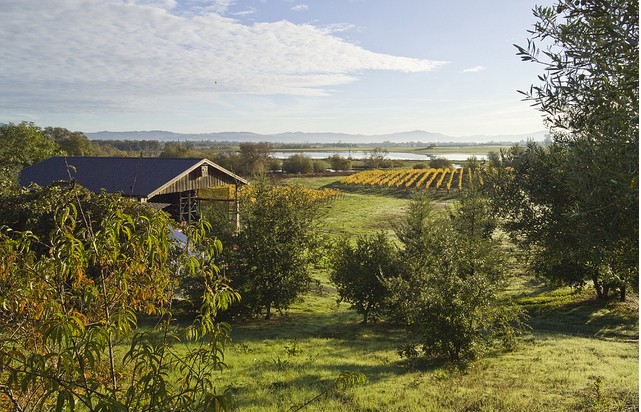 The Bliss House at Lynmar Estate boasts three bedrooms, three-and-a-half bathrooms, and comes with access to the winery chef, daily shopping services, on-call massage services, and private yoga lessons. This getaway is ideal for staying with your family or a group of classy pinot-loving pals.
Soda Rock Winery in Alexander Valley offers three reasonably priced, new King Suites, as well as the Water Tower Suite that's perched above the vineyards and winery. It provides a beautiful view and unique Wine Country experience.
Inman Family Winery and Guest House is referred to as a "Bed and get-your-own breakfast," which should give you an idea of their laid back style. This historic farmhouse is surrounded by fruit trees and gardens, is packed with antiques, and comes with a tour and tasting.
Other wineries where you can spend the night in Sonoma County include Mazzocco, Ledson, Benovia, De La Montanya, DeLorimier Winery, Lancaster Estate , Larson Family winery, and Thomas George Estates.