Zach Galifianakis understands that his breakthrough success in last year's The Hangover has left fans with certain expectations. They want a sequel to Todd Phillips' comedy about four guys (and one innocent babe) gone wild during a pre-wedding Vegas trip, and they'll get one in 2011. But more than that, they want Galifianakis, a veteran stand-up and onetime Saturday Night Live writer, to make them laugh.

He gets plenty of chances to do that in It's Kind of a Funny Story, Ryan Fleck and Anna Boden's lighthearted adaptation of Ned Vizzini's 2006 novel about a suicidal teen's retreat to an adult psych ward. Yet his character Bobby, the slyly perceptive inmate who seems to be running the asylum, gives Galifianakis, 41, the most revealing showcase to date for his impressive dramatic range.

It's not that Galifianakis has shied away from serious roles in the past – on the contrary, he earned one of his first big breaks playing a soft-spoken coroner opposite Eliza Dushku on the paranormal FOX drama Tru Calling, though he doesn't recall his two-year stint on the show fondly.

"If you're a stand-up comic and you're offered a job, you take it," he says. "Nothing drew me to the role – I needed work. You've got to pay for the Subaru somehow.

"I was trying to get fired from Tru Calling desperately for a year and a half. When the show got canceled, the producer called us all together, 70 members of the cast and crew, and he's like, 'I've got some bad news.' We'd been replaced by a show called The North Shore. I raised my hand and asked if he knew the casting director for The North Shore. Nobody laughed. Too soon."

Galifianakis thanks The Hangover for putting him, if only for a gratifying moment, in a position where he can be more discriminating about the projects he takes. He's frustrated by what he perceives as a lack of respect for comics trying serious roles, which partly explains his attraction to Fleck and Boden's Funny Story.

"I don't like the crazy, over-the-top movies so much," he says. "It's fun to make them, but in terms of the films I like to see, I prefer drama, subtlety. I was a big fan of [Boden and Fleck's 2006 story of a drug-addicted high-school teacher] Half Nelson. The Hangover was fun, but that's not the kind of movie I tend to watch."

"This is definitely the most grounded role we've seen Zach in," adds Fleck, a Berkeley native who grew up in Oakland, attended high school in Castro Valley and discovered his passion for film taking in weekly double features at the U.C. Berkeley theater on University Avenue. "We love his stand-up, loved him in The Hangover, but those things don't necessarily indicate that he can pull off the warmth and vulnerability he conveys [in Funny Story].

"He's so charming, thoughtful and down-to-earth – all we asked him to do with Bobby was a little bit of himself in the role, and we knew it would be something electric that audiences haven't seen before."
It's Kind of a Funny Story opens Friday at the Embarcadero Center Cinema. For tickets and showtimes, click here.
***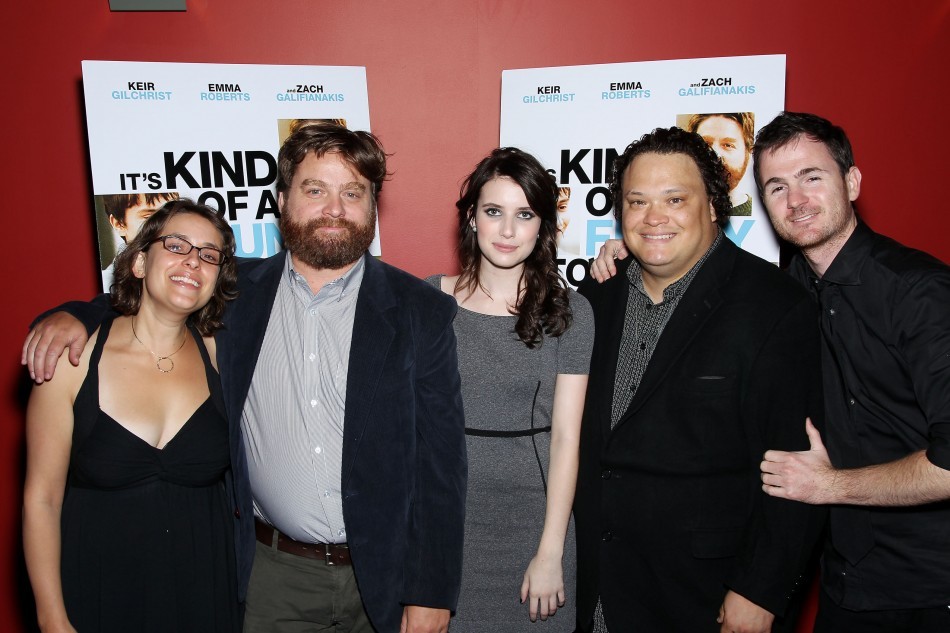 From left: Boden, Galifianakis, Emma Roberts, Adrian Martinez and Fleck at the New York premiere of Funny Story.
On casting stand-ups like Galifianakis and Jim Gaffigan in Funny Story:
Fleck: "We always give the actors freedom to improvise and contribute, because that's how Anna and I work with each other. We're very collaborative, with each other, the cast and key members of the crew. We can always come back to the script at the end of the day, but our ideas go only so far. The actors elevate them, and they're the final filter to the audience.
"We don't seek out particular types of actors, and though I don't remember too many stand-ups in Half Nelson or [his and Boden's 2008 baseball drama] Sugar, we believed Zach could pull this off. I think there are a few stand-ups who have proven themselves as very talented, versatile dramatic actors – look at Jim Gaffigan. He's terrific. He came in with an impressive film résumé, and I think you'll be seeing a lot more of him in the future in all kinds of roles."
On working with Galifianakis, who announced at a Toronto cast party that he and co-star Emma Roberts were expecting their first child:
Roberts: "That's true – no, I'm kidding. People were very enthusiastic about it, and I'm sure we'll have a very cute child. He caught me completely off-guard. I was so red. I'm one of those people who gets really red when I'm embarrassed – my face looks like a tomato – and I was very embarrassed.
"I didn't have a lot of scenes with Zach, but when I was with him on the set, he was very funny. But what's so great about him is that he doesn't have to be funny. You can have a normal conversation with him. He's not always on. With him and Jim Gaffigan, the set was sometimes jokey between takes, but not too much."