When Devon Thorson and Anna Higley of Portland decided to get married in San Francisco, they didn't want it to be like other weddings—they wanted it to be really and truly fun.
"We thought it should be a massive party," says Anna. "You know how you go to weddings and you are 'supposed' to have fun? It just feels so forced, and that's just not us." The couple invited 25 of their closest friends to a four-day destination wedding in San Francisco. "We love the city," says Anna. "It's like Portland, but better."
---

The party kicked off at the White Palace, a restored Victorian home they discovered on VRBO.com. "We knew that we wanted to treat everybody, and this huge house could handle all of our guests," says Anna. "The house is old, but it's restored with luxe, modern furnishings. Again, like it's kind of like our life, only better."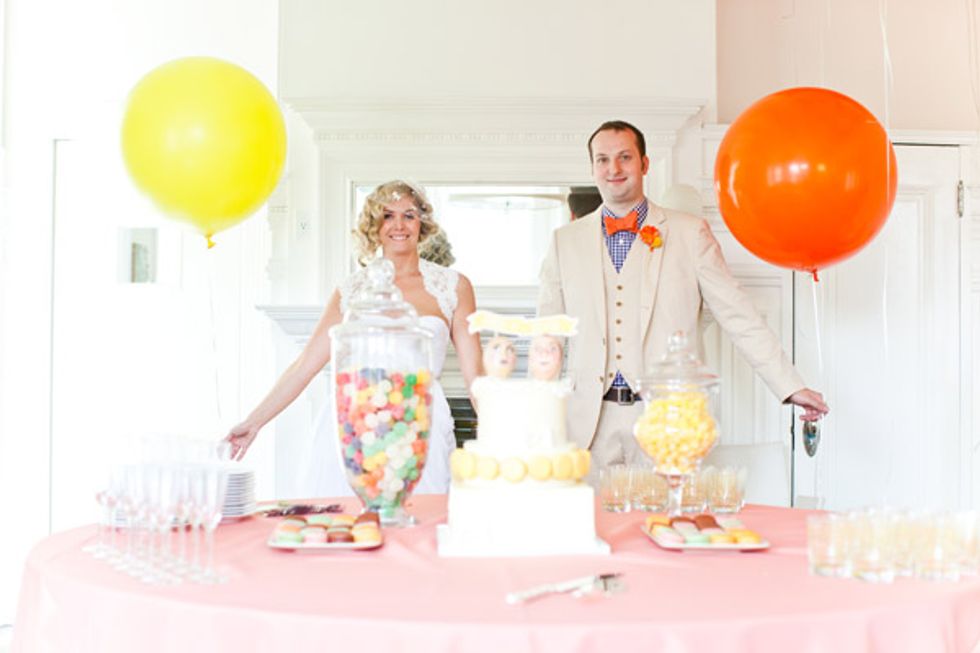 The day of the wedding—Friday, August 12—the bride donned one of the 20 potential dresses she had purchased for the event and headed to San Francisco City Hall. "I didn't want something from David's Bridal," she says. "I wanted something red carpet worthy, a dress whose price I'd never be able to justify. I just couldn't settle on the one, and then I drove past a store in Portland four days before the wedding and saw this dress by Sarah Seven. It was exactly what I'd been looking for."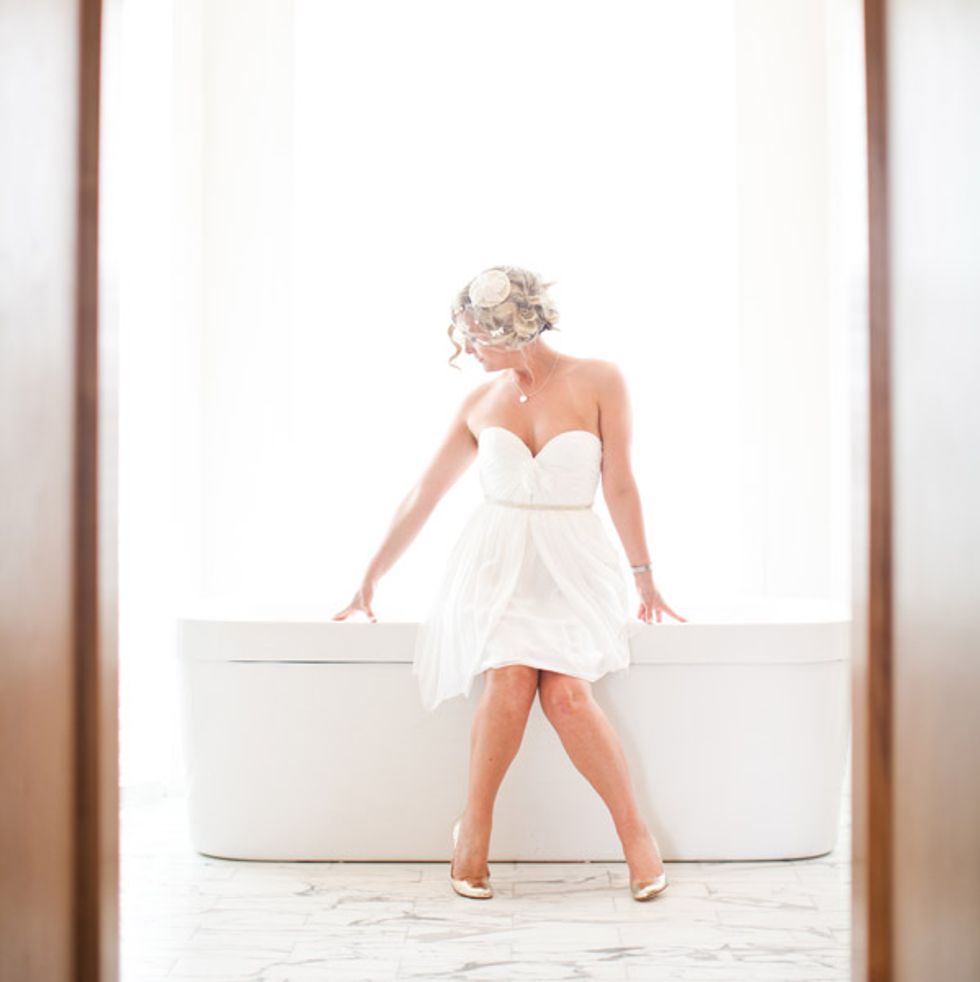 With gown on, the rush was on. "If you ever book a wedding at City Hall, know that you have to be there on time. If you are late, you lose your window," Anna says. They arrived a few minutes past the 11 a.m. appointment, and Anna could see the judge was visibly annoyed. "When I told her I had to go the bathroom, she said 'most people take care of those things before they show up,'" she says. "Of course, the women's room was closed for cleaning, so I had to use the men's room. The whole morning had the feeling of missing a plane."

But with their friends surrounding them in a semicircle, the urgency abated. "We had no idea what kind of a ceremony the judge would perform, but it was simple and with no religious overtones, it suited us."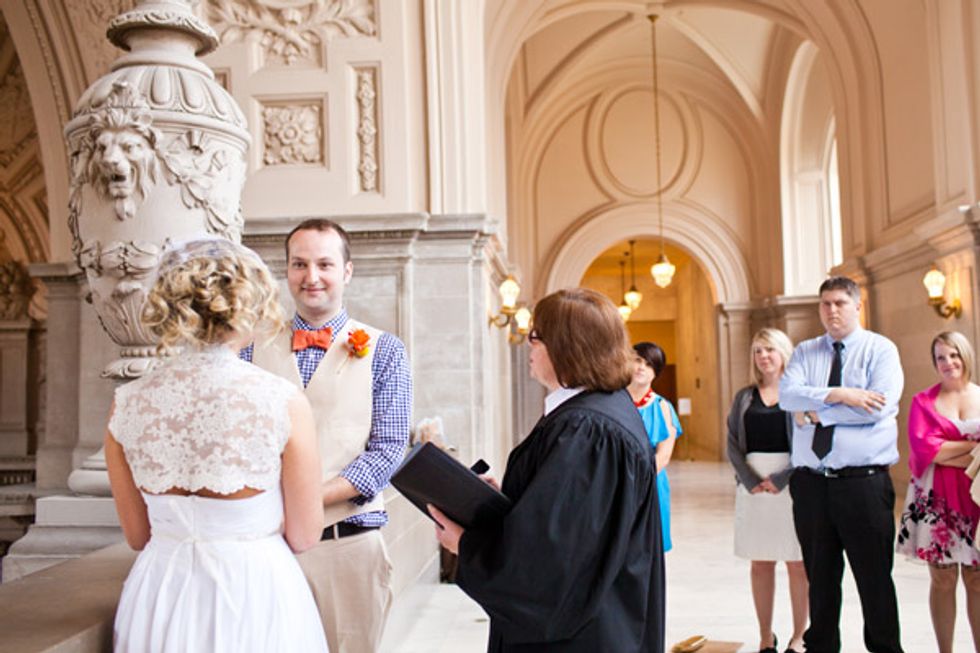 After hugs and high fives all around, the couple and their friends boarded a motorized cable car and headed for Baker Beach. There they walked around and enjoyed the scenery for about an hour before heading back to the White Palace.

"The night before, we all cooked side dishes. Three friends made their signature potato salads, one friend made a vat of guacamole, another made a green salad," says Anna. "For the day of the wedding we had rented a big barbecue and we grilled thick steaks and ribs." Everyone dined on tables in the backyard.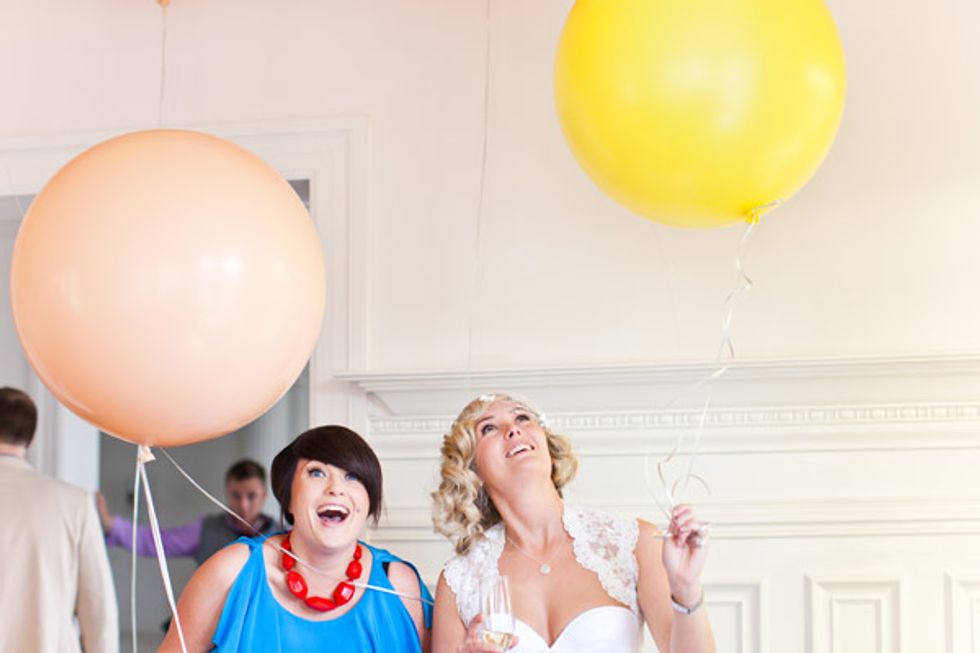 "After dinner, we wanted to keep the party going, so we got out a karaoke machine," says Anna. "I am a horrible singer, but I went first with Whitney Houston's I Will Always Love You."



After four hours of karaoke, including Devon's rendition of Meatloaf's I Would Do Anything For Love, the couple cut the cake. Outside of some oversize yellow and orange balloons, the couple didn't decorate much. In most cases, they let the surroundings speak for themselves. "The one thing I was hung up on was the cake table," says Anna. "My cake was from Cake Coquette, and it was topped with goose eggs my friend Dawn Gately painted.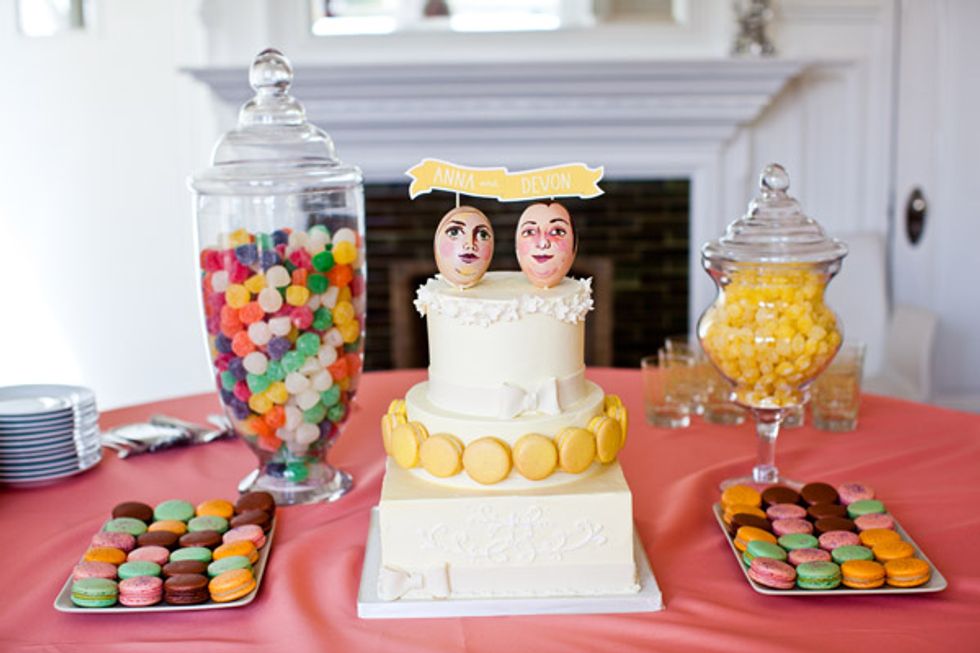 What followed were toasts. "These were not at all Hallmark speeches," says Anna. "They were amazing and hilarious. My cousin confessed to reading my diary when she was little, and she related all she learned. Devon's best friend lead us on with a story of his first crush—he claimed it was me, which was not true. It was great fun and great to be surrounded by people who cared about us."

The couple plans to hold events for their respective families at a later date, so when the gathering morphed into a dance party, there was no need to select music that would be all ages crowd pleasers. "It was just our friends, so there wasn't a grandpa or weird uncle to worry about and we danced into the wee hours of the morning," says Anna. "It was a good time."

Photography: Blueberry Photography
Location: White Palace SF
Dress: Sarah Seven
Cake: Cake Coquette
Macarons: Christopher David Macaron
Signs: Ready Go
Balloons: BubbleXL
Bouquet and Boutonniere: Mints Design