This week holds festive events galore with tons of crafty nights, new brunches, and a sunset cruise. Also, don't forget to check out our guide to the most epic light displays in the area.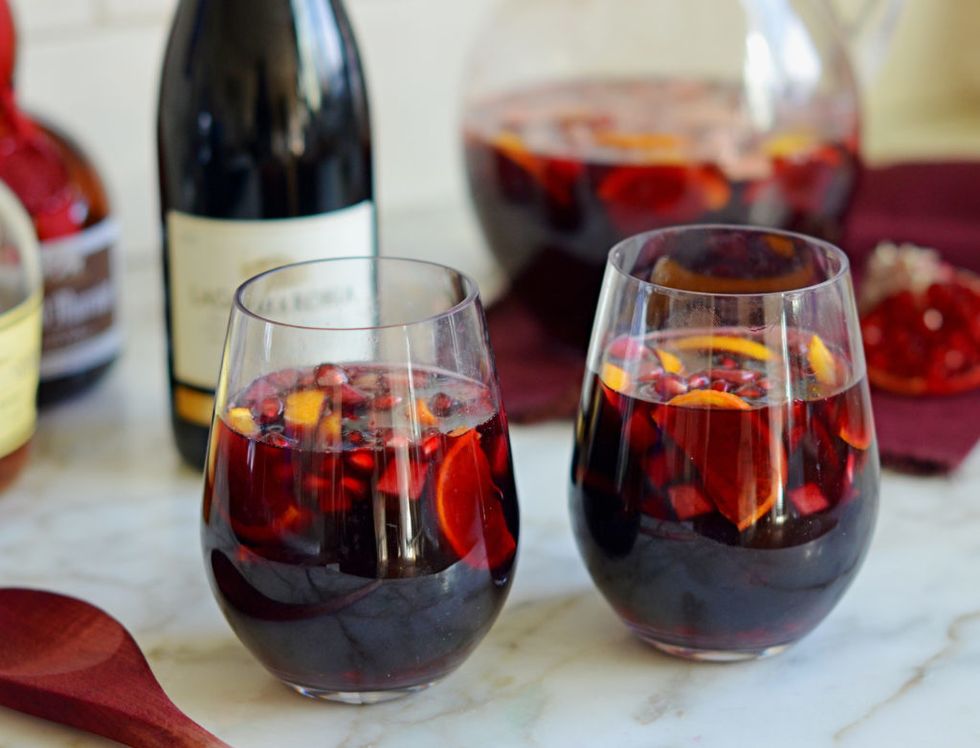 This Wednesday is National Sangria Day
---
Monday, December 18th: Yoga and Wine Party @ Bluxome Street Winery
When: 6:15pm to 9pm
Where: Bluxome Street Winery, 53 Bluxome St. (SoMa)
Why: Breathe, bend, sip and unwind at Bluxome Street Winery. Get in a few vinyasa flows before enjoying artisanal vino and healthy eats from Sweetgreen, Urban Remedy, Kitava, Brew Dr. Kombucha and more. // Tickets ($20-$37) are available at eventbrite.com.
Monday, December 18th: Noon All Day Opens in Dogpatch
Where: 690 Indiana St., Dogpatch
From the creators of Piccino comes Noon All Day. Opening today, the sunny space will have an all-day menu created by Carlo Espinas, the original chef at the first Piccino. Created for flexible dining, you can pop in for a snack, dinner, or small bites with wine—with options for both meat eaters and vegetarians that have a blend of Mediterranean, Californian, Italian, and Asian flair. Best of all, their vegetables from their very own farm in Healdsburg, which also provides seasonal goodies for Piccino. Try the range of fresh leafy options like the kale salad with radish, yuba, tahini, and togarashi; the chicken soup stracciatella with nettles and whisked egg; braised Stemple beef with sauerkraut, baby turnips, and caramelized onion; and for a snack, the Holy Mole with housemade mole, Fontina cheese, and an egg inside. // noonallday.com
Monday, December 18th: Sketch and Swap Art Party @ The Galallery
When: 7pm to 10pm
Where: The Galallery, 180 Capp St. (Mission)
Why: Bring prints you have laying around to swap with other artists or art supplies to create new work; or just hang out and meet some crafty folk. // Suggested donation of $10, reservations can be made at facebook.com.
Monday, December 18th: A Brass and Organ Christmas @ Grace Cathedral
When: 7:30pm to 9pm
Where: Grace Cathedral, 1100 California St. (Nob Hill)
Why: See some of the best brass musicians of the Bay Area including a beloved pipe organ play holiday tunes in the unparalleled acoustics of Grace Cathedral. // Tickets ($15-$60) are available at gracecathedral.org.
Tuesday, December 19th: StorySlam @ Public Works
When: 6pm
Where: Public Works, 161 Erie St. (Mission)
Why: Connect with others and share your own five-minute story on not being able to let something go; whether it's exes with unfinished business, binge-worthy Netflix shows, or seductive practices. // Tickets are available at the door on a first-come, first-served basis.
Tuesday, December 19th: Create Customized Letterpress Holiday Cards + Sip on Campari @ Baana
When: 6pm to 8pm
Where: Baana, 1256 Mason St. (Emeryville)
Why: Western Editions and Campari America are throwing a holiday party with letterpress printed holiday cards available to customize with watercolor, stamps to send them out as well as cocktails and tasty bites. Plus, Campari America will be donating $1 per drink The Women's Building. // RSVP at facebook.com.
Wednesday, December 20th: Take on Zombies, Werewolves, or Mad Max-Style Mayhem @ 7D Experience
When: 10am to 9pm
Where: 7D Experience, 39 Pier Ste M1 (Fisherman's Wharf)
Why: Experience a 3D movie, roller coaster ride, and state-of-the-art laser blasting game all at once. Enter multiple dimensions through 7D Experience's 20-seat theater and test your agility, speed and action-stunt skills amid a number of different ride options. // Tickets ($8) are available at goldstar.com.
Wednesday, December 20th: Drink Beer and Paint Plants With Watercolor @ Anchor Public Taps
When: 7pm to 8pm
Where: Anchor Public Taps, 495 DeHaro St. (Portrero Hill)
Why: What could be better than booze and art? Learn watercolor techniques to paint plant life and greenery while sipping a beer and nom-ing on food truck treats. Each person will receive 3-5 postcards, greeting cards, and/or small paper canvases to take home. // Tickets ($16) are available at workshopsf.org.
Wednesday, December 20th: Celebrate National Sangria Day @ Spark Social SF
When: 5pm to 9pm
Where: Spark Social SF, 601 Mission Bay Boulevard North (Mission Bay)
Why: There will be over six kinds of bottomless house-made sangrias and a special lineup of Latin food trucks. Need we say more? // Tickets ($25) are available at eventbrite.com.

Thursday, December 21st: A Harry Potter Christmas Dinner
When: 7pm to 10pm
Where: Nob Hill (pop up location released upon ticket purchase)
Why: Indulge in the feast of Christmas at Hogwarts with delectable eats like roast beef with Yorkshire pudding and butterbeer, made by Mariam Dennawi, founder of Bake Me Baby. Witches and wizards are assigned their houses upon purchase of their dining ticket; drinks are included. // Tickets ($45) are available at eatfeastly.com.
Thursday, December 21st: Street Beats & Eats Bluegrass Jam @ SoMa StrEat Food Park
When: 6:30pm to 9:30pm
Where: SoMa StrEat Food Park, 428 11th St. (Mission)
Why: Bring your guitar or banjo to jam with other local artists in a bluegrass session; or come for the food and enjoy the tunes. // More information at facebook.com.
Thursday, December 21st: Try the New Dosa in Oakland
When: 8am to 10pm
Where: 2301 Broadway (Oakland)
Why: Oaklanders, rejoice! Dosa opened the doors to their multihued East Bay installation December 15th, and it's packed with all of your favorite made-to-order kebabs, dosas, rice bowls, and shared plates. Go anytime from breakfast through cocktail hour at the full bar. Right in the bustling Hive hub with Drake's Dealership and Firebrand Artisan Breads, the casual counter-service is open everyday. // dosasf.com
Friday, December 22nd: Winter Walk Through Union Square
When: 11am to 9pm
Where: Stockton St. between Geary and Ellis (Union Square)
Why: Explore a holiday pop-up in the heart of Union Square with two open air cocktail gardens, food trucks, live performances, carolers, and endless holiday themed Instagram opportunities. // visitunionsquaresf.com
Friday, December 22nd: A Winter Circus Cabaret @ Dance Brigade's Dance Mission
When: 4pm to 5pm and 8pm to 9pm
Where: Dance Brigade's Dance Mission, 3316 24th St. (Mission)
Why: In its 8th year running, Mittens and Mistletoe present an evening of circus and comedy. See veterans from Circus Bella, the New Pickle Circus Universoul and more in a number of acrobatic feats. // Tickets (starting at $20) are available at brownpapertickets.com.
Friday, December 22nd: True Laurel Bar by Lazy Bear Opens
Where: 753 Alabama St. (Mission)
Why: Lazy Bear chef-owner, David Barzelay and head bartender Nicolas Torres, will finally open the doors to True Laurel, a year after it was announced. In the former Tradesman space, the place will switch from restaurant to bar depending on the hour. In the separate cocktail tasting bar—with 8-10 seats—you can taste a series of five cocktails with food pairings. The dining room and 36-seat bar will have a range of comfort food-inspired dishes from Dungeness crab fondue to a pork bone soup; while cocktails will focus on produce and fresh ingredients. Drinks include the Top Dawg with house shinko pear tonic, rancio wine, carbonated and served tall with a black sudachi and smoked salt rim; and the Shaker Lemon Stirred with Meyer lemon fino Sherry, moscato chinato, and wheat vodka served up with a candied and charred lemon wheel. // lazybearsf.com
Saturday, December 23rd: Golden Gate Promenade Bay Trail Hike
When: 10am to 12:30pm
Where: 100 Marina Blvd. (Marina)
Why: Take in breathtaking views of the city skyline, Marin headlines and the Golden Gate bridge as well as landmarks like the wave organ on this hike. Though there is no change in elevation, this will be a lengthly trek covering over six miles and two hours. // RSVP at adventuresincommon.com.
Saturday, December 23rd: Indian Paradox Presents Brunch
When: 11am to 2pm Saturdays
Where: 258 Divisadero St. (Lower Haight)
Known as a wine bar with Indian street food, Indian Paradox is serving brunch as of December 9th, with an array of delectable mid-morning eats including chile cheese toast with grilled whole-grain white bread topped with a green chile, bell pepper, and garam masala cheese blend; a masala omelet; and egg akuri, a soft-scrambled egg cooked with Parsi masala, ginger, garlic, turmeric, onions, tomatoes, and cilantro, served with a buttered toast. Also available is a dish hailing from the streets of Mumbai—disco fry eggs, similar to a savory French toast where eggs and brioche buns are pressed with onions, chiles, cilantro, chaat, and garam masala. // indianparadoxsf.com
Sunday, December 24th: Dine and Sail Into the Sunset
When: 3pm to 6:30pm
Where: Pier 3, on the Embarcadero at Washington St.
Why: This Christmas Eve, do something different with the fam and feast on a buffet dinner with holiday-themed music while taking in a majestic sunset backdrop, followed by twinkling city lights. // Tickets ($110) are availabe at hornblower.com.