A couple of intriguing group exhibitions take over downtown gallery spaces.
---
Seven Sisters, at Jenkins Johnson Gallery
Jenkins Johnson Gallery's Seven Sisters taps into a range of emotions. The subjects included in the featured works are beautiful, jarring and engaging, and the artists, diverse, linked only by their interest in exploring the "intersection of ethics, race, culture and self-expression," according to a statement released by the gallery.
Mickalene Thomas' "Din Facing Forward," for example, captures a confident, beautiful woman. Her black lips, Afro and bold posture inspire a sense of pride and power. Rina Banerjee, who originally hails from India, takes a more ethereal approach to culture. Her works on paper and on panel explore fairy tale and myth and how they inform the development of identity.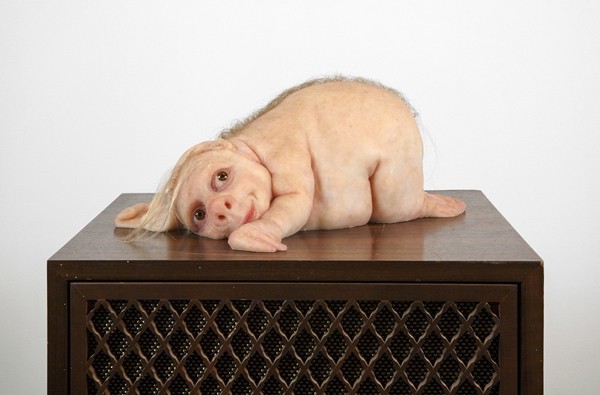 The Listener, 2013, silicone, fiberglass, human hair, speaker cabinet, 33.5 x 18.9 x 16.1 inches
Patricia Piccinini also stands out with her oddly provocative sculptures and installations. "The Listener" reflects the Australian artist's interest in bioethics and biotechnologies and concern for the environment. Made with silicone, fiberglass and human hair, the sculpture of the half-human, half-animal creature is disturbingly lifelike.
Seven Sisters runs through December 7, Jenkins Johnson Gallery, 464 Sutter St.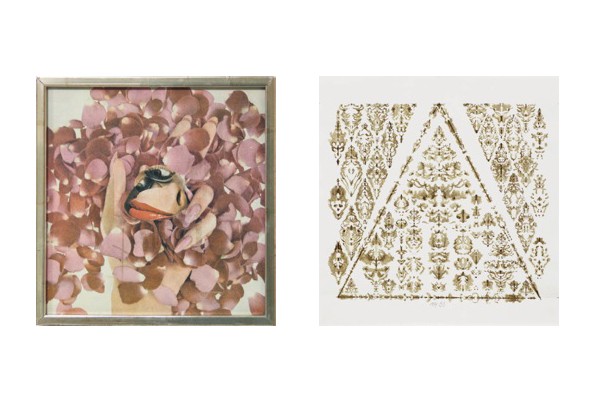 L: Jean Conner, Hand Mirror, 1964, Paper collage, 11 1/4" x 10 3/4"
R: Bruce Conner, INKBLOT DRAWING, JANUARY 1, 1994, 1994, ink on paper, 6" x 6 5/8"
SIGHT VISION: THE URBAN MILIEU, at Gallery Paule Anglim 
On Thursday, Gallery Paule Anglim unveils the six iteration of SIGHT VISION: THE URBAN MILIEU, an exhibit that celebrates California artists from the Beat Generation. Like Jack Kerouac and the other literary geniuses of the post-war era, the coterie of artists featured in this show reject standards and experiment with style. Their paintings, sculptures, drawings, collages and film share elements of mysticism and abstraction, expressions of nonconformity.
"They're all exploring in their own way," said Gallery Paule Anglim's Christine Ancalmo of the group of artists, adding that the exhibit is tied together by "the energy of the moment and how they made art by pushing the mediums and letting go."
Bruce Connors' black and white inkblot drawings typify the movement's bohemian spirit. His use of stark imagery gives them a transcendental quality that blurs the viewers' focus. Jay DeFeo, Joan Brown, Cameron and Jean Conner – also featured in the exhibit – represent his female contemporaries, who are oftentimes absent from portrayals of the Beat Generation.
SIGHT VISION: THE URBAN MILIEU runs through November 9, Gallery Paule Anglim, 14 Geary St. The opening reception is on Thursday, October 10, from 5:30 to 7:30 p.m.