With the recent 100th anniversary of the National Parks Service, we can't help but revisit the ole bucket list of America's natural wonders. And now is the time is now to see them while we still can.
A recent New York Times article highlighted the "tension between access and preservation" as these monuments enter the precarious position of drawing ever more visitors in the midst of global climate change, posing the question, "Are we loving our national parks to death?" Glacier National Park, located in northwestern Montana on the border of Alberta, Canada, has seen a jump in tourism over the past five years—more than 2.3 million people visited the park in 2015 alone—even despite its unpredictable weather, short season and, most notably, the vanishing of its main attractions.
---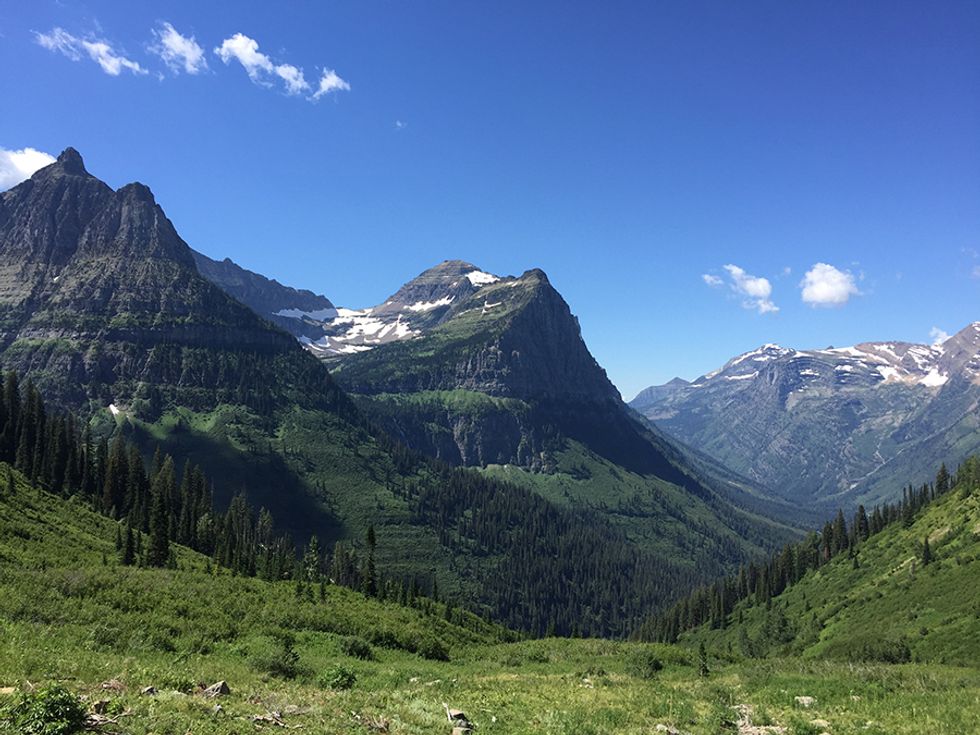 Glaciers and glacial features such as craggy horns and u-shaped valleys can be seen through the entire park.
Created during the Little Ice Age, Glacier National Park's small alpine glaciers are good indicators of increasing annual temperatures and, as most of us could surmise, they're melting. When the monument was first established in 1910, it was home to as many as 150 active glaciers—so designated for being at least 25 acres in size; today there are just 25 active glaciers left. At the current rate of climate change, scientists with the United States Geological Survey predict the park's glaciers will completely disappear by 2030.
While there's still some time to plan your visit, there is a certain allure to planning your trip in the NPS' 100th year. Glacier National Park has one of the shortest seasons of the U.S. parks—the main road opens when the snow clears, usually by the end of June, and park services remain available only through mid- to late-September—but the communities just outside the park remain open year-round to accommodate intrepid cool weather travelers who come to commune with its rugged glacial landscapes and wildlife—grizzly bears, big horn sheep, and mountain goats famously call Glacier home—and to hike its jaw-droppingly gorgeous trails in post-tourist-season peace.
When you find yourself atop one of the park's high trails with a mind-boggling bird's-eye view, there can be no doubt of the specialness of the place, which, in 1932, joined the adjacent Waterton Lakes National Park to form the world's first International Peace Park. Together, the parks are recognized as a UNESCO World Heritage Site and biosphere reserve thanks to their unique topography and abundance of plant and animal life. As autumn arrives and the leaves change color, the park's internal services close for the season and tourism declines, making now a perfect time to see this majestic swath of American heritage in all its glory—without the crowds.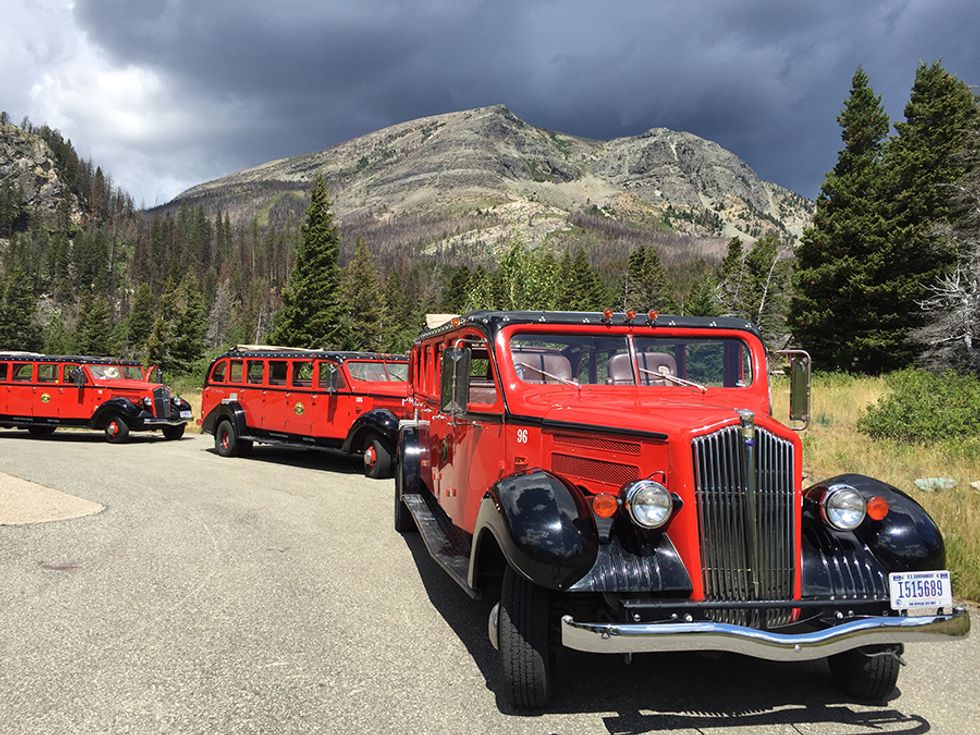 The Red Bus Tours are a stylish way to get around Glacier.
GETTING THERE + AROUND
Bay Areans up for a road trip can tackle the drive in just a couple full days behind the wheel—head north on US-97 for a scenic trip through the national forests of Oregon—we recommend you stop a little less than halfway and treat yourself to a craft beer and overnight stay in Bend (check out our guide for where to stay, eat, and drink)—and then continue on through the southeast corner of Washington and up into Montana. Expect to drive 18 to 20 hours total.
In a hurry? Alaska Airlines flies from San Francisco and Oakland airports to Kalispell City Airport, about 30 miles from the western entrance to GNP, with roundtrip tickets currently starting around $250 per person for travel this September.
You'll want to rent a car at the airport to get to and from the park but, once inside, we recommend taking advantage of the park's free shuttle system (running full-time July 1st through Sept. 5th, and with reduced service through Sept. 18th), which runs conveniently over the famous Going-to-the-Sun Road—a steep and winding National Historic Landmark that crosses the Continental Divide. Should you wish to drive it yourself—and more power to you!—just know the road cuts through high and narrow cliffs, and parking lots fill up by late morning during high season. Get an early start to avoid the crowds. Or, if you're the guided tour type, take a Red Bus Tour in a 1930s bus with a knowledgeable guide ($100 for two adults) and some of the best views in the park. (Red Bus' West Side shuttle operates between the West Glacier Train Station and both Lake McDonald Lodge and Village Inn in Apgar through Sept. 28th.)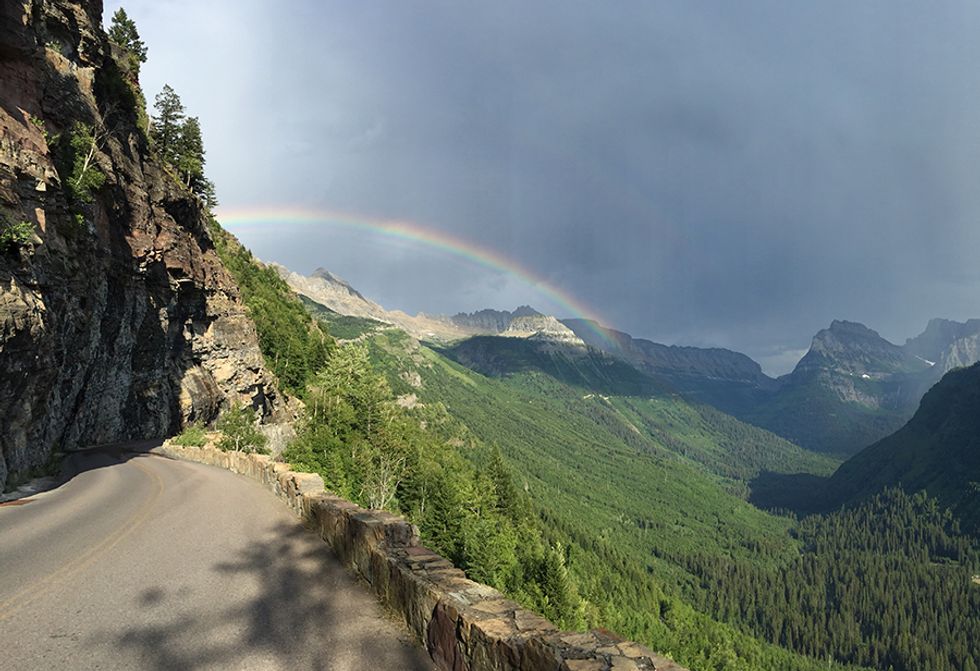 If you are comfortable with steep curves, be sure to drive the park's Going to the Sun Road—named after a deity celebrated by Blackfeet Nation.


WHERE TO STAY
For Campers:
Roughing it at the campgrounds of Glacier National Park may be the best way to check out and connect with the area, which is dotted with gorgeous creeks, lakes, and lush forest, especially on the rainier western side of the park; the eastern side is drier but gets more wind. Of course, preparations for camping here may also mean an expensive trip to REI: The weather here is crazy—it might even snow in August—so plan to bring quality all-weather gear.

Campgrounds are available on both the west and east sides of the park. Both the St. Mary and West Glacier KOAs (open through Sept. 30th by reservation) have tent sites and rental cabins, several of which come with such deluxe amenities as kitchens and fresh linens. Basic cabins with fire rings and porch swings run about $100 per night and sleep up to four people; bathrooms and showers are also available.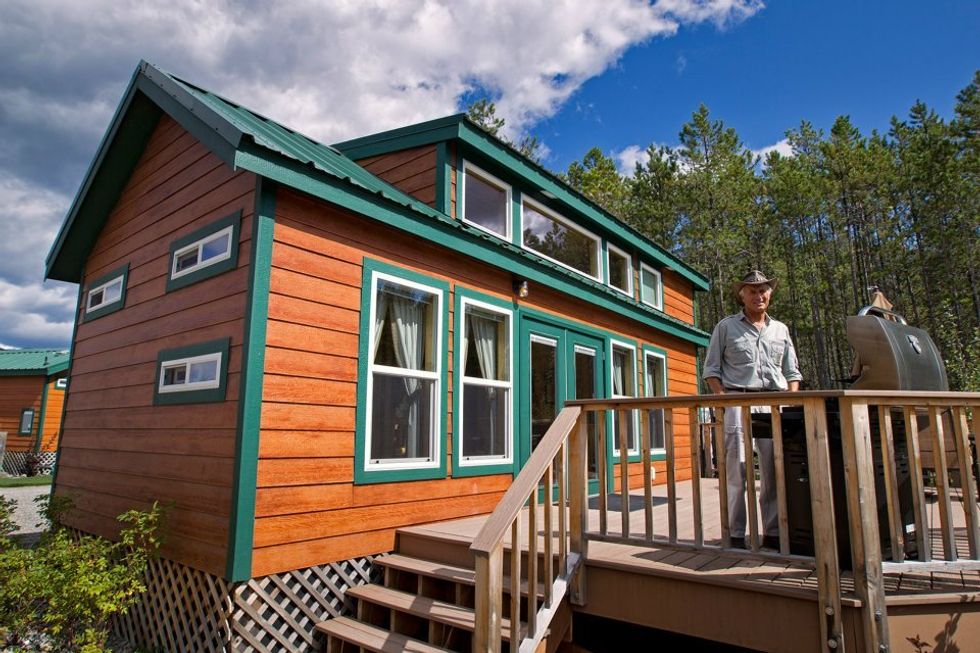 West Glacier KOA has several deluxe cabins that include kitchens and barbecues. Hero hiker Jack Hanna likes them too.(Via West Glacier KOA's Facebook page)
For Glampers:
If your style is more hardcore hiking by day and comfy-cozy accommodations by night, there are a few great hotel options inside GNP. To get into backcountry, head for the Granite Park Chalet (June 28th through Sept. 10th by reservation), a National Historic Landmark that can be reached only on foot by either the 7.6-mile Highline Trail or the 4-mile Loop Trail. Pack light and rest easy: The chalet offers beds, a small store and a rustic kitchen where you can make your own meals. Pre-order your food in advance to lighten your load on the way in.
The Many Glacier Hotel sits amid on one of the most jaw-dropping sites at Glacier National Park.
If you prefer something a little more luxurious, you can't go wrong with a reservation at the Many Glacier Hotel, situated on the stunning Swiftcurrent Lake, sometimes called "the Switzerland of North America" and with good reason. The hotel's vibe is comfortably rustic—no TVs or A/C, but each of the 215 rooms has a private bathroom and the lodge offers a dining room and loung—with value rooms starting around $189 per night. Unfortunately, much of the hotel is closed for renovation for the remainder of 2016, and the rooms that are open (through Sept. 19th) may be subject to construction noise. Plan ahead and enjoy a stay in 2017 instead.
Or, if you wish to stay on the western side of the park, the Lake McDonald Lodge, located on Going-to-the-Sun Road, is done up in the style of a Swiss chalet, with cabins and suites, various spots to dine, and activities including horseback riding and cruises on the lake. The lodge will remain open through Sept. 28th in 2016.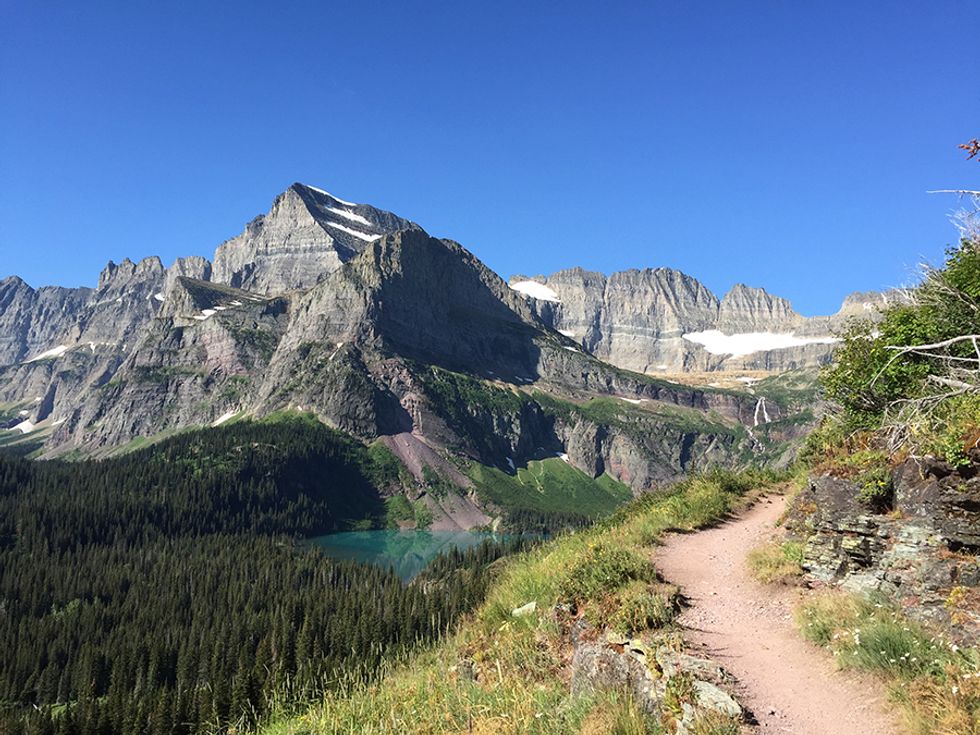 The 12 mile Grinnell Glacier Hike will take you to two glaciers, Grinnell and Salamander.(Christina Nellemann)
THREE GREAT HIKES
The charming Red Bus Tours are great and all, but if you want to see the park's most glorious assets, you're gonna want to hoof it. For the full experience, opt for one of the more challenging hikes (c'mon, you can do it), where the reward is a chance to get up close and personal with the park's wild kingdom of bighorn sheep, mountain goats, elk, hoary marmots, Columbian ground squirrels, and grizzly bears. Keep your bear spray at the ready.
Grinnell Glacier Hike
This strenuous 12-mile roundtrip hike could be a contender for the most scenic hike in the world. Gaining over 1,800 feet in elevation as the trail goes on, the hike promises dramatic views of glacial peaks, Grinnell Lake and Falls, and the Grinnell and Salamander glaciers. Plus, experienced hikers can climb under the trailside waterfall or cool off with a dip in the icy blue lake at trail's end. Grinnell is known for its grizzly bear encounters, so park officials recommend hikers carry bear spray—back in 2010, zookeeper and TV personality Jack Hanna famously repelled a 150-pound grizzly with his own spray canister as it charged at him and three other hikers. For a shorter route, taking the boat shuttle from Many Glacier Hotel across Swiftcurrent Lake cuts off four miles (open through Sept. 18th). // Grinnell Glacier Hike, hikinginglacier.com/grinnell-glacier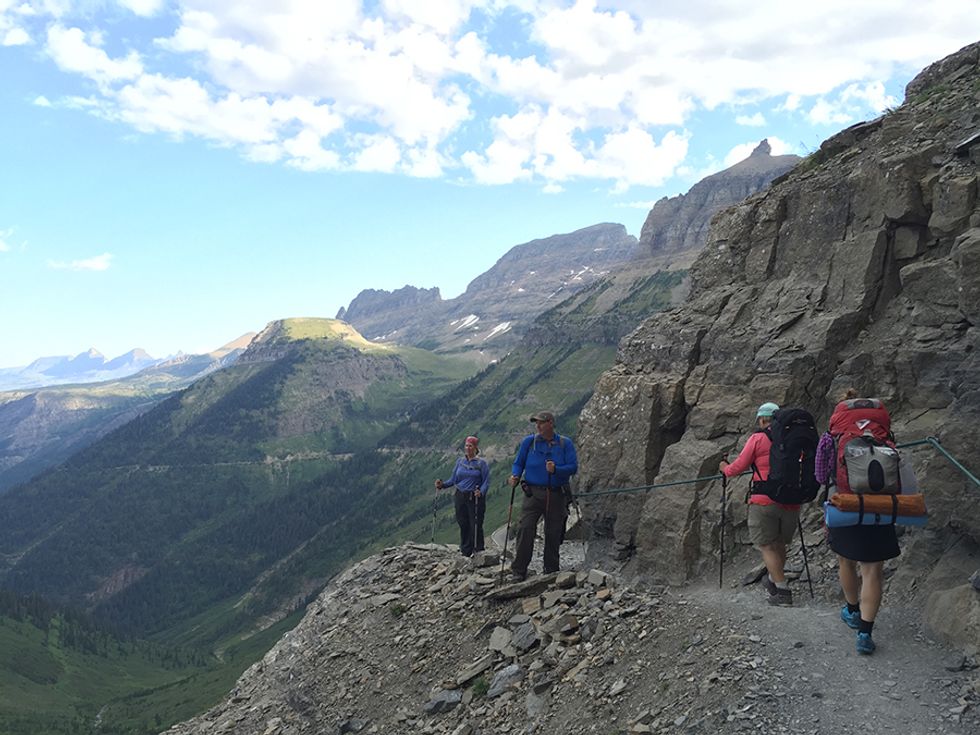 Portions of the Highline Trail are very narrow and steep.
The Highline Loop
The Highline Loop Trail begins at Logan Pass, on the north side of Going-to-the-Sun Road, and follows along the Continental Divide. You can go the entire 12 miles or turn back whenever you want—contrary to what the name suggests, the Highline Loop is a strenuous out-and-back with thrilling views of Going-to-the-Sun Road and the Garden Wall, a steep floral wonderland in summer months. The trail is notoriously narrow, with one stretch winnowing down to just four feet in width (there's a handrail for those nervous about the steep drop down to the road). Have your camera ready—this hike is a veritable highway for mountain goats. // Highline Loop Trail, hikinginglacier.com/highline-loop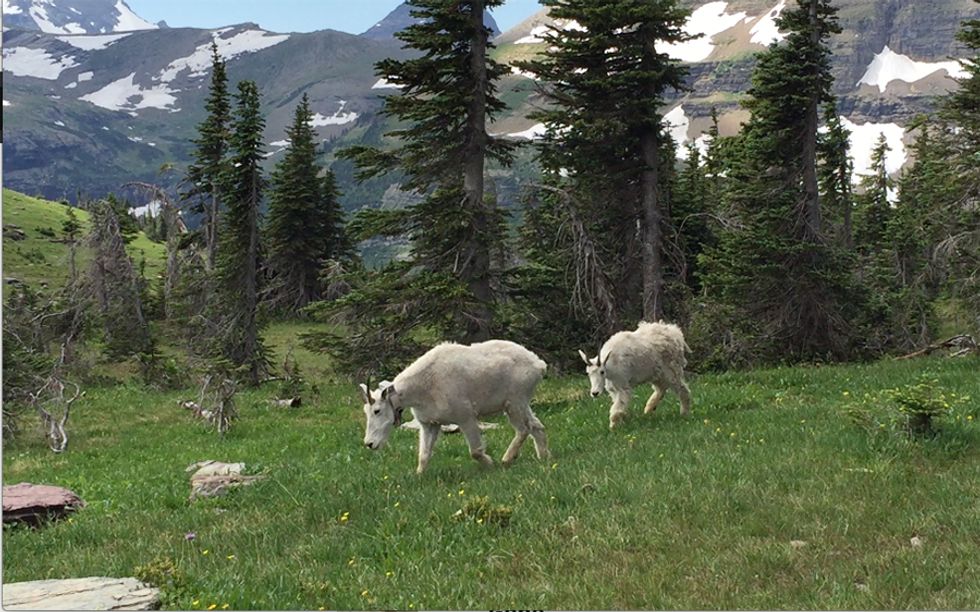 Some mountain goats along the Hidden Lake Nature Trail wear tracking collars as part of a population study.
Hidden Lake Nature Trail
The 5.4-mile Hidden Lake Nature Trail is among the best places to sight members of the park's mountain goat population, estimated around nearly 1,500 shaggy heads. This trail starts at the Logan Pass Visitor Center and meanders along wooden boardwalks through the Hanging Gardens alpine meadow; the Hidden Lake Overlook is about 1.5 miles up from the trailhead. Stop there or continue on to the lake for another 1.2 miles for amazing views of Logan Pass, the Garden Wall, the 216-acre Sperry Glacier on Gunsight Mountain, and the distinctive Bearhat Mountain towering over Hidden Lake—popular among anglers, Hidden Lake was the chosen vacation spot for one famous fisherman, George H. W. Bush, back in 1983. // Hidden Lake Nature Trail, hikinginglacier.com/hidden-lake