We've selected seven of our favorite Fillmore posters from the past five years for your bidding pleasure. They're all signed by the bands themselves. Proceeds will benefit the Bill Graham Foundation and the San Francsico Conservatory of Music. Bidding starts at $50.  To read the background of Fillmore posters and how they get produced, click here.
---
Phoenix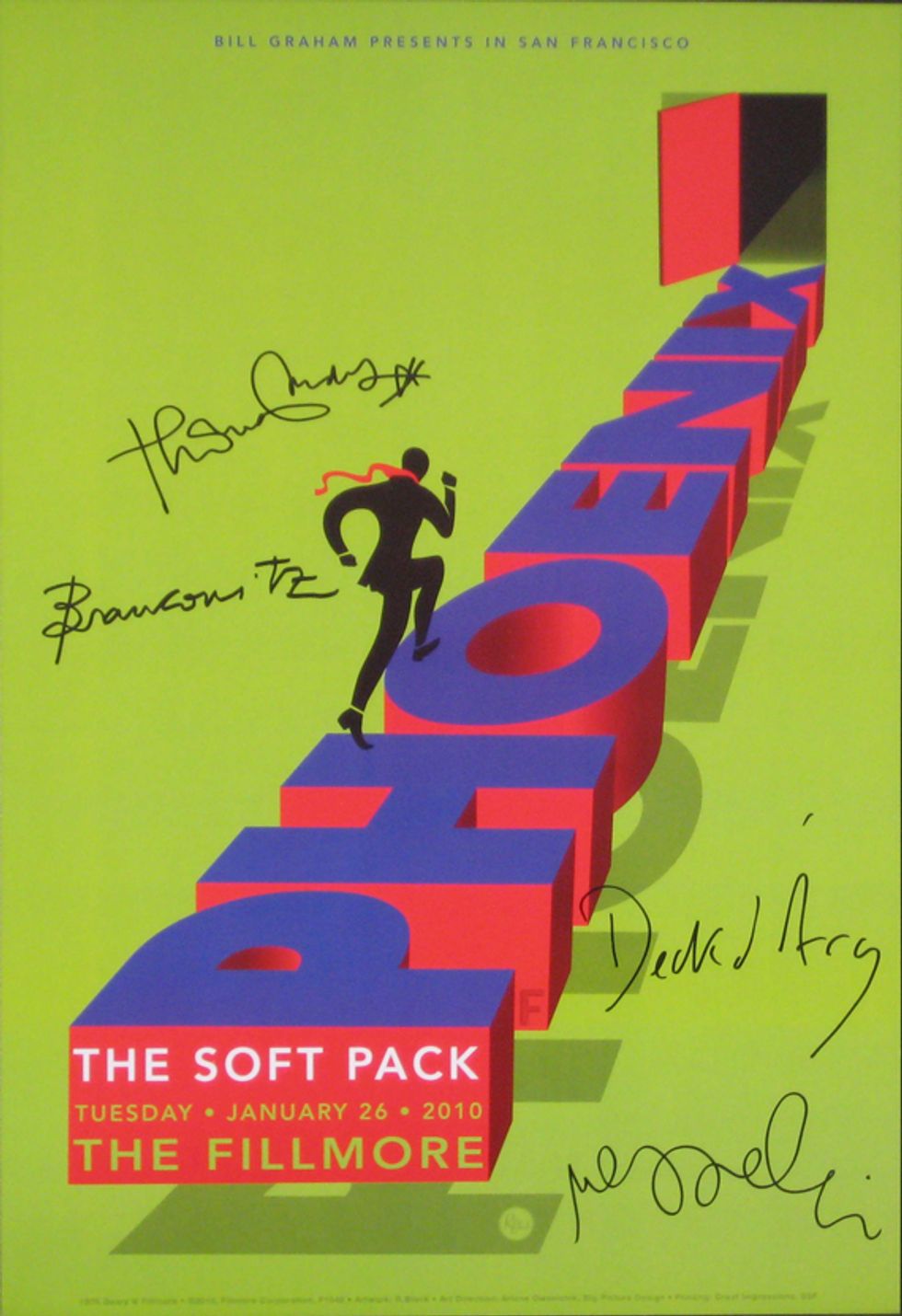 Their meteoric rise to fame has had everyone in Francophile fever over the two years. Although they've existed as a band for nearly a decade (their first album debuted in 2000), their 2009 smasher Wolfgang Amadeus Phoenix blew up the indie pop charts, and spilled right on into the Billboard Top 100, Cadillac commercials, SNL appearances, and even a Grammy.
F1040 PHOENIX (January 26, 2010, The Fillmore)
Poster artist: R Black


Grizzly Bear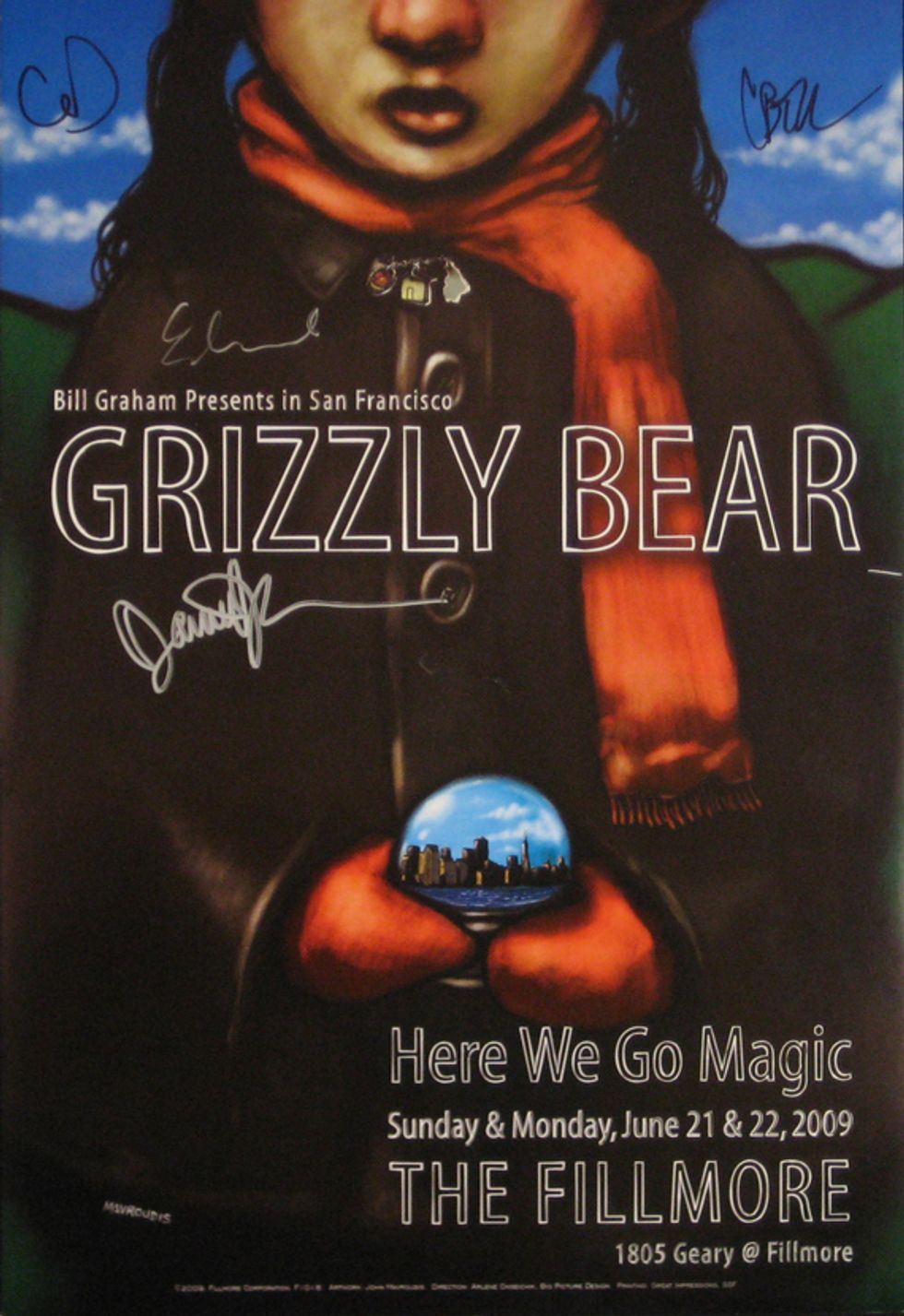 Last year's Veckatimest, Grizzly Bear's third full-length record, set a high standard for album releases in 2009. It made top spots in notable end-of-year lists from the likes of Rolling Stone, SPIN, Pitchfork, Stereogum, and NPR. It's to be noted that their live sets are just as entrancing as their genre-bending, experimental recordings, also kind of like this June '09 John Mavourdis poster.
F1018 GRIZZLY BEAR (June 21 and 22, 2009)
Poster artist: John Mavroudis

Kings of Leon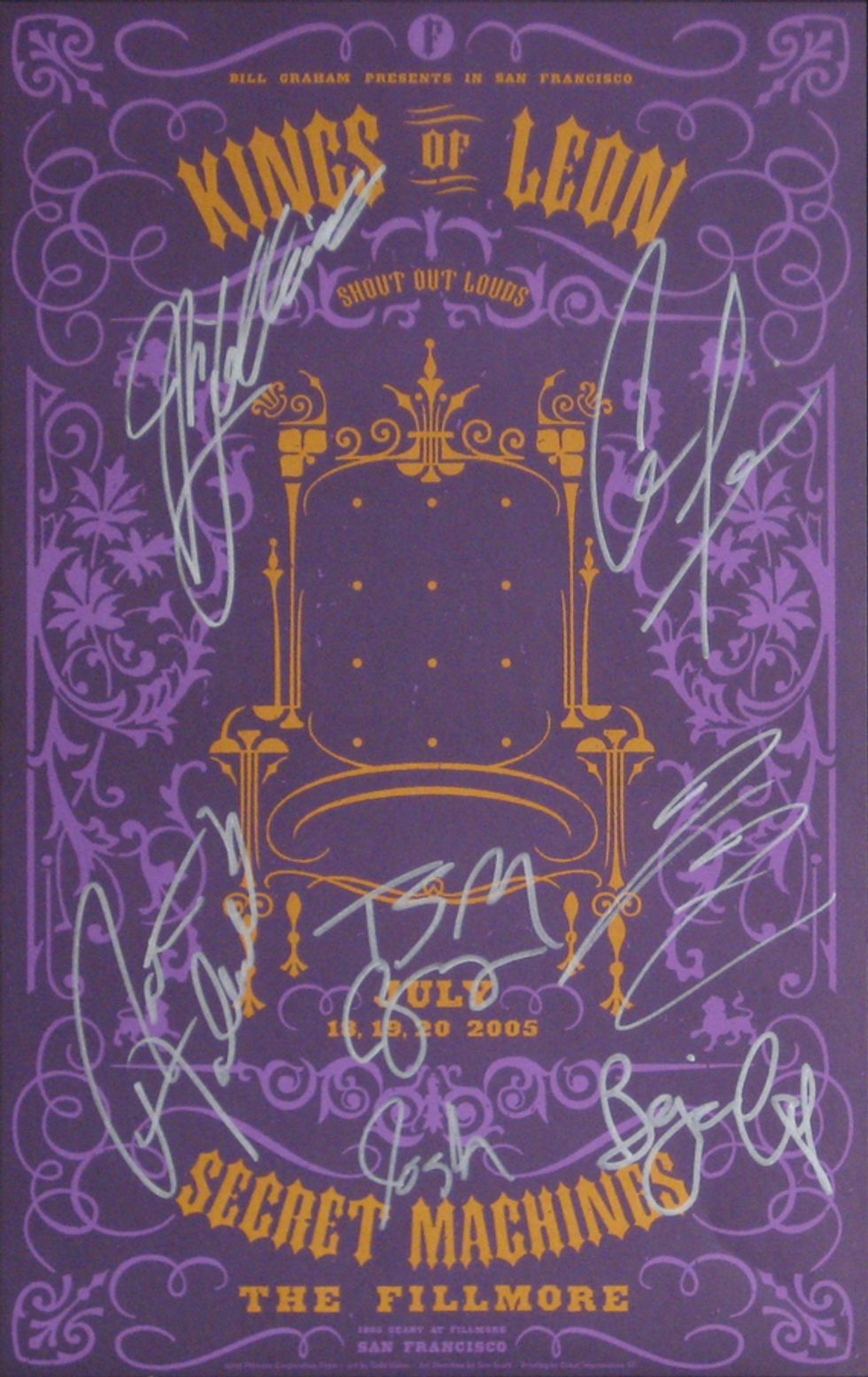 Notorious foursome family affair Kings of Leon  is as well-known for their classic American rock as their booze-loving, party hard, snarky commenting, lady chasing ways. Still riding the wave from their 2008 release, Only By The Night, these guys haven't stopped touring since their first record was put out in 2003. Phew, talk about exhausting.
F700 KINGS OF LEON (July 18, 19, 20, 2005, The Fillmore)
Poster artist: Todd Slater


Pixies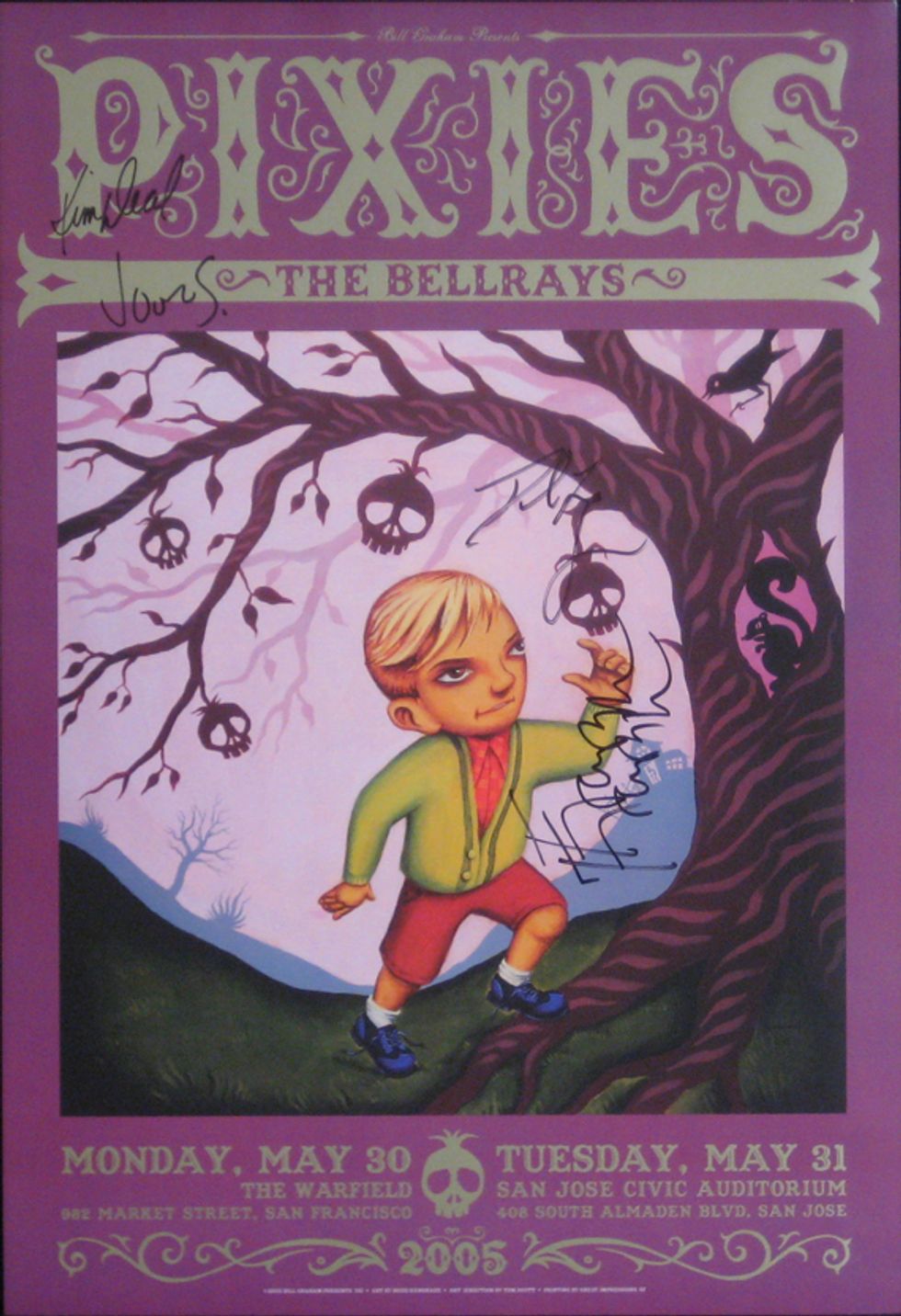 They defined an entire generation, hell, they laid the foundation for every current indie band in existence, and their recent brief reunion had us all wrapped up in nostalgia. I mean, don't we all wish today's acts were as original as their '90s predecessors? This 2005 Hugh D'Andrade beaut was created for the Bill Graham Presents poster series for their performances at The Warfield as well as the San Jose Civic Auditorium.
B331 PIXIES (May 30 and 31, 2005, Warfield Theatre San Francisco and San Jose Civic Auditorium)
The BGP is the poster series for shows at venues other than the Fillmore. The Pixies played both The Warfield as well as San Jose Civic on this tour.
Poster artist: Hugh D'Andrade
Death Cab for Cutie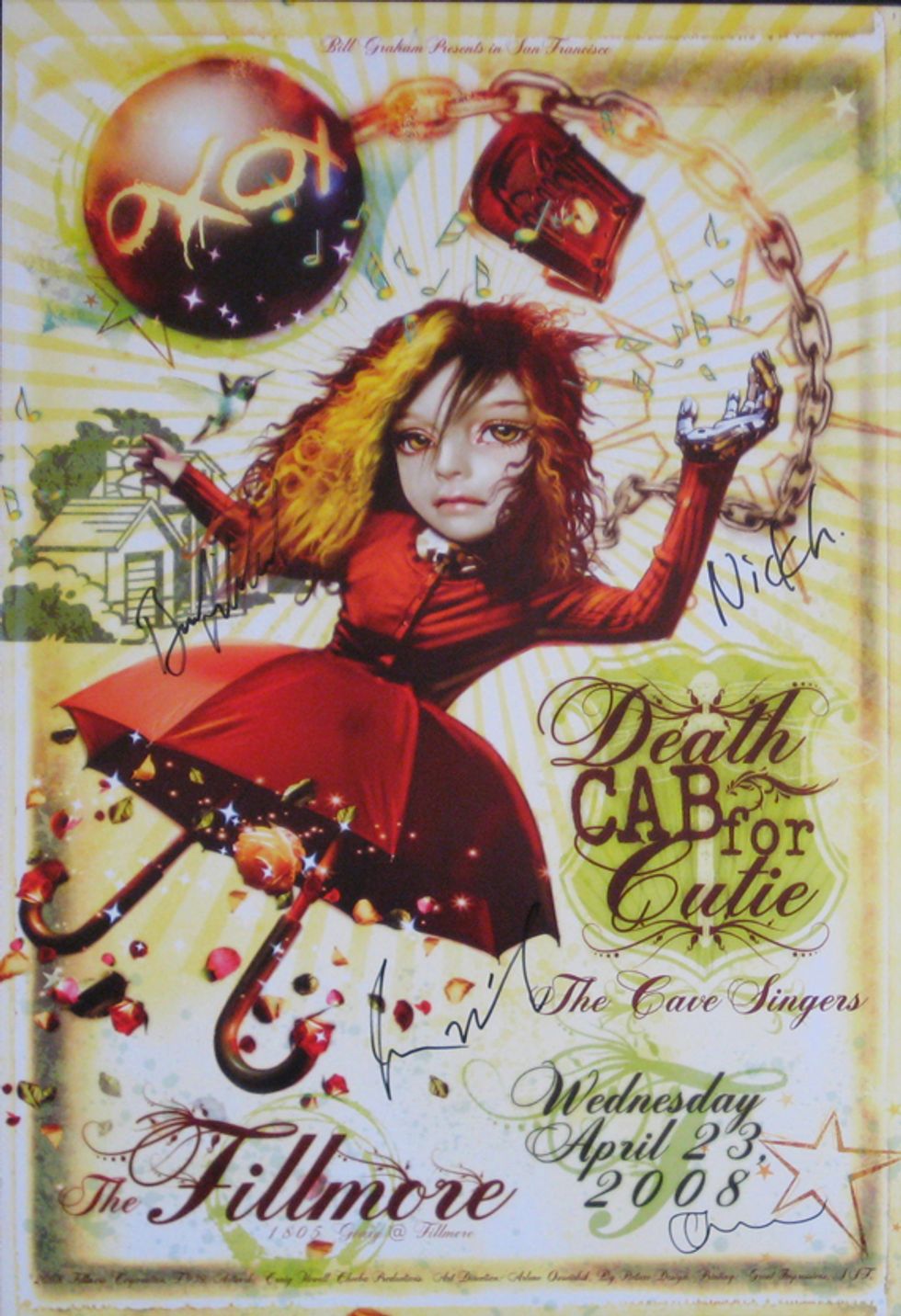 Forget the unimaginably perfect and adorable union of Death Cab's lead singer Ben Gibbard with indie princess Zooey Deschanel, these guys have been making history since their Something About Airplanes release in 1998. Death Cab For Cutie's unbelievably heartbreaking melodies over complex indie compositions has garnered them an enormous fanbase ripe for the approval of any off-shoot side projects from members that have spurted up along the way; The Postal Service, The Long Winters, and Tegan and Sara just to name a few.
F939 DEATH CAB FOR CUTIE (April 23, 2008, The Fillmore)
Poster artist: Craig Howell


Sonic Youth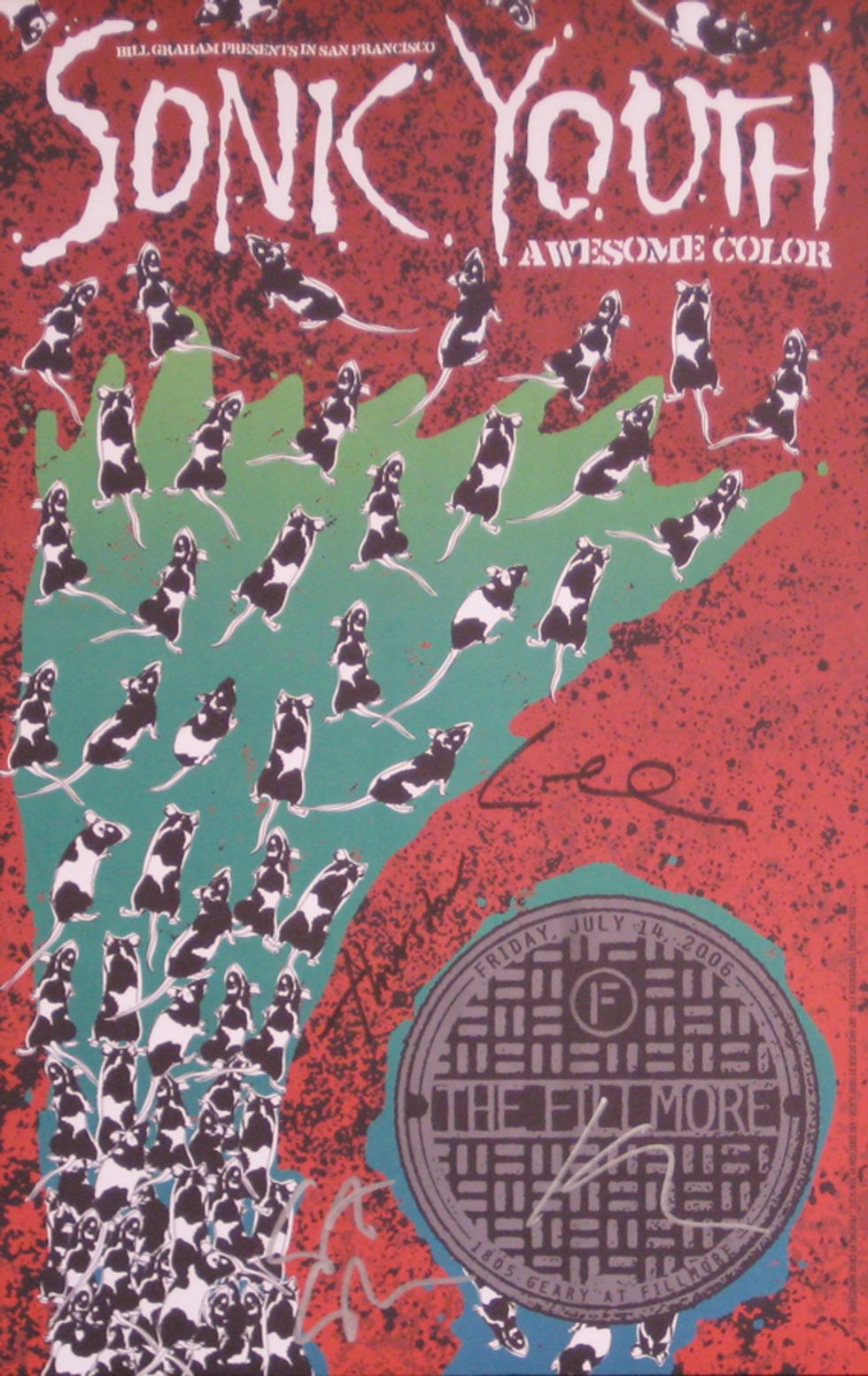 Like the Pixies for indie darlings, the alt-rock community has a lot to thank Sonic Youth for. Their influence in the NYC music and art scene in '80s re-shaped what was once though of as limitations for rock, and has since remained an esteemed cultural institution. Case and point, this Todd Slater Fillmore poster from 2006's sold-out show, which was created almost an entire quarter century after the group's inception.
F790 SONIC YOUTH (July 14, 2006, The Fillmore)
Poster artist: Todd Slater


Gnarls Barkley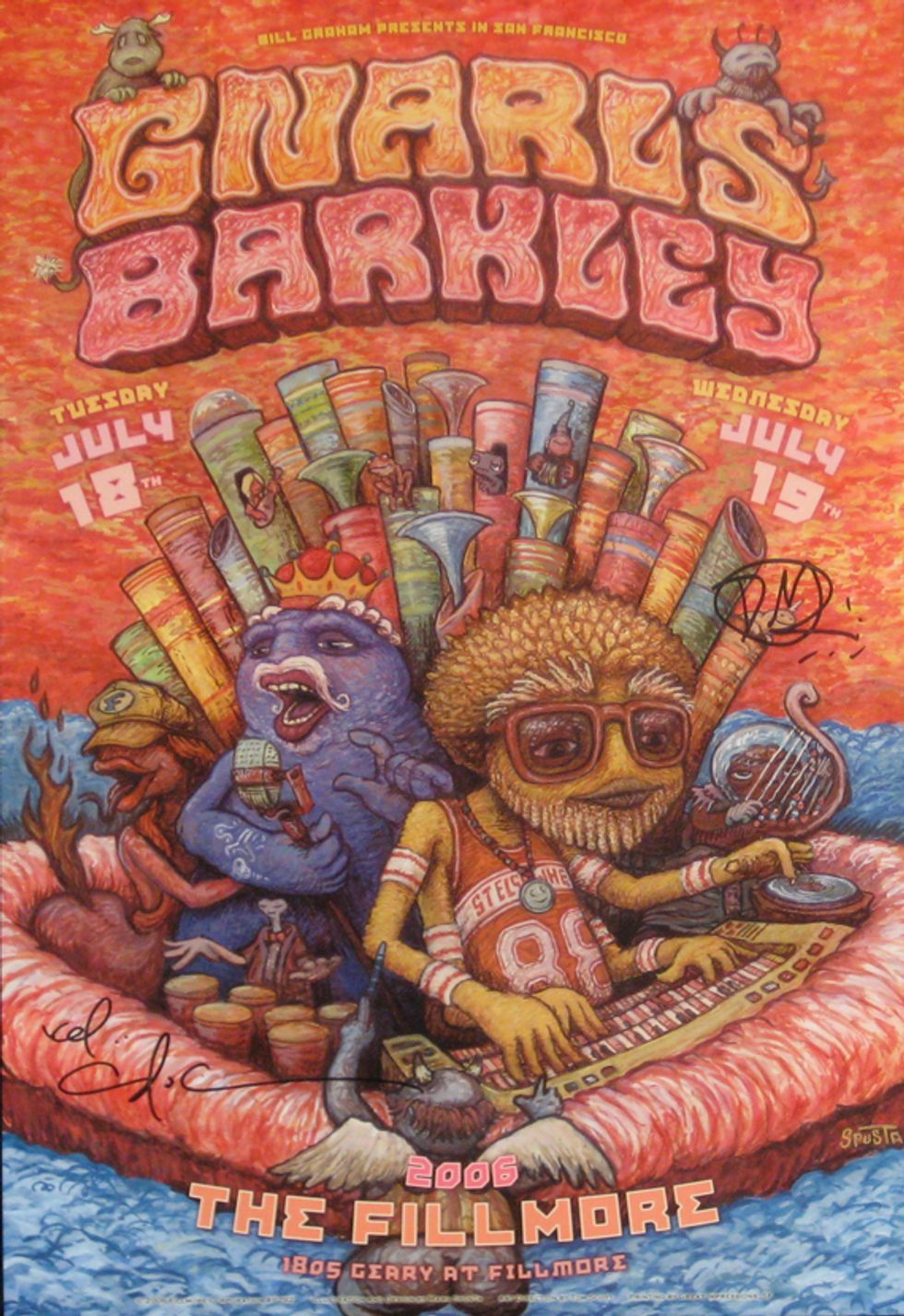 The very unpredictable, yet genius collaboration between multi-talented singer/MC, Cee-Lo Green, and producer extraordinaire, Danger Mouse, has kept fans on edge throughout their entire two-album existence. Add that to their quirky stage impersonations rangingfrom characters from Back To The Future, Star Wars, Wayne's World et al., and you've got a winning performance combination. Luckily, this 2006 Marq Spusta poster is as bizarre and epic as they are.
F792 GNARLS BARKLEY (July 18 and 19, 2006, The Fillmore)
Poster Artist: Marq Spusta


Proceeds will jointly benefit the Bill Graham Memorial Foundation and The San Francisco Conservatory of Music.
Formed in 2008, The Bill Graham Memorial Foundation focuses on grant giving (primarily for arts and education), but also supports social work, environmental protection and other community projects. Just like the man himself, the foundation often benefits those whose needs are oftentimes not served by larger philanthropic organizations. With all the fine work that they do, there's no reason not to bid high on your favorite posters. Let the bidding war begin!
The San Francisco Conservatory of Music has been educating some of the world's most gifted music students since 1917. They rely on the loyal and generous support  to maintain the artistic and educational mission of the Conservatory. Support to the Conservatory helps to pay for teachers, education and student performances at hospitals, schools and events throughout the city.