Want to spend a few hours cycling in an idyllic setting? Take a spin through Napa's Lovall Valley, where you'll find rolling vineyards, architecturally interesting homes, and roadside art set in a compact bowl of verdant green hills.
---
This hidden Napa County gem can only be accessed from neighboring Sonoma County, and does have a small price for entry – a 425 foot climb, albeit at a fairly moderate average grade of 4%, with only a few steeper sections.

How to Get There
Sonoma makes an excellent staging point for the ride. It's located 40 miles north of the Golden Gate Bridge via Highways 101, 37, 121 & 12. From the East Bay take Hwy. 80 to Vallejo, then Hwy. 37 to Hwy. 121. Follow the signs to Sonoma via Hwy. 12. As you enter the town on Broadway, look for the free parking area sign.





The Ride
Head south on Broadway for a little town exploration and warm-up, turning right into the bike lane at the stoplight at W. MacArthur. (0.2 miles)
At the intersection with 5th St. West, turn right (0.8)
Cross W. Napa St. at the light (1.3)
After crossing W. Spain St. look for the blue sign for the Sonoma Valley Trail and turn right (1.8)
Continue on the multi-use path as it crosses Sonoma State Historic Park. (3.1)
At the end of the path at 4th St. East veer slightly left onto Lovall Valley Rd. which passes behind the Sebastaini winery. (2.9)
At 7th St. East turn left, then immediately turn right at Castle Rd. Continue towards the right on Lovall Valley Rd. (3.4)
At the T-intersection continue left on the Lovall Valley Rd. (4.3)
Here you'll begin the climb.
At the hill's crest you'll roll over a large painted road surface announcement that you're now in Napa County. (6.4)
A few feet later you'll be faced with a dilemma – which direction to take on the Lovall Valley Loop Rd., make it easy and ride it both ways. It makes a great place for race training intervals as one lap around is 2.3 miles.
Retrace your route for the return. For a faster return to Broadway, turn left off the multi-use path at 1st St. East.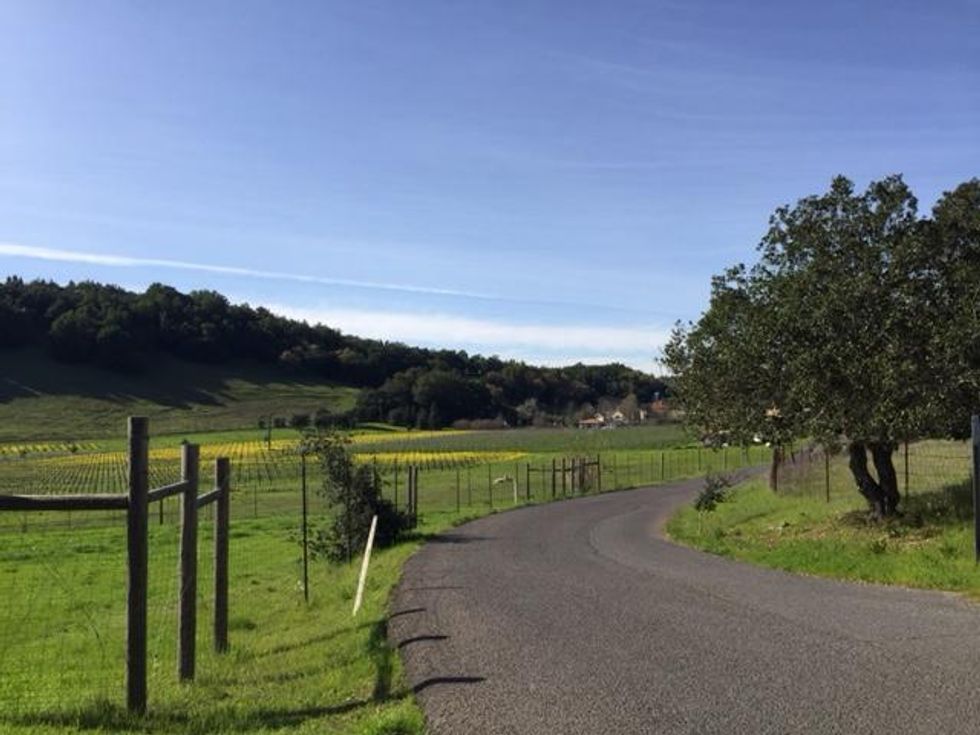 Other Things to Do
There are numerous places to eat in Sonoma following this workout. Grab take-out sandwiches (best consumed in the central Sonoma Plaza Park) from the Sonoma Cheese Factory, Indian fare atDelhi Belly on Broadway, or try the Girl and the Fig on the corner of 1st and W. Spain Streets for a tasty brunch option.
Of course, there are also nearby wineries. The area's oldest is Buena Vista, located at the end of Old Winery Road.