Ouroboros, the enigmatic ancient symbol of the snake eating its tail, appears across cultures and in multiple contexts, from the tombs of the Egyptian pharaohs and the annals of Jungian philosophy to mythological tales of alchemy. Connoting everything from rebirth to immortality, androgyny and the fusion of opposites, and infinity and the shadow self, "Ouroboros" is the intriguing premise and title of a new exhibition at the Mission nonprofit gallery Root Division.
---
"It's perfect timing for our exhibition—2013 is the Year of the Snake," says visual artist and former Root Division resident Jenny Salomon, 37, who curated the show in collaboration with her friend Katherine Krause, editor of the arts and culture biannual, Dossier Journal. Both former New Yorkers, the pair moved to San Francisco about two years ago and hatched the idea for the project in spring 2012. They embarked on a treasure hunt among our local galleries, visiting artists' studios and poring over portfolios in search of pieces that riffed on the meaning of the circle in one of two opposing world views: the eternal or the end.
"To discover new artists this way is like being a kid in a candy store," says Krause, 34, noting that her new hometown provided so much talent that selecting just 10 artists was challenging. "The more we got into it, the more we realized it was going to be an amazing, dynamic show," she says. The exhibit—a mix of photography, sculpture, large-scale installation, painting, and video—is a litmus test of the creativity thriving in our midst, with participants being native to the region or at least with very strong ties. Here is a preview of the exhibiting artists. 
Aura, Eliphas Levi, 2013. Gouache on paper. 40 x 26 inches. Courtesy of Desirée Holman and Jessica Silverman Gallery. 
Desirée Holman [ Interdisciplinary Artist ]
Combining large-format photography, sculpture, video, and works on paper, Desirée Holman navigates complex ideology with relative ease by inserting the unexpected into a conventional framework. Much of her work addresses myths of identity, involving faces obscured by masks. In her 2009 project Reborn, Holman captured women cradling fake babies in images that forced viewers to question their perceptions of reality. For this show, we selected one of her more recent color-saturated paintings of auras—a popular spiritual symbol, evocative of halos, suggesting the fields of energy that encircles us. A similar image from Holman's Aura series is pictured here.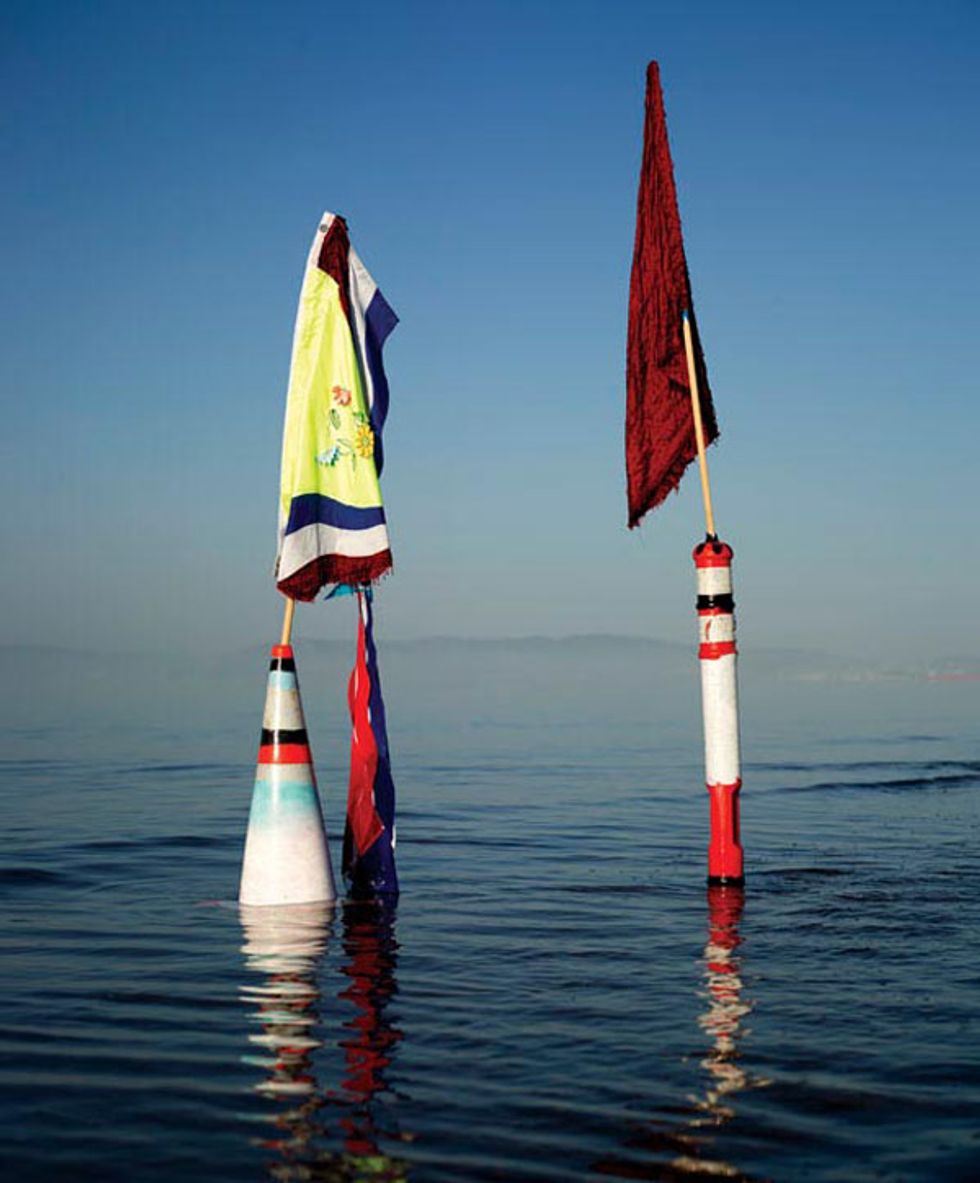 Photograph from men and women in water cities series, 2013. 28 x 40 inches. Courtesy of kim anno.
Kim Anno [ Multimedia Artist ]
Currently at work on a series called Men and Women in Water Cities, artist Kim Anno is interested in the shifting landscape as a result of climate change. Dealing directly with apocalyptic themes and how they relate to American idealism, she juxtaposes images of iconic Americana against pictures of flooded landscapes. It is an attempt at capturing beauty within ruin at the intersection of art and science, as well as a reminder that we are destroying the planet we love. This image of submerged objects is one in a montage on display in "Ouroboros." Anno's take on the theme is a warning for future generations.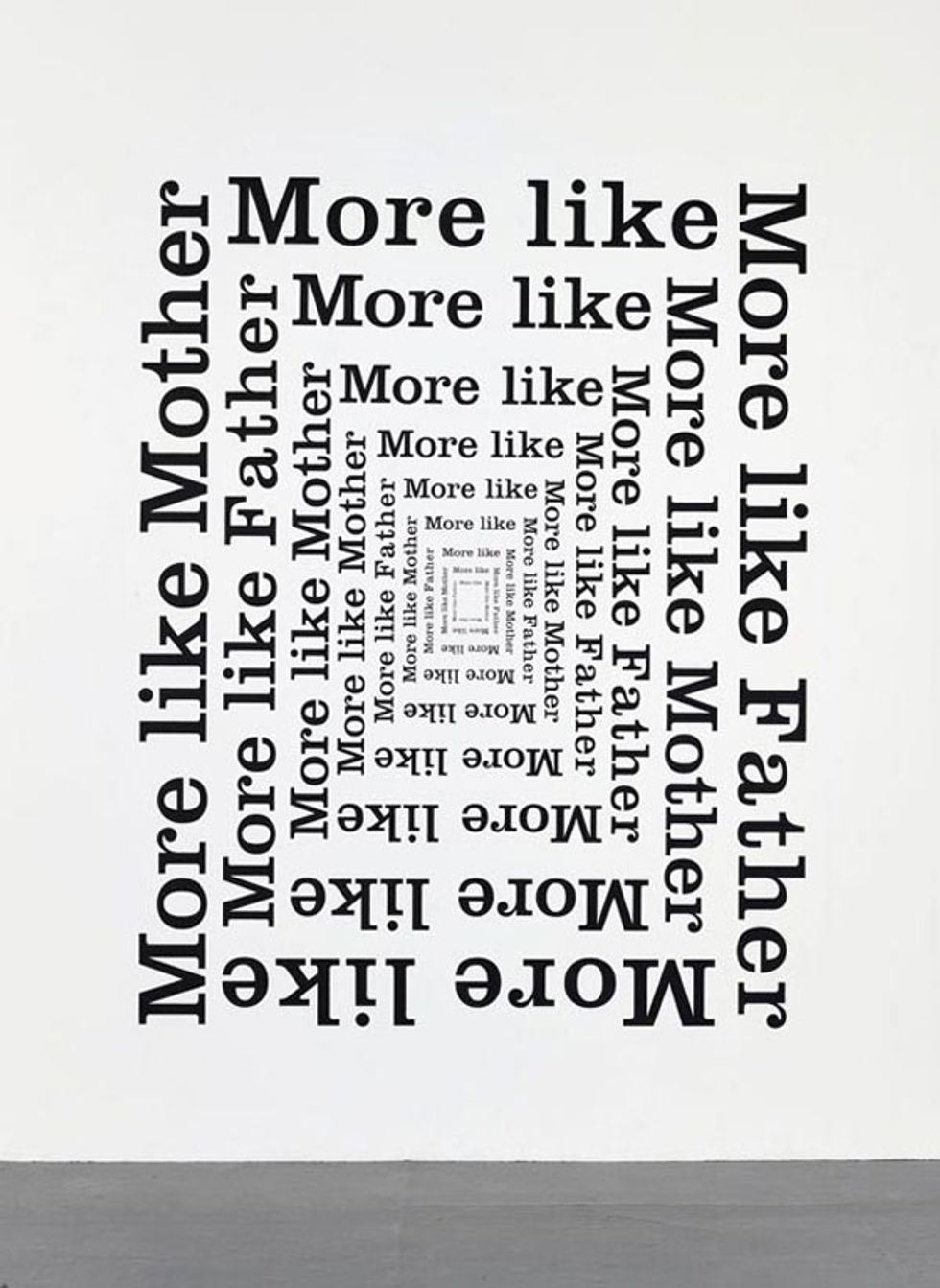 More Like, 2012. Latex paint on wall. Variable dimensions. Courtesy of Matt Keegan and Altman Siegel San Francisco.



Matt Keegan [ Graphic Artist ]
Matt Keegan's work—a combination of visual and written material that, at first glance, looks like quintessential graphic design or pop art—often deals with large social and political questions. As a self-publisher of books who also curated a magazine around small objects, Keegan's art reveals an understanding of the impact of media and information on our lives, rife with restrained messages that hint at the mania of popular culture. More Like (pictured here) makes a graphic statement in "Ouroboros."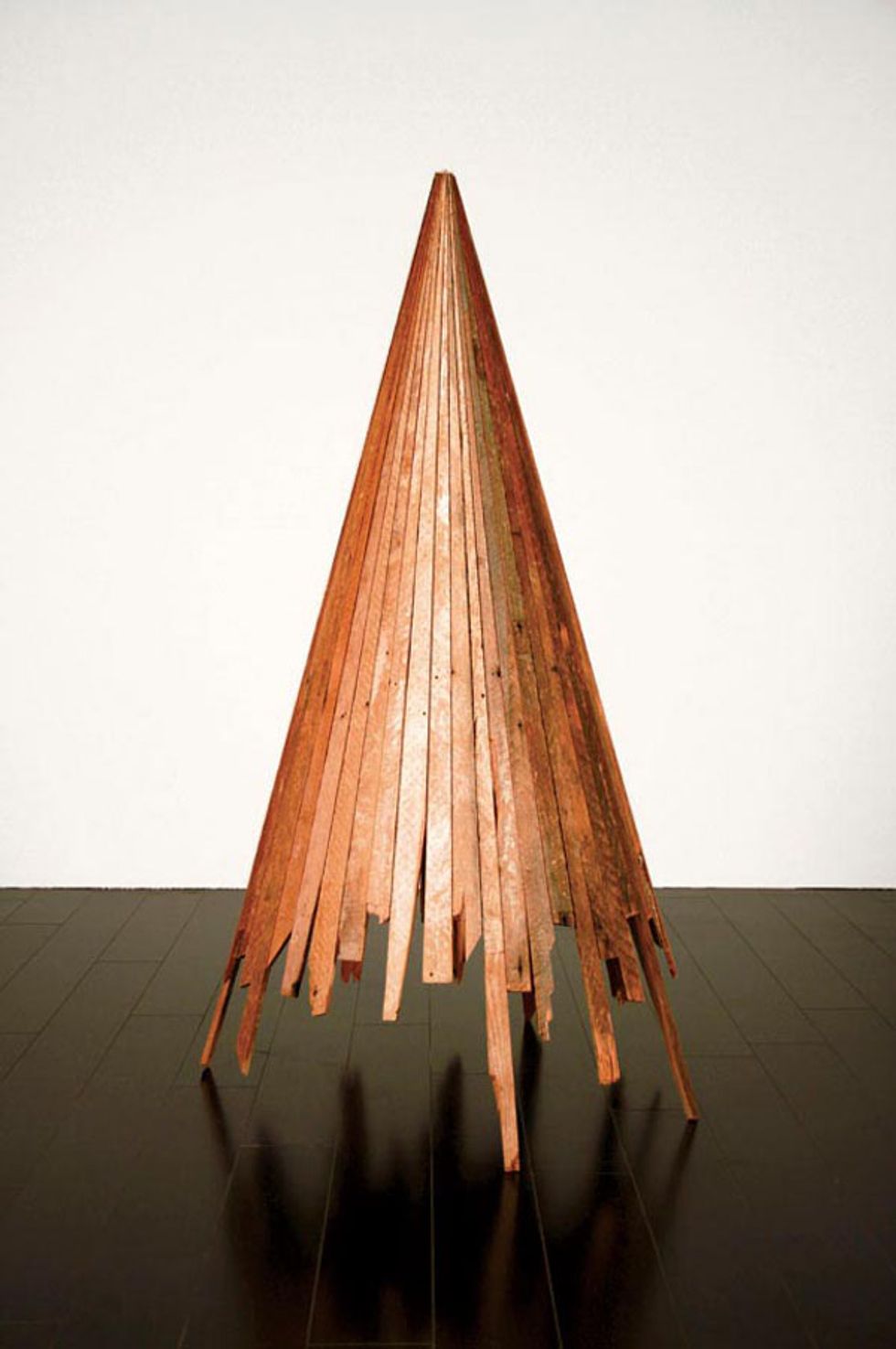 Visible Spectrum, 2013. Salvaged wood lath. 29 x 52 inches. Courtesy of Andy Vogt and Eli Ridgway Contemporary Art.

Andy Vogt [ Multimedia Artist ]


Working with reclaimed lath—the strips of wood grain once used for interior walls before drywall was invented in 1916—Andy Vogt's sculptures are both architectural and organic. Utilizing building materials salvaged from around the city, he conjures reflections of SF's rapid gentrification. Vogt's contribution to "Ouroboros" is a fragment of his 2007 installation Sustained Decay—a piece that he rescued from the wall of Adobe Books before the original store was shuttered. He now displays the ruin as a metaphor for the city's fabric being pulled apart. Here, Visible Spectrum is a freestanding cone of salvaged wood strips arranged in a gradation of natural colors.
Click here to see work by all 10 artists participating in the group show.
This article was published in 7x7's November issue. Click here to subscribe.