Since gin is traditionally enjoyed year-round, we asked local experts from around the Bay Area their favorite ways to enjoy the tasty juniper-based spirit in the winter. Their recipes did not disappoint.
---
Anchor Distillery
"Gin doesn't get the attention it deserves," said Kevin Aslan, a distiller at Anchor. His favorite gin cocktail is the negroni. "And not to plug our own products, but a negroni with our Old Tom Gin is amazing," he explained. The gin contains star anise, a spice that tastes a bit like black licorice and balances nicely with the sweet vermouth in the recipe.
Achor's Negroni
2 oz Anchor Old Tom Gin
1 oz Campari
1/2 oz sweet vermouth
A dash of Angostura
1 whole star anise for garnish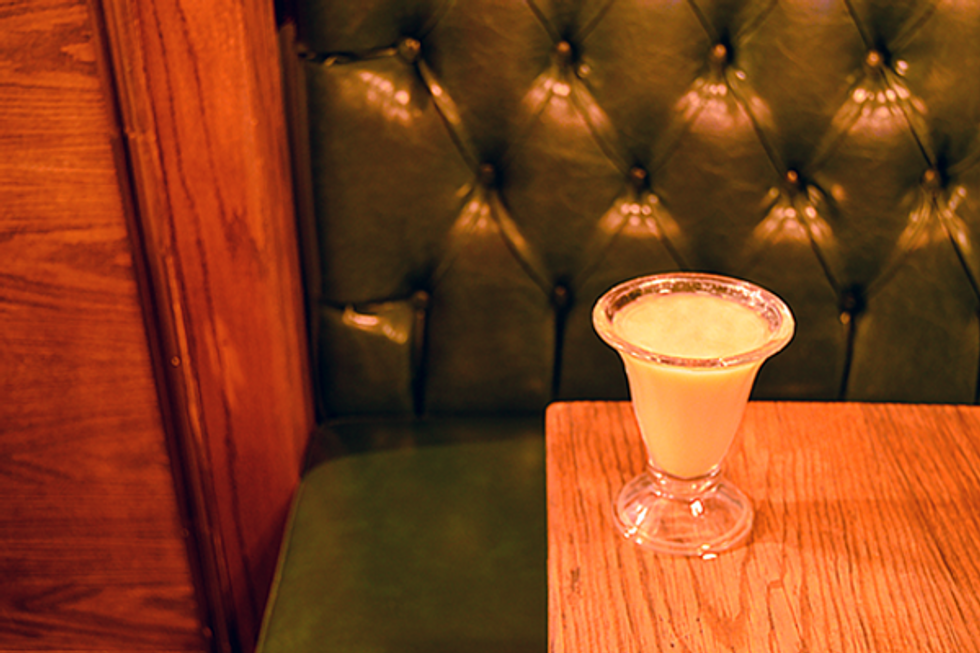 (Photo by R. A. Schuetz)
Whitechapel
Martin Cate and Alex Smith will be the first to tell you that gin is meant to be enjoyed year-round. Their bar, which features the largest gin selection in North America, opened last week with a huge menu of heart-warming cocktails. One of their favorite winter drinks is the Holmes' Bonfire. "The savory botanicals in gin nicely complement rich, dessert cocktails in a surprising way," said Martin.
Holmes' Bonfire
(Created by Alex Smith)

1 oz London dry gin
.5 oz Genever
.75 oz salted licorice liqueur (housemade with licorice root, sugar, and vodka). You can sub sweet anise liqueur with a pinch of salt
.5 oz orgeat
.5 oz egg white
.75 oz fresh lemon juice





1. Combine all in cocktail shaker and shake assertively for twenty seconds.
2. Double strain into a footed rocks glass and top with grated orange peel.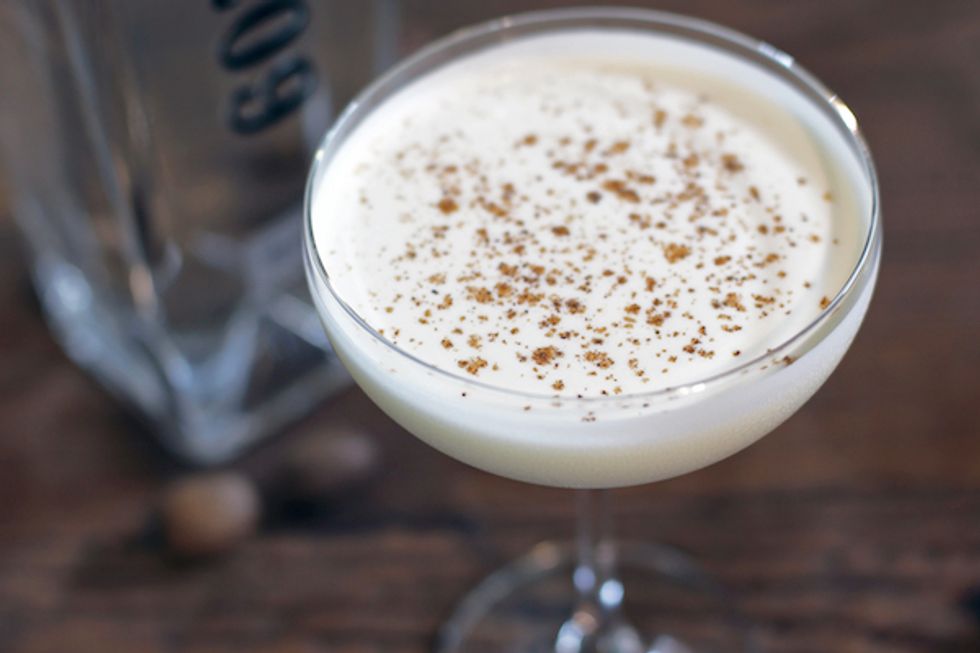 (Photo by Wendi Green)
"It's like choosing your favorite child. It's too hard. There are so many good ones," said Wendi Green, No. 209's marketing and brand manager, when asked to choose a favorite cocktail. When really pressed, she settled with the Alexander—a classic, creamy cocktail. Arne Hillesland, No. 209's distiller (a.k.a. Ginerator) seconded the choice. Wendi says the cocktail has a long history—it was likely made prior to prohibition. "It has a nice fall spice from the grated nutmeg. So for whatever reason, it's a little savory, but it has a sweetness to it," said Wendi. "To me, it's perfect for a rainy night if we ever get one, to curl up by the fire and enjoy a nice sipping cocktail."
Need an extra gin pointer? "People often don't know what to do with gin. But everything you do with vodka, you can do with gin. Because gin just adds so much flavor and diversity, as a clear spirit without any inherent sweetness."
Alexander (A Take on the Classic)
1 1/2 oz No. 209 Gin
1 oz heavy cream
1 oz white créme de cacao
Fresh grated nutmeg



1.Shake the gin, heavy cream, and créme de cacao with ice.
2. Strain into a coupe glass and top with fresh grated nutmeg.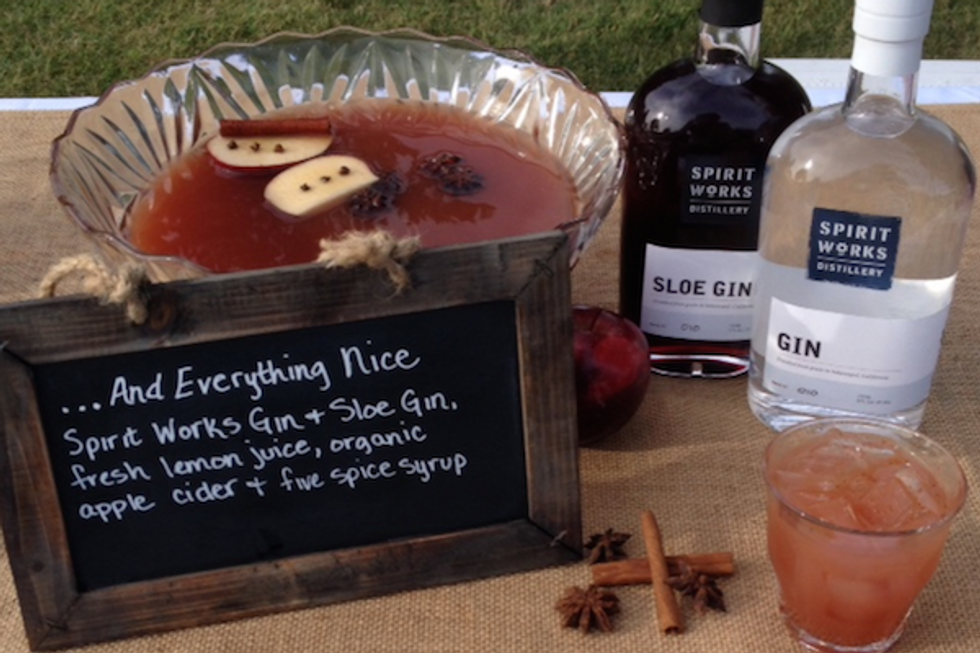 (Photo courtesy of Spirit Works)
Spirit Works Distillery
One of Spirit Works' favorite ways to imbibe for the holidays is with punch-sized portions of gin cocktails for large gatherings. And this winter, you can celebrate like a distiller—several members of the team made this drink for Thanksgiving parties last year and assure it's a hit. A single recipe makes 35 servings, so get ready to make merry!
… And Everything Nice
2 cups Lemon juice
2 cups five-spice simple syrup *(recipe below)
1 bottle Spirit Works Gin
1 bottle Spirit Works Sloe Gin
8 cups organic apple cider




1. Mix ingredients in punch bowl.
2.Pour each serving over ice and garnish with freshly grated cinnamon.
*Five-Spice Simple Syrup
2 cups turbinado sugar
2 cups water
5 cinnamon sticks
5 whole black peppercorns
4 cloves
1 inch fresh ginger, sliced into thin pieces
1 star anise
2 mulling spice sachets







1.Combine all ingredients (leaving out the mulling spice sachets) in pot and bring to a boil, stirring frequently.
2.Reduce heat, and simmer for 5 minutes.
3.Add the mulling spice sachets and simmer for another 5 minutes.
4.Remove from heat. Let cool completely. Pour through a sieve into a bowl; discard solids.
Syrup can be refrigerated in an airtight container up to 1 month