Perhaps it's a reaction to the recent recession-era dining, or maybe chefs are just kicking off their proverbial heels, but notably casual follow-up restaurants from fine-dining icons have proliferated in the past few years. Consider Daniel Patterson (Coi, Plum, Haven, Alta CA), Traci Des Jardins (Jardiniere, Public House, Mijita), and James Syhabout (Commis, Hawker Fare, Box and Bells), who have all built miniempires covering a swath of cuisines. Their more laid-back ventures are informed and improved by the quality control and aesthetics of their fancier flagships. Such is the case with The Square—a bustling upscale tavern from the talented team behind Nob Hill's Sons & Daughters—which opened in the storied Washington Square Bar & Grill space (most recently known as Bottle Cap) in early March.
---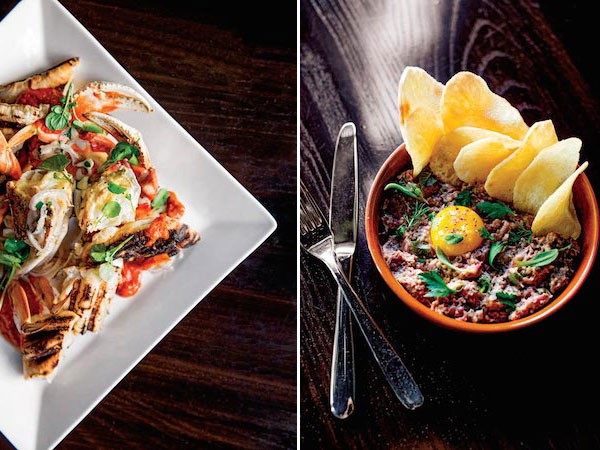 (Left):The opening menu features large share plates, such as this whole cracked Dungeness crab, served with tangy romesco sauce and grilled bread. (Right): An excellent beef tartare comes with house-made salt-and-vinegar potato chips for scooping.
The historically jam-packed bar, where local bold-faced names once mingled with celebrities and the movers and shakers of 1970s and '80s San Francisco, has been opened up to the dining room for a more modern forum. Designer Debbie McNamara (mother of partner and co-chef Matt McNamara) kept things simple with forest-green walls and dangling lights, which give the room a flattering glow—optimal conditions for attractive twenty- and thirtysomethings grooving to a soundtrack that ranges from old funk and soul to modern alternative. They've been piling in for classic(ish) cocktails and a geek-friendly beer selection, and staying for such booze-appropriate snacks as pork rillettes flavored with pastrami spices and addictive fried corona beans.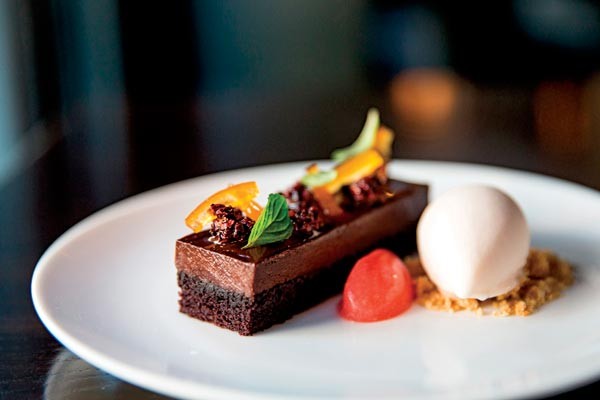 Desserts like the devil's food cake, elegantly plated with candied grapefruit and caramelized cacao, show off the kitchen's fine-dining roots.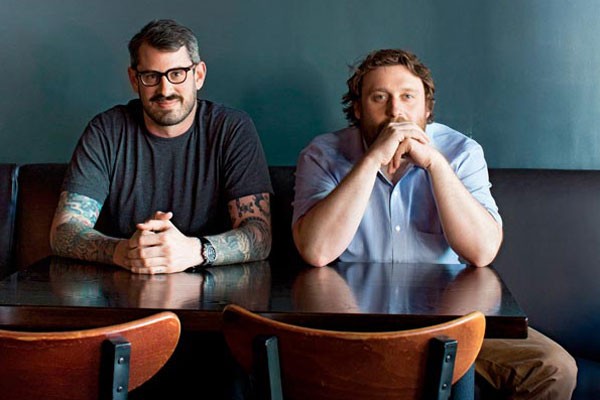 Co-chefs and partners Teague Moriarty (left) and Matt McNamara summoned opening sous chefs from Sons & Daughters back from jobs in other parts of the country to lead the kitchen at The Square.
"There are things I always wanted to do at Sons & Daughters but couldn't," says McNamara. "I always wanted to serve a whole roasted Dungeness crab with romesco and grilled bread. But you can't have people cracking crab at your Michelin-starred restaurant." He and co-chef and partner Teague Moriarty are creating the pub food of their dreams, offering a range of plates—including refined vegetable dishes such as leek and fennel soup (straight from the S&D repertoire) as well as simple spins on tavern fare, like an ultra-juicy cheddar cheeseburger and a full rack of baby back ribs. The latter is served with polenta, cucumber, and mint and requires a commitment to messy consumption. Your server will happily provide you with lemon-scented hot towels—polish befitting the restaurant's Michelin heritage—to keep your fingertips pristine. 
This article was published in 7x7's May 2014 issue. Click here to subscribe.