---
You guys, Justin Bieber is growing up. 
We're only a little ashamed to admit that we caught the Bieber bug earlier this year—but, it turns out, we weren't the only ones. While most of the audience at Saturday night's show at Oracle Arena in Oakland still consisted of middle school-age girls, there were still a fair amount of 20-somethings, some young couples (whose attendance did not seem ironic), tons of gay men, and more than a couple out-and-proud cougars. Photographer Moses Namkung even spotted a sign that read: Cougars for Biebs. Yikes. 
As for Bieber himself, the badboy popstar entered the arena in a glass cube, spelling out "Purpose," "Mark My Words," and a heart on the side. His signature blonde locks were tied back in a messy man bun and he sported a baggy Guns 'N Roses shirt and ... is that a grey bathrobe? Thankfully, he swapped outfits a couple times during the performance.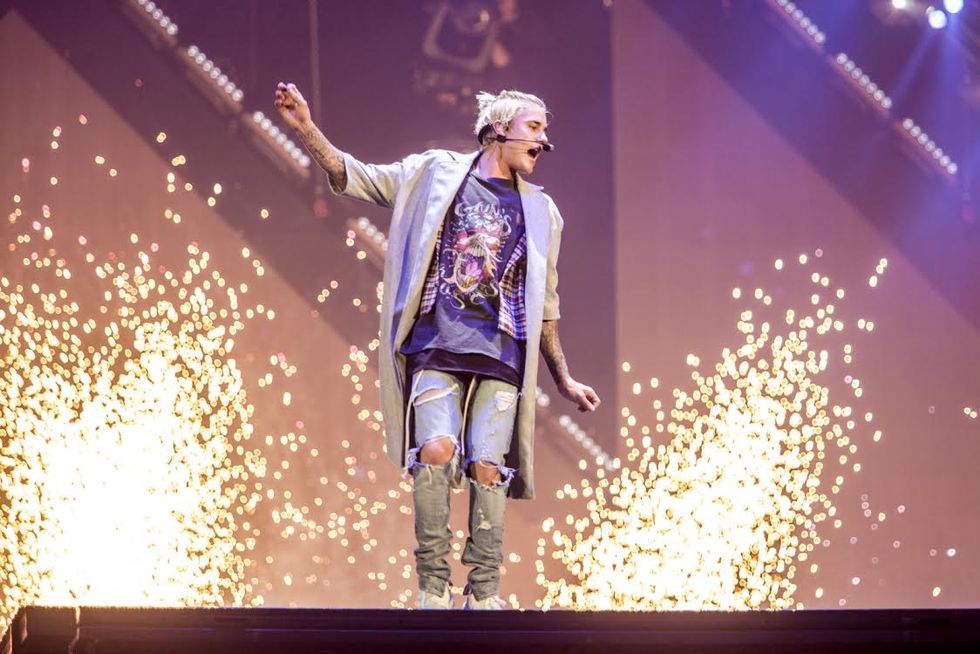 Should we be wearing bathrobes to concerts? Is that a thing? 
Biebs has also shifted away from choreographed dances that follow cheesy narratives (those of you who saw him in 2013, know what we mean), to full on lasers and pyrotechnics. The performance of "Where Are U Now" included literal fireworks on stage and in the final song, "Sorry," fake rain fell from the sky. In fact, he only played three songs that weren't on his most recent album: "Baby," "One Less Lonely "Girl," and "As Long As You Love Me." 
Has Bieber finally shed his baby fat? Take a look at the pictures and let us know what you think.