Although it's hard to imagine these days, the bucolic Presidio was once a bustling center of military activity. Officially opened in 1848, in WWII it acted as the defense headquarters for the Western U.S., and was the longest operating military base when it was decommissioned in 1995. The Presidio was also home to thousands of families who left their own special mark on the base's three square miles.
By most accounts, the Presidio Pet Cemetery wasn't ever "official" (although it may have started as the final resting place for cavalry horses or military guard dogs), but from the 1950s onward, residents of the Presidio brought their beloved pets, along with touching handmade tombstones, to be buried at McDowell Avenue at Cowles Street.
After falling into disrepair in the '70s, the cemetery is now in a macabre-yet-charming halfway state, with lots of overgrown plants but still well-maintained tombstones. Unfortunately, the new Doyle Drive construction project has obscured the cemetery's original view, but at least it is now officially being cared for by the nonprofit Swords to Plowshares. According to the NPS website, no new interments are allowed, although we did spot some recently dated tombstones amongst the older plots.
RIP sweet pets! And thank you for your service, both military and personal.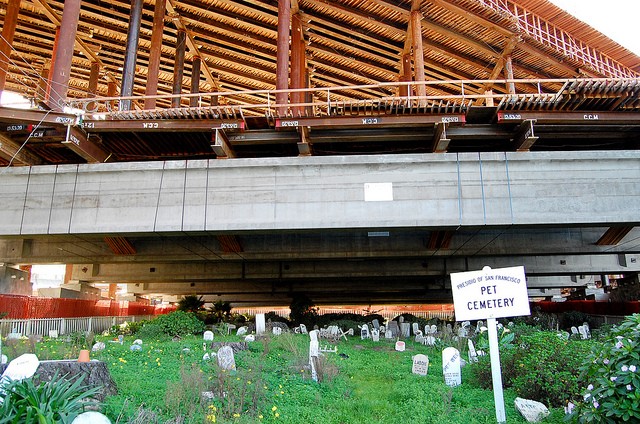 Previous
Next

---