First dates can be awkward AF.
So to celebrate Valentine's Day and the noble quest to find love, Smitten Ice Cream and OkCupid have put their heads together to make first dates a little sweeter.
---
This V-Day, anyone with an active OkCupid account gets a treat: Buy one ice cream and get a second ice cream half off for your date or friend.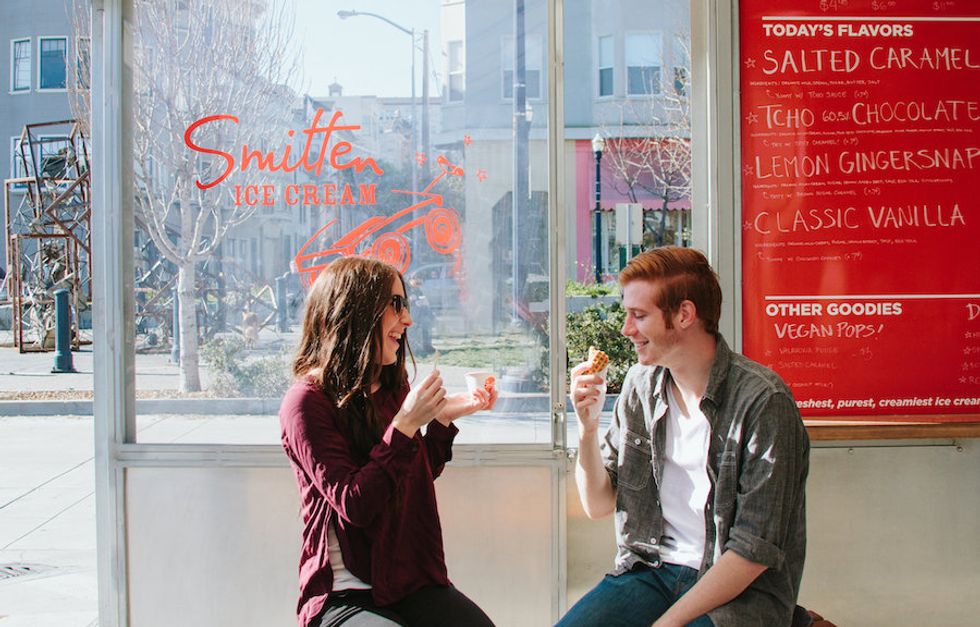 (Courtesy of Smitten)
Dating can be a blast but sometimes it just feels like work—and who needs more of that. OkCupid was created to help people cut to the damn chase by asking fun and interesting questions that are designed to match people on the things that actually matter. The goal: to help anyone and everyone find love and happiness through meaningful connections.

If you've got a first date coming up or are on the verge of casting that first line, swing by Smitten Ice Cream—with locations in great date-night neighborhoods including Hayes Valley, the Mission, the Marina, and Pacific Heights—for fresh-churned scoops of ice cream made with local seasonal ingredients (think Meyer lemon with ginger cookies; and earl grey tea with milk chocolate chips and Guittard chocolate ganache). All scoops are carefully crafted with Sonoma pasture-raised dairy...and so much love.
So, stop settling for less than what you want and deserve and try OkCupid and Smitten Ice Cream, because the only thing that makes you feel better than ice cream is love. // Offer is valid February 12th through February 17th; for locations and hours, go to smittenicecream.com/locations.