Ideal for a mid-day getaway, this ride is geared toward those looking for a challenging but short and easily accessible off-road experience.
---
Fremont Older Open Space Preserve fits the bill. Situated above the Blue Hills, its 739 acres have both excellent single track and fire road opportunities for riders.
How to Get There
From San Francisco head south on either Hwy. 280 or Hwy. 101. Merge onto Hwy. 85 (south towards Gilroy), then take the S. De Anza Blvd. exit. Turn right onto Prospect Rd. As Prospect starts to turns to the right, look for a parking spot.
At a touch over eight miles and with over 1,500 feet of vertical, you'll find this a worthy workout with eye-popping views to boot.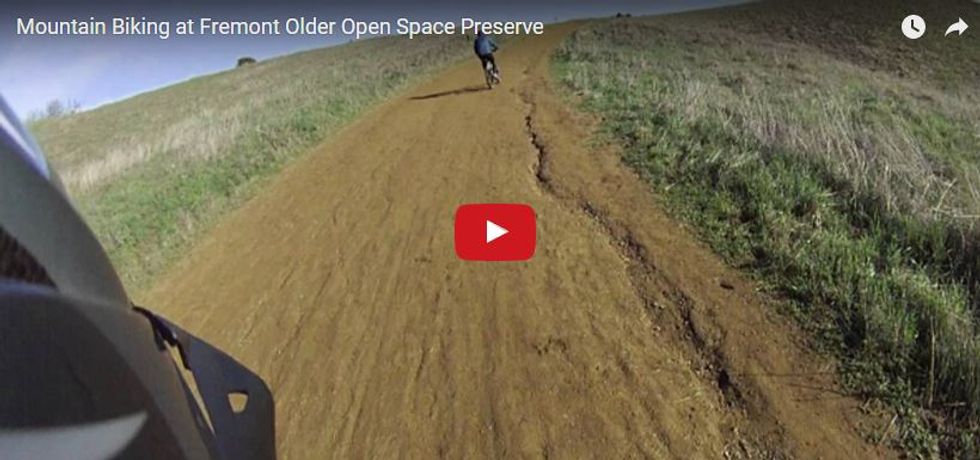 (Video by Kaustabh Duorah via YouTube)
The Ride
Continue on Prospect Rd. after crossing the railroad tracks.
After passing Rolling Hills Rd. you'll come to a parking area. Take the Cora Older Trail on your right (1.4 miles).
At the junction with the (1.8) go uphill for less then a tenth of a mile. 
Bear right onto the Seven Springs Loop Trail. 
Cross Ranch Rd. and continue up the Seven Spring. (2.5)
Roll past the Rainbow Knoll Trail on your right. (3.4)
At the junction, leave the Seven Springs and bear right onto Woodhills Loop trail. (3.5)
Take a short detour up to the summit for a look-see at Hunters Point (elevation 944').
When Woodhills meets the Hayfield keep descending down to the saddle ahead. 
At the junction head right, still on the Hayfield. (3.9)
When you get to the hard bend take the Toyon Trail. (4.2)
At the next junction head right, then left onto the Bayview Trail.(4.5)
Hang a hard right onto the Coyote Ridge Trail. (5.0)
Veer right to summit MassiePeak at 1,177'. (5.4)
Continue on the Coyote Ridge Trail for a fast descent, keeping an eye open for other users.
Turn right on the Hayfield (5.8) to begin your return down to the park entrance.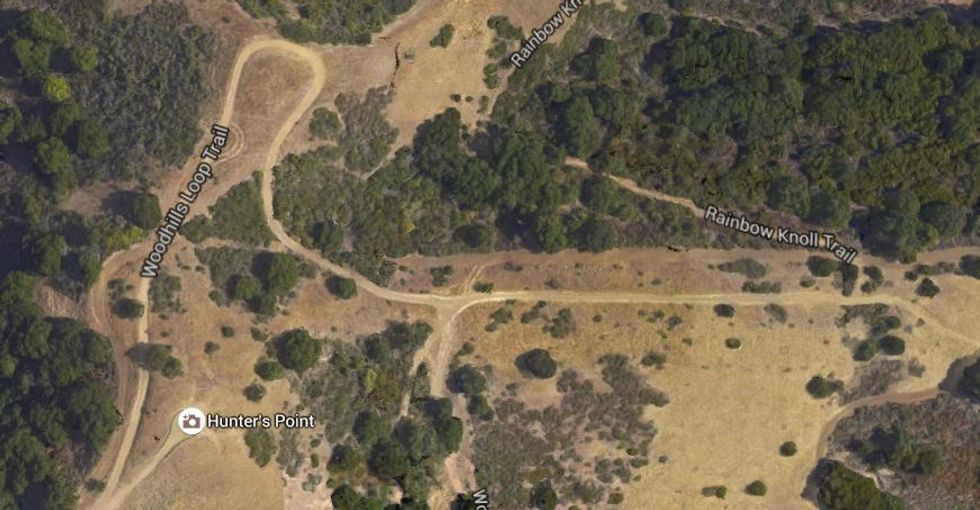 As you'll notice, there are many other enticing trails here, as well as the opportunity to reverse direction on many trails for an entirely different perspective.
Other Things to Do Nearby
While Saratoga has a few spots for lunch they tend to be expensive. De Anza Blvd. has a myriad of fast food options. Nearby Los Gatos offers the most interesting variety.