What happens when you take your favorite poke, form it into a patty, and sear it rare?
The Ahi poke burger, a new take on the poke that first put Pacific Catch on San Francisco's culinary map back in 2003.
---
It's served in a decidedly West Coast style, giving a nod to summer fish burgers but presenting them through a Hawaiian lens. It comes on a black sesame bun with wasabi aioli, daikon sprouts, and pickled ginger. Alongside are skin-on furikake fries and a colorful sesame slaw.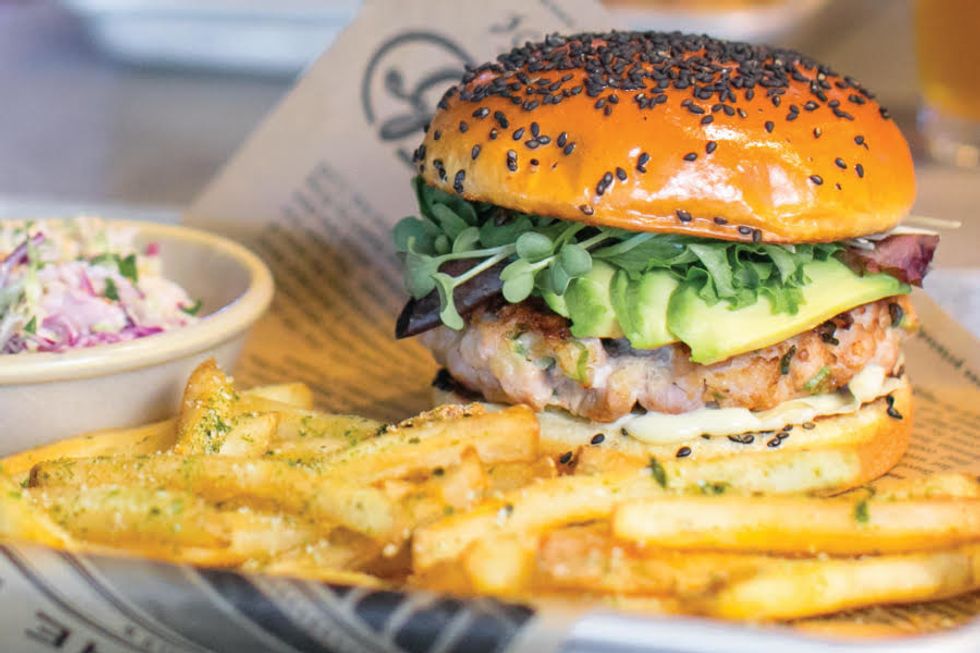 An ahi poke burger at Pacific Catch.
Besides the taste, the next best part of this new burger is it's made from sustainable yellowfin tuna. In fact, all of the seafood at Pacific Catch is sustainable and thoughtfully curated by the restaurant's co-founder, Keith Cox, and Pacific Catch director of sustainability, Jennifer Bushman. In 2018, the restaurant group entered into relationships with Monterey Bay Aquarium's Seafood Watch program, James Beard's Smart Catch, and the ocean-protecting nonprofit, Surfrider. Since then they've added a partnership to raise funds for Marin Marine Mammal Center's seal pups through sales of select "seal-friendly" menu items. All of these relationships continue to thrive.

As does the menu. It changes with the season and it's mindful that new, creative ways to present simple, sustainable ingredients keep the restaurant's outlook fresh. There's always something new on its West Coast–style menu.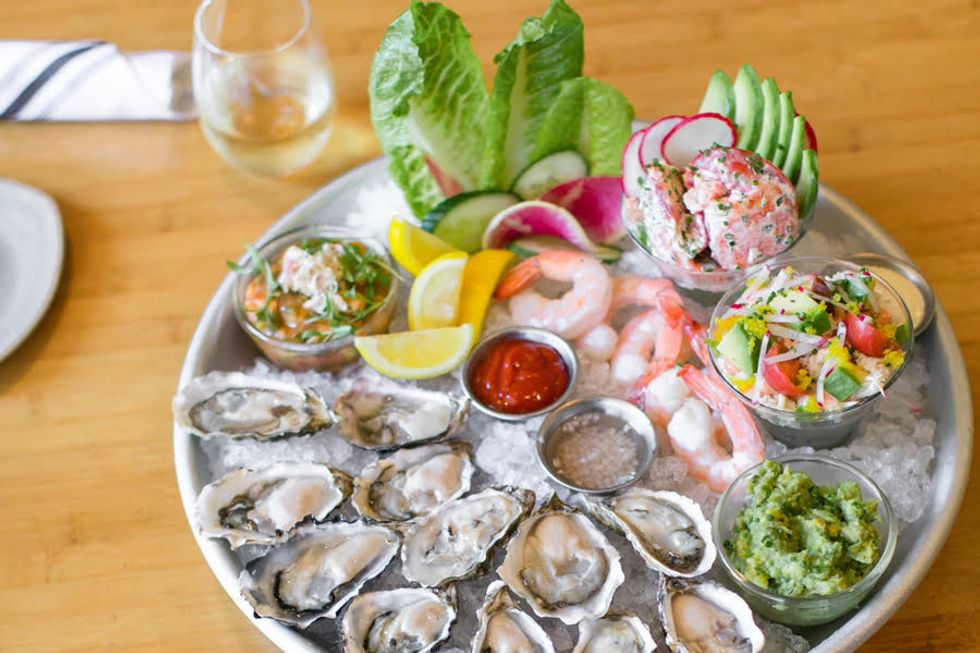 The Shellfish Platter Plus at Pacific Catch.
Speaking of new, along with the heat and the fog, summer brings sushi tacos—sashimi slices on sushi rice with fresh relishes and sauces on a nori seaweed "shell"—and local Tomales Bay miyagi oysters, served on platters of crushed ice from the restaurant's wildly popular FishBar.

Hand-shaken cocktails have always been a passion at Pacific Catch, this time they take a seasonal focus on fresh pineapple. The theme for these rum, tequila, and beer-based drinks? Piña Palooza. Because, yeah, you guessed it, summer's also for music festivals and good times.
The Marin County-based restaurant group has
eight Bay Area locations
, plus two on the way in Silicon Valley. //
pacificcatch.com