With the start of the new year, Bay Area favorite Tartine Bakery announced the impending opening of its first international location—not in pastry-loving France or any North American neighbor, but in Seoul, as in South Korea, just in time for the 2018 Winter Olympics.

The move to Seoul may sound far flung, but Tartine is actually a late adopter of an emerging trend: San Francisco restaurants have been taking their game overseas, especially to Asia, for several years now. The Marina's popular Italian eatery A16 may have been the first—the restaurant opened in Tokyo's Mitsubishi building back in 2009—inspiring other local foodie purveyors, especially of the coffee and pastry variety, to dip their toes in Asian waters.
---
And just as San Franciscans are willing to wait in line for Blue Bottle Gibraltars and Tartine's morning buns, so too are foodies in Tokyo, Seoul and in Mexico's San Miguel de Allende (all cities that are now home to well-known SF businesses), where a growing understanding and appreciation for the sustainable food movement makes pioneering SF somewhat of a food world hero.
"The food culture in Korea is really amazing, [as is] the way they take Western food influences," says Chad Robertson, Tartine's James Beard Award–winning mastermind. "I'm very excited about the exchange of culture and collaborating with the team there."
So take a peek at exactly just what is going on in our favorite restaurants across the world.
Tartine Bakery
Angelenos are practically lining up already in anticipation of Tartine Manufactory's opening in downtown L.A. this coming spring, but the bake hounds at Tartine Bakery are broadening their horizons even further. On January 28th, Tartine will open the doors to its lofty new space among the many art galleries and trendy boutiques of Hannam Dong, a sophisticated neighborhood in Seoul, South Korea. What's more, Tartine intends to open a handful more bakeries throughout the country in the coming year or so. Turns out, founder Chad Robinson has nurtured a lifelong interest in Korean culture, bolstered further by friendships with Korean-American chefs including Momofuku's David Chang and Danny Bowien of Mission Chinese.
The Seoul team will be led by Paris-trained chef Hyunhee Lee and chef Edward Lee, who is well known locally as the man behind the carbohydrate havens Buzza Pizza and Baroque Bakery; a crew of bakers and staff will be temporarily transplanted from SF to imbue the new space with all the proper Tartine touches.
The new Korean cafes will serve Coffee Manufactory, the bakery's recent foray into coffee, along with a menu that will look similar to Guerrero Street's own—while the menu has yet to be released, Tartine's Instagram feed reveals familiar open-faced sandwiches, an oozy grilled cheese, soup and, of course, oh-so-crusty breads and morning buns. // tartinemanufactory.com
Dandelion Chocolate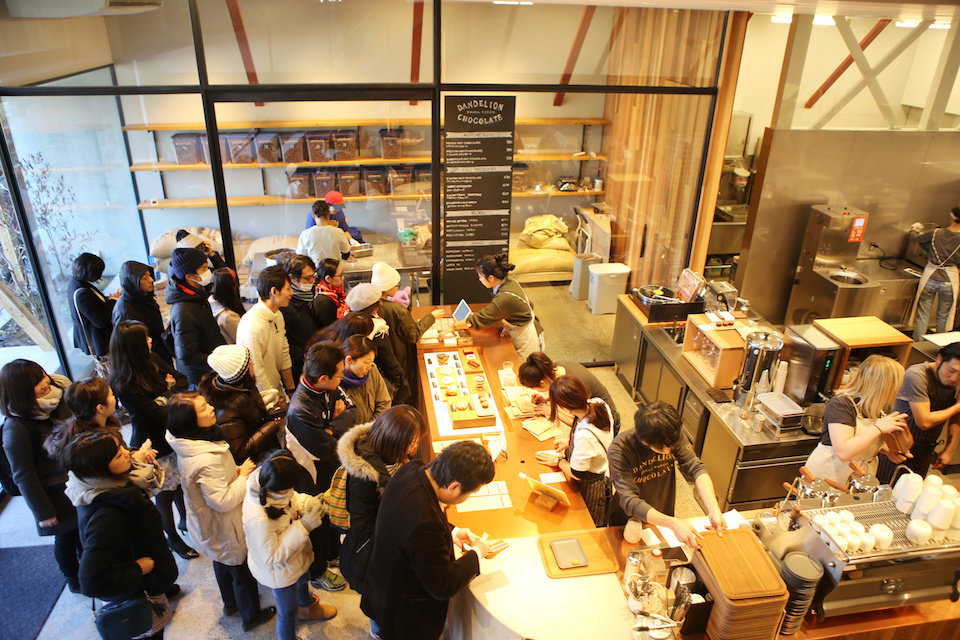 Dandelion Japan regularly draws crowds for its chocolatey cafe offerings and small-batch bars.
(Courtesy of Dandelion)
Dandelion Chocolate may source its cacao from Madagascar and Belize, but the brand has found sweet success among Japan's craft-loving culture.
The small-batch, bean-to-bar chocolate company has, in the past two years, opened three Japanese outposts: in Tokyo's hipster enclave of Kuramae; in Kamakura, a seaside city south of Tokyo; and in Ise City, where the shrine of the Sun Goddess Amaterasu O-mikami draws more than seven million visitors each year. A fourth shop is coming to Kyoto, known for its magnificent temples, this spring.
Dandelion's overseas shops share the same aesthetic as those in San Francisco, with all the exposed wood elements and the Japanese-made ceramics, naturally. But while the chocolate makers in Japan use the same cacao beans and methods employed at the factory here in the Mission, SF connoisseurs on a Japanese foodie pilgrimage may note that the chocolate there tastes curiously different.
"All the details matter—roast profile, the time it is refined, ambient temperature, sorting of the beans, the amount of time the chocolate sets prior to tempering, and any of hundreds of other factors," says Dandelion bean sourcer Greg D'alesandre, explaining that the flavor profiles may vary in indeterminable ways. "This is why our chocolate makers are makers and not machine operators."
You can taste the difference by picking up a Japan-roasted bar from either of Dandelion's SF locations (though these bars do tend to sell out quickly). As for the cafe menus in Japan, favorites like the brownie bite trio and spicy Mission mocha hold steady. // dandelionchocolate.com, dandelionchocolate.jp
Blue Bottle Coffee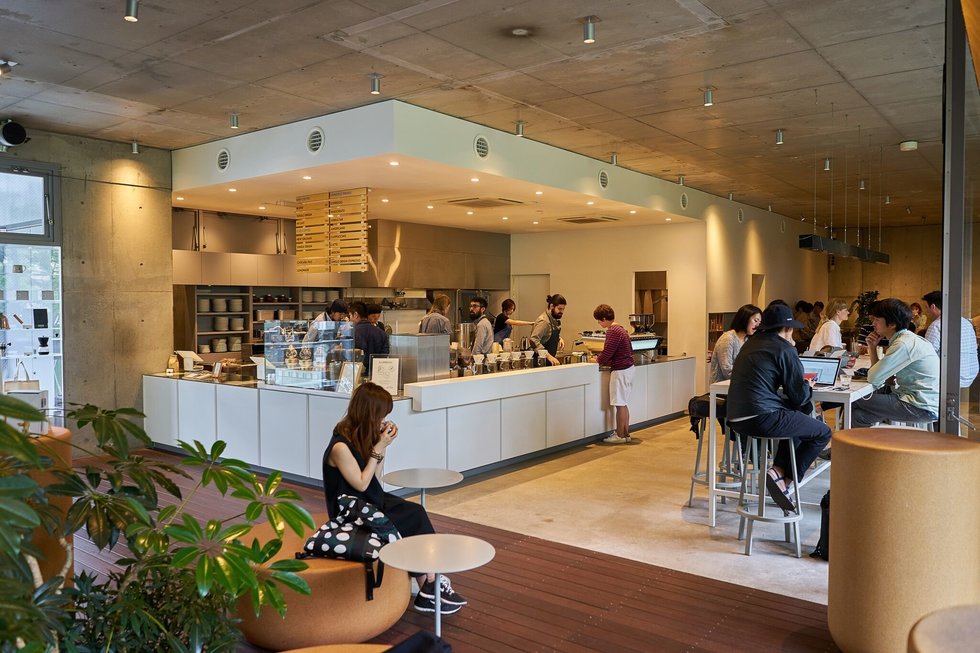 Blue Bottle Coffee's cafe in Aoyama.
(Courtesy of Blue Bottle)
Since opening its first Tokyo location 2015, the ever-expanding Oakland-based coffee mecca—which sold to Nestle in 2017—has since opened seven cafes throughout Japan's capital city. Blue Bottle founder James Freeman was inspired by the country's kissaten culture—the tradition of sipping tea (and sometimes coffee) along with light sweets in tranquil old-school cafes.
Blue Bottle's Asian locations serve a menu that Bay Areans know all too well, in tucked-away cafes that vary architecturally and aesthetically according to the vibes of their respective neighborhoods. Terraces endow the cafe in the uber-posh Aoyama district, while more angular digs inform the look in industrial Kiyosumi and an airy ex-factory feels at home in the burgeoning arts district of Nakameguro.
With a collaborative crew of Japanese, American, and Chinese baristas, the coffee chain's characteristic precision is not lost on Tokyo's appreciative, caffeine-loving community. Seasonal pastry offerings vary slightly to appeal to the local palate—think matcha-infused pound cake—but the New Orleans-Style Iced Coffee is perfectly untouched. // bluebottlecoffee.com
Mr. Holmes Bakehouse
In late 2015, cruffin-craving Koreans rejoiced heart and Seoul (get it?) when Mr. Holmes Bakehouse opened in the city's upscale Gangnam District. With a transnational following, robust social media presence, and signature tongue-in-cheek decor such as the tiled threshold that spells "Eat Me", the Seoul outpost offers the same indulgent favorites as the O.G. Tenderloin bakehouse. The cult favorite cruffin and brioche donut make an appearance, alongside Ferrero Rocher croissants, carrot cake scones, berry lemonade, and matcha three ways. Much like the SF and L.A. locations, lines can be long—as much for a pastry as for the obligatory Instagram snap of the emblematic neon sign, "I Got Baked in Seoul." // mrholmesbakehouse.com
Tacolicious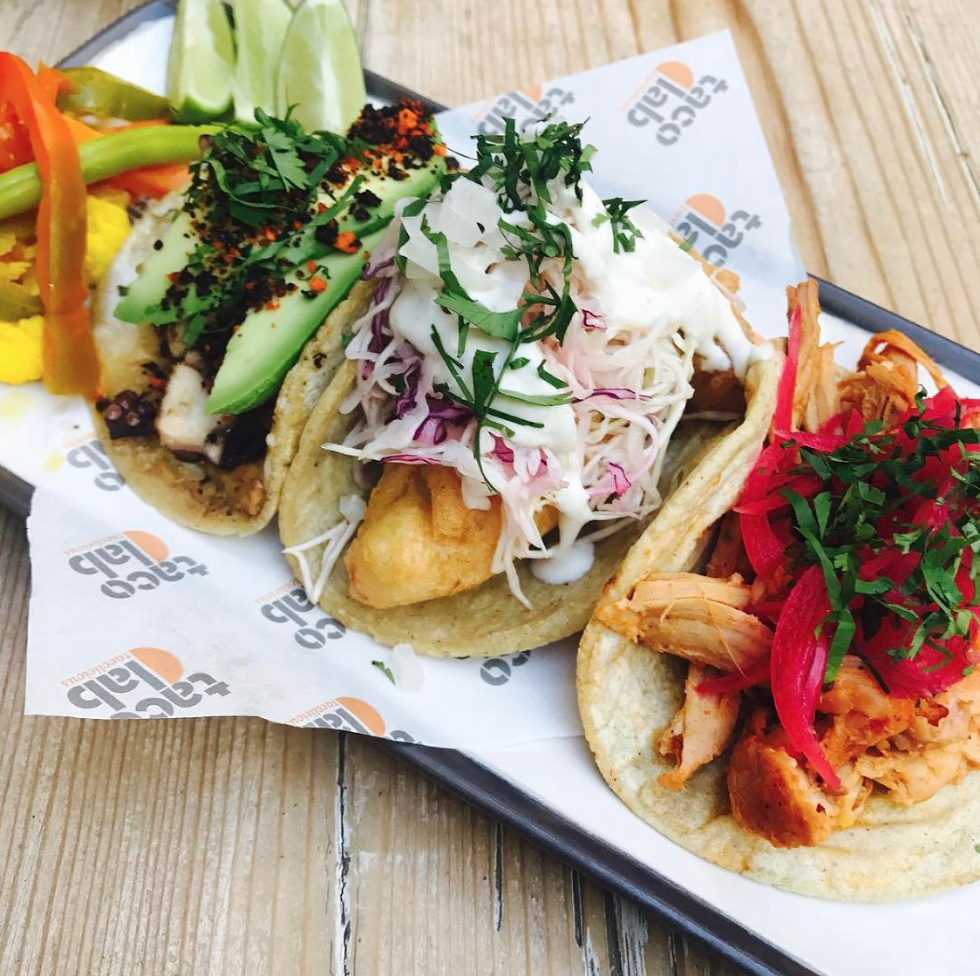 (Courtesy of Taco Lab)
You know their buzzy Taco Tuesdays, made-to-order guac, and Marina Girl Salad. But did you know Tacolicious has a relative south of the Mission—and south of the border, in fact?
In 2016, six years after opening Tacolicious' first brick-and-mortar on Chestnut Street, owner Joe Hargrave teamed up with longtime friend and chef Donnie Masterton (back the in 1990s, the pair worked together at SoMa's now-shuttered Azie) to open Taco Lab in the stunning Mexican colonial city of San Miguel de Allende, where Masterton now lives. Set amongst the city's forward-looking boutiques, galleries and restaurants, Taco Lab's contemporary spins on Mexican classics draw crowds of local and touring foodies looking for something apart from offering at local al-pastor street carts and taquerias.
A pared-down menu includes several Tacolicious standards (there's still that salad), but Masterton plays with local flavors to give his tacos a little extra olé—look for a citrusy slow-roasted pork with sweet guajillo chiles. If a Mexican food tour isn't in your travel plans, you can try his taco specials at one of the Bay Area locations. // tacolicious.com, tacolabsma.com
A16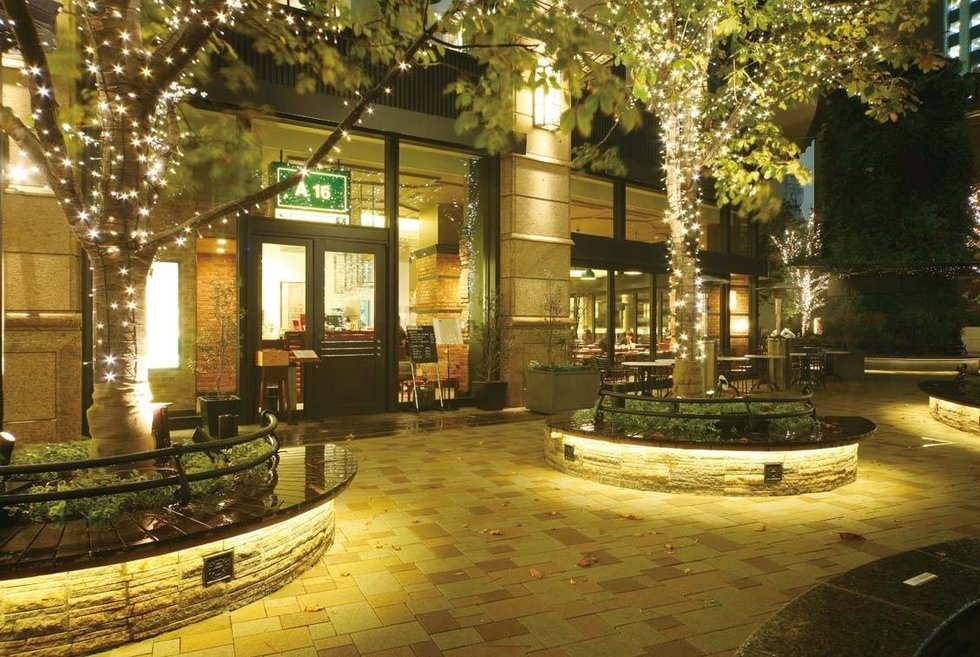 A16 brings a cozy neighborhood vibe to Mitsubishi's corporate headquarters in Tokyo.
(Courtesy of A16)
Known for dishing out southern Italian comfort food from her Marina and Rockridge restaurants since 2004 and 2013 respectively, owner and wine mistress Shelly Lindgren took her A16 game to Tokyo back in 2009, blazing the trail for the others who have followed.
Housed on the ground floor of Mitsubishi's sleek building in the central Chiyoda district, A16's garden-facing restaurant represents for its home state, pouring a California-centric wine list curated by Lindgren herself. Chef Takayanagi churns out pizzas noon and night, but you'll find no wood-burning ovens here—they were deemed unsafe in the Japanese locale. And while Tokyo's A16 still carries a torch for authentic Neopolitan cuisine, the Bay Area philosophy of cooking with local, seasonal ingredients remains. So, you'll find fresh caught Japanese seafood getting an Italian spin in dishes such as garlicky squid ink tonnarelli and octopus stew with grilled bread.
The restaurant's beloved meatballs and signature pies, like the ever-popular Margherita, hang tight on the menu, because good pizza is always in high demand, everywhere. // a16pizza.com, giraud.co.jp