We asked soon-to-be-weds to submit their best wedding proposal stories to win tickets to Sunday's San Francisco Wedding Fair at the Four Seasons (check out our guide to the Wedding Fair). Many of the entries were memorable, but the tale of Nani Dickinson and Evan Stern won our hearts and (no lie) made our jaded eyes a bit misty. Evan went to extraordinary lengths to surprise Nani, sending her on a riddle-studded quest around San Francisco before he dropped to his knee at one of the city's most scenic spots. You must watch the video.


Here's how it went down, according to Nani:

"Evan and I have been dating for about three and a half years after meeting when we were both in college. I have been hoping he would propose for quite some time, and this December, he finally did it.





---
The night before the proposal one of my closest friends, Christine, surprised me with tickets to a Girl's Night Out event at Fort Mason. After the event, Christine spent the night at our place. When I woke up in the morning, Evan had left early to take our dog, Sasha, for a walk, so Christine suggested that she and I go out for breakfast. As we were waiting for the check, Christine handed me a sealed envelope and told me that Evan had planned a little adventure. I opened the envelope to find a card with a riddle written on it. The riddle read:
A kingdom under sovereign Jobs, assaulted daily by geeky mobs. Between Winston and Buckingham you will find it there, for a great journey you should prepare.
After a minute, I realized the riddle was leading me to the Apple Store in the Stonestown Galleria, the place where Evan and I first met. Christine and I jumped in the car and made our way over, not knowing what to expect. I walked into the Apple Store and was immediately greeted by name by an Apple employee who handed me a white gift box with a simple red bow. I opened it to find an iPod Nano. At the encouragement of Christine, and with about half of the store gathered around me at this point, I turned on the iPod and saw a video message from my oldest brother and his wife, reading the next riddle:
Stretch for a sentient by the bay, inside a gem where little pandas play. The eighth ball is not made of stone. Instead, a clue, to the next unknown.
That guided me to AT&T Park, the place where Evan and I went on our first date. To my surprise, my other two brothers were playing catch outside the ballpark when we arrived. They handed me the baseball they were throwing, which had the next riddle written on it:
You seek a master made of rock, held in a fortress by Letterman block. A fountain of wisdom you must spy, find it you must, there is no try.
This one directed me to Lucasfilm in the Presidio (I might have a bit of a Star Wars obsession) where my friend, a Lucas employee, was waiting for me.  A riddle was attached to a toy X-Wing fighter that was floating in the Yoda fountain in front of the main building. It read:
There is a bell, west of Church. Flanked by greens where hipsters perch. By right nearby will guide you, as in this spot you will receive your due.
That riddle took me to Dolores Park, where I was surprised to discover our dog accompanied by a few of our friends. On her collar was a final riddle:
The next adventure starts close to home, where cypress top this native dome. Climb through sea and sky to reach the sun, on Turtle Hill, your real journey has begun.
I instantly knew the next location was Grandview Park, a small but beautiful hilltop a few blocks from our house and one of the most romantic spots in San Francisco. It's best known for the gorgeous mosaic-tiled stairway that leads to the peak at 16th and Moraga. I rushed up the stairs, and when I got to the top, there was Evan waiting for me with the most stunning view of the Pacific Ocean and the Golden Gate Bridge in the background. Diamond in hand, he asked me to marry him, and I said yes."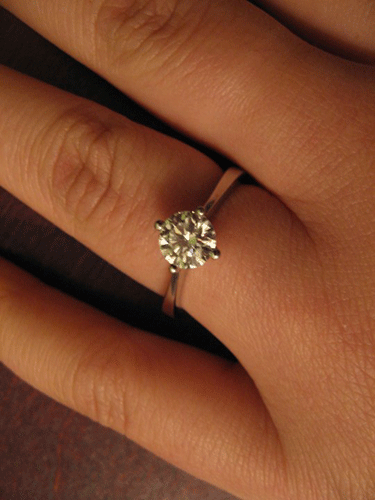 Evan and Nani have won six tickets and VIP admission to The San Francisco Wedding Fair.

I asked Evan a bit more about how he pulled it off.

How long did it take you to come up with this?
"I have a lot of good friends who helped me out, but it took three months of planning. It was like a secret full-time job. I had to create an email she didn't know about in order to coordinate with everybody."







Why did you go big?
"Nani and I work at a brand-strategy company, and she's exposed to good ideas all day long, so I knew the proposal had to be great."



What was the hardest part?
"The riddles were the most difficult; rhyming is really not my thing."

Do you have advice for other people who are about to propose?
"Everyone is concerned with having a proposal that's YouTube-worthy, but if you want it to be special, you have to be true to yourself and reference all the things that you love about the person and what makes your relationship special."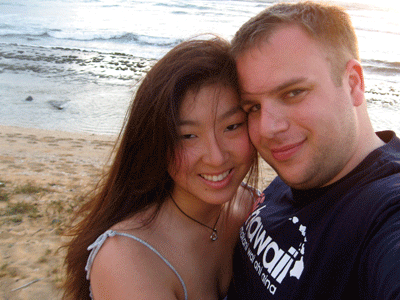 Evan and Nani are tentatively planning a wedding for June, 2012.

Photos and video courtesy of Nani Dickinson and Evan Stern.