March means Mardi Gras, and in the spirit of letting the good times roll, Tratto's new head chef, Ola Fendert, is rolling out a brunch offering aimed to delight.
Brunch may be an American invention, but the Union Square Italian trattoria serves up what they like to call Cali-Itali weekend cool.
---
"I'm taking the same approach to breakfast as with the rest of the menu at Tratto," says Fendert, "perfecting the details of our take on rustic Italian. For us, breakfast potatoes are as important as the housemade pastas, and brunch is really where we can have some fun."
Dishes include a mushroom frittata with swiss chard and ricotta cheese; breakfast pizza with speck, pancetta cream, parsley, 63-degree egg, and shaved parmesan; and a new Tratto burger with fontina, crispy prosciutto, and tomato jam on a brioche bun.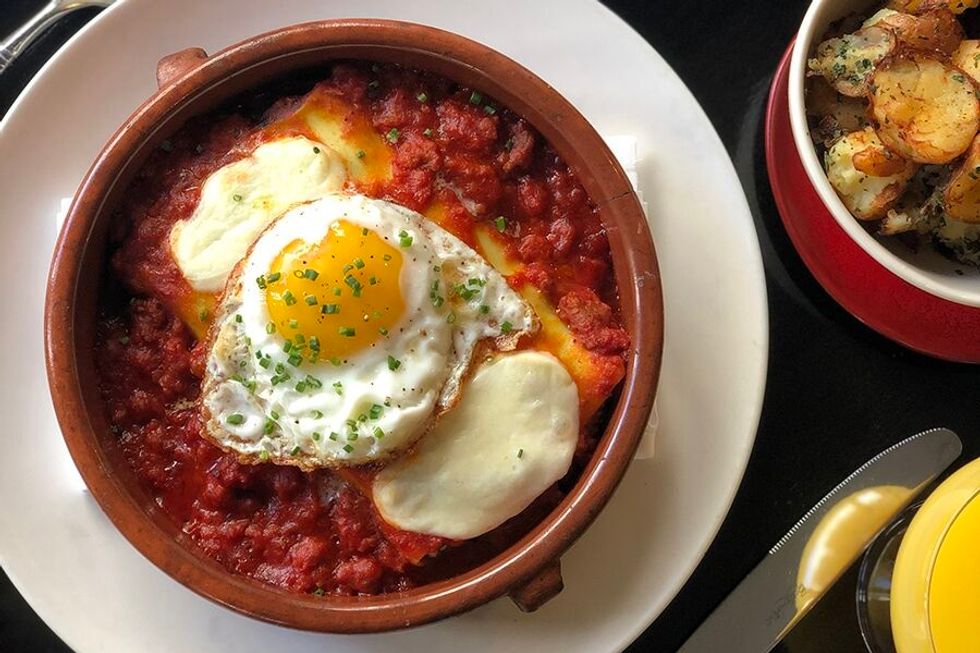 Spinach and ricotta cannelloni with spicy Italian sausage, tomato sauce, olive oil, and fried egg.(Hannah Thornhill)
Leading the charge behind the bar is beverage director Cynthia Tran, who's pairing coffee-fueled cocktails with café-inspired dishes from the kitchen. For a limited run through the end of March, you can try this caffeine-themed collaboration, with Mr. Espresso, that demonstrates coffee's versatility from the glass to the plate and promises an extra jolt to your weekend vibes. Buzzworthy drinks include the Morning Negroni, an all-star take on the classic that replaces sweet for dry vermouth and adds sherry and cold brew; and the aptly named Icy Hot—an ode to those famous Shaquille O'Neal commercials—which adds bourbon heat to cold brew. The kitchen adds its own double-shot duo with a coffee cardamom duck hash and Nutella stuffed French toast with coffee cream Anglaise.

As chef Fendert continues to evolve his ingredient-forward imprint on the Italian classics you love, new items will find their way into the brunch rotation (psst: ricotta pancakes are currently being perfected in the kitchen). Si, grazie!
// Brunch starts at 8am on weekends; Tratto, 501 Geary St. (TenderNob), tratto-sf.com