It's hard enough to remember the different types of wine, much less the many steps it takes to get the grapes from the vineyard to the bottle. To complicate things, everyone uses different methods and has different goals. However, there are key components in this process that are easily understandable, and famed Vineyard Manager Steve Matthiasson and renowned winemaker Julien Fayard, of Purlieu Wines, are here to make it easy for you.   
---
Terroir encompasses everything from the geography and geology to climate of a place, and it's interaction with the vine. Steve Matthiasson tells us that at Purlieu, grapes hail from the entire Napa Valley, from Coombsville to St. Helena. The grapes are from benchland, hillside, and mountain top sites, each with special character, and chosen because they contrast so well with each other.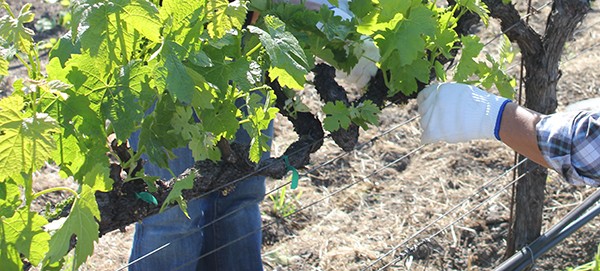 Training and pruning vines promotes the health of the vines and achieves specific vineyard goals, ranging from disease avoidance to flavor manipulation.At Purlieu, the pruning is done as late as possible. Matthiasson says they look for vine balance: Stronger vines are left with more buds to produce more fruit, and weaker vines are cut back. Budbreak (first sign of buds), bloom, and veraison (fruit coloring) are dictated by Mother Nature, so timing is imperative. All of the energy of the vine should go into the fruit that is going to be harvested.
Harvest means four things: Grape picking, sorting (removing stems, etc.), crushing them, and then party time.Both Matthiasson and Julien Fayard says Purlieu's season starts in late August and continues well into November. The classic order is Sauvignon, Pinot, Chardonnay, Malbec, Merlot, Syrah, Cabernet Franc and Cabernet Sauvignon. Petit Verdot is the most variable. The vineyard team communicates constantly with the winemaking team about the conditions, and the winemaker tastes the fruit, and decides the right time to harvest.
For Purlieu and its sister label Le Pich, winemaking and blending the fruit means it's fermented separately. After fermentation and during aging, (which occurs in oak barrels, tanks, or even concrete eggs) they determine which wines blend work well together. Blending is an empirical science, with no predetermined schedule.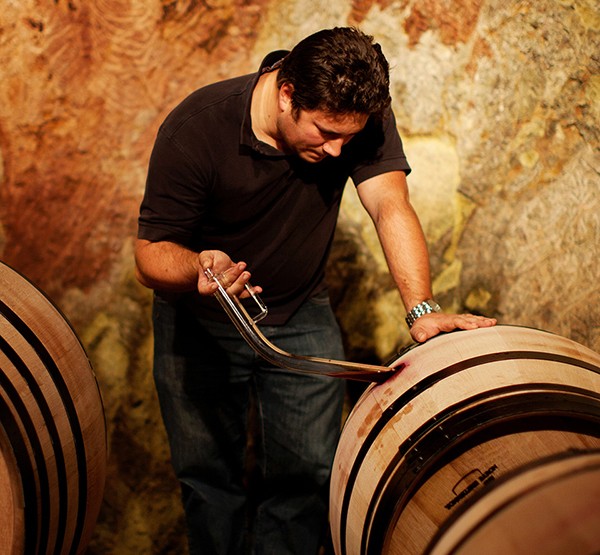 Julien Fayard of Purlieu Wines by Ryan Gibbons Photography
Bottling occurs when the wine has matured. For whites, most tend to bottle in the spring following the harvest. For the reds, its more complex as timing can change depending on what's desired. Purlieu bottles in late spring (18 months of aging) or sometimes the following winter (26 months of aging). There is no established rule, but usually the better and the more structured the wine, the longer the aging process. 
Drinking a wine, or picking a time to do so, is very subjective. But there are websites like cellartracker.com and articles like this one that can help you decide. Fayard recommends drinking the Le Pich Sauvignon Blanc now, and the Le Pich Cabernet Sauvignon now through 2017. For the Purlieu Cabernet Sauvignon, he recommends four to six years in the cellar, but if opened now, it should be decanted for several hours.